Review: Panasonic SC-BT730 Blu-ray Home Theater System Page 2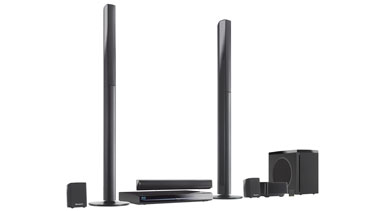 SETUP
Setting up the system is pretty simple, but you will need to spend ten minutes with a screwdriver to assemble the pedestals for the front main speakers. The color-coded wires for the three front speakers and the subwoofer connect to the main unit with snap-in connectors at the amp end and pre-stripped wires at the speaker end. The snap connectors keep things neat and tidy, but the provided cable lengths are fairly stingy. With only 5 feet of wire for the center channel and 10 feet for the front left and right speakers, you should plan on keeping the main component next to the TV so that everything will be within easy reach. The surround speakers connect to the separate surround amp using similar connectors, while the amp itself functions automatically, turning on and off along with the system.

An included test microphone can be used to automatically set speaker levels, but that's really not a big deal with a pre-matched system like this. Tweaky users can also delve into the setup menus to manually adjust channel delays and levels, although the out-of-box settings should work fine in most rooms. (I tweaked it manually to ensure the maximum possible performance for my evaluation.)

PERFORMANCE
It's easy to dismiss a system like this one based on its modest appearance, but you might be surprised once you hear just how much sound it can crank out. When an amp is designed to drive a specific speaker, its output can be tailored to compensate for frequency response anomalies while extracting maximum dynamic performance - all without overdriving anything.

Playing the scene from the Star Trek Blu-ray where planet Vulcan gets destroyed, I measured peaks of around 96 dB from the listening position with the volume maxed out at 100. That's much louder than at your local cineplex, though probably not enough to get you evicted. The sound was satisfyingly full, even if the tiny drivers didn't deliver the same kind of punch-in-the-gut impact you'd get with a bigger rig.

Small speakers tend to image well, and the SC-BT730's slim towers are no exception. Two-channel music was presented with good focus and a skillfully tailored blend between the speakers and the sub. Envelopment with surround sources was excellent, even if it couldn't quite fill up the back of the room like a full 7.1 setup.

Despite its humble looks and modest 10-pound weight, the system's subwoofer manages to crank out an impressive quantity of bass. Playing "Words Of Wonder" from Keith Richards' Main Offender CD, the massive reggae-inspired bass line showed that the sub was guilty at times of emphasizing some notes over others, but it never turned into the single note drone you can hear from really cheap subs. The sub tended to buzz a bit when pushed hard, but I found that adding some weight (a phone book) to hold it down eliminated the problem.

The SC-BT730's video performance is tough to fault - not surprising as it appears to be based on Panasonic's excellent DMP-BD65 Blu-ray player. Owners of older HDTVs should note that the sole high-def video output is HDMI, but there's at least a composite-video connection so you can get some kind of analog video signal to an older set.
BOTTOM LINE
A home theater assembled from carefully selected components can sound amazing, but for most regular folks, buying and setting up that type of rig involves far too much time and effort. The SC-BT730 comes with everything you'll need, and once you get it home, the system should be up and running in less than a half hour. The components that comprise an integrated system can be tailored to work seamlessly together, and Panasonic has worked that angle here to deliver impressive bang for the buck. Think of it as being a bit like a decent vintage Merlot, only one that just happens to come in a five-liter box. I can drink to that.
LATEST VIDEO