Revel's Salon2: A Super-Speaker Model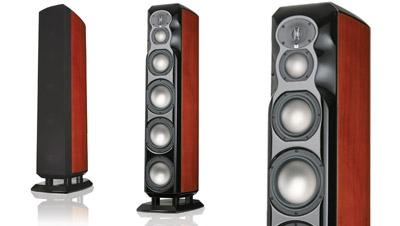 Since speaker manufacturers typically replace a particular model in their line after 3 years, you could say that 1 human year equals about 25 speaker years. That means Revel's original Salon lasted to the ripe old age of 200 - or 8 years to you and me. The engineers behind the Salon didn't want to create a new model just for the sake of creating a new model. Instead, they waited until they'd amassed enough advances to make a substantially better Salon. The result: the Salon2, in the company's Ultima2 Series. (Obviously, the engineers' efforts during this time went straight into R&D, not into thinking up creative new names.)
The Short Form
An imposing, near-perfect super-speaker that's priced and sized for devoted audiophiles only.
Plus
• Extraordinarily natural, accurate midrange and treble • Potent, powerful bass • Practical and easy-to-use bass and tweeter controls
Minus
• Room-dominating size • Budget-dominating price • Price $22,000 a pair
Key Features
•1-in beryllium dome tweeter; 4-in mid- range; 6 1?2-in midrange; (3) 8-in woofers; 53 1?4 in high (w/base); 178 lb • Bass-contour and boundary-compensation settings • Tweeter level control with +/-1-dB range in 0.5-dB increments • Hinged door covers speaker-cable connections • Finishes: mahogany, gloss black revelspeakers.com :: 781-280-0300
The Salon2 is nothing short of a superspeaker. It weighs as much as a typical adult male, stands as tall as the average fourth-grader, and (for a pair) costs as much as what you'd pay for a nice midsize sedan. It's a serious commitment not just financially but also from a real-estate perspective: To sound its best, it needs to sit about 3 feet out from the wall behind it. Although Revel touts the speaker's ability to blend with a wide variety of architectural styles, the big Salon2 will dominate any room it inhabits - unless it's sharing the space with that Jeff Koons sculpture of Michael Jackson and his chimp Bubbles.
While Revel itself is a rather small enterprise, it's owned by a huge company, Harman International, which is also the parent of JBL, Infinity, Lexicon, Harman Kardon, and many other audio brands. The audio research facilities in Harman's California headquarters are probably the world's finest, replete with three anechoic chambers for measuring speakers, not to mention a listening lab with motorized platforms that exchange a set of speakers in a matter of seconds for seamless comparisons. Thanks in large part to these unequaled resources, Revel director Kevin Voecks and his team take a more scientific and methodical approach to speaker engineering than probably any other high-end speaker designers can.
At this price, you'd hope the Salon2 isn't just slapped together out of medium-density fiberboard, as most speakers are. Well, it is made from MDF, but it's a sort of mega-version: Nine thin MDF panels are glued together and bent at high pressure to form the curvaceous cabinet. Revel creates the front baffle from a slab of 2-inch-thick MDF. All this mass makes for an exceptionally rigid cabinet that contributes no significant vibration of its own to the sound.
The Salon2 is a four-way design. The three 8-inch woofers have air-moving power equivalent to that of one 14-inch woofer but, according to Voecks, run far cooler and with lower distortion than a single large woofer. Next up is a 6 1/2-inch midrange/woofer, with a 4-inch midrange above that, both boasting snazzy titanium cones. The real star of the front baffle, however, is the 1-inch beryllium dome tweeter. Beryllium is one of the stiffest yet lightest materials used in speaker diaphragms - but it's also exceptionally brittle, highly toxic when vaporized, and therefore extremely expensive to use in manufacturing.
Thanks to the Salon2's bass-adjustment switch, you get placement options other than 3 feet out into the room. The switch has three settings: Normal, Contour (to tame the bass subtly in rooms with poor acoustics), and Boundary (to attenuate the bass substantially so the speaker doesn't boom if placed close to a wall). There's also a tweeter level switch that boosts or cuts the treble by 1 dB in 0.5-dB steps. You can use it to compensate for the slight treble reduction caused by the speaker grille, or just to tailor the treble to your taste.
SETUP
Nothing that weighs 178 pounds could be considered easy to set up, especially if you use the Salon2's frighteningly sharp carpet-piercing spikes. Fortunately, Revel designs its speakers for exceptionally broad dispersion; the sound that projects forward differs little from the sound emitted at an angle of 15° or 30°, so the aim isn't critical.
Two sets of beefy binding posts hide behind a hinged panel on the back of each speaker. They accept spade connectors or banana plugs, but you can't shut the panel if you use the latter.
The Salon2 is more handsome and better-sounding without its grille. But the grille is beautifully executed, made from thin fabric and spindly wire and held in place with magnets hidden in the speaker's front baffle. Turning the treble up half a dB using the switch in back eliminates most of the grille's negative sonic effect.
I listened mainly with the speakers placed 3 feet away from the back wall. Later I moved them 2 feet closer to the wall and set the bass switch to the Boundary mode. With this setup, the bass was slightly less defined and the stereo imaging a bit less dramatic, but the Salon2 retained about 95% of its quality.