RCA Scenium Profiles HD61THW263 DLP RPTV
RCA's 61-inch Scenium Profiles DLP RPTV created quite a buzz when it was first shown at the 2004 Consumer Electronics Show. Brought to market this past fall, this big-screen microdisplay TV (and its smaller, soon-to-be-released 50-inch sibling) is only 6.85 inches thick, as opposed to conventional DLP RPTVs with cabinets that occupy as much as 17 inches of space behind the screen.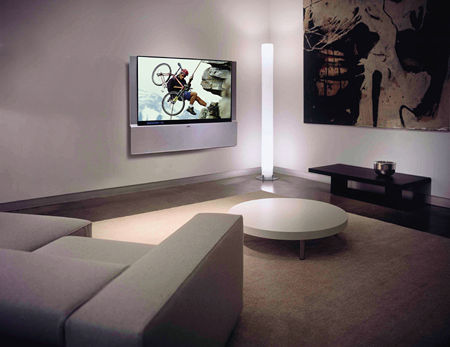 Initially, the big Profiles was priced so high that it suffered from an immediate competitive price disadvantage. Over the past year, the market has driven prices of both microdisplay and plasma TVs down. Would consumers really pay more for the same screen size just to have a rear-projection TV with its attendant lamp changes every 2,000 to 3,000 hours?
But RCA lowered the 61-inch Scenium's announced price, and the HD61THW263 is now available for about $7,000 at a number of online and brick-and-mortar stores. Doing a quick online search, I was able to find a comparable price for a Pioneer PDP-614MX 61-inch plasma monitor, but that product doesn't have the built-in ATSC and QAM tuners or CableCARD interface offered on the RCA.
Out of the Box
The HD61THW263 certainly grabs your attention for a couple of reasons. The first is its outstanding cabinet styling, with slightly recessed speakers to either side of a large screen with thin black mullions. Most of what you see is screen, not housing, and it's a real fashion statement.
Perhaps the most important thing about the cabinet design is its depth—or lack thereof, at least when compared with other RPTVs. According to RCA, the primary reason for this design is to allow the set to be hung on the wall using an optional wall-mount bracket; in fact, it's the industry's first RPTV with this capability. And at 135 pounds, it weighs about the same as a plasma panel of the same screen size, though a plasma is even thinner at around 4.5 inches.
Still, I wouldn't recommend hefting this set by yourself, especially if you use the floor stand, which brings the total weight to 184 pounds. The screen is so large that it's hard to get a comfortable handhold anywhere on it without lifting all that weight awkwardly. By comparison, a competing 61-inch DLP RPTV with the same native resolution and 17 inches of depth tips the scales at only 100 pounds and is far easier to move about. So it appears that this TV is trying to fill a niche of sorts—it's cheaper but thicker than same-size plasma TVs, and thinner but more expensive than same-size DLP RPTVs.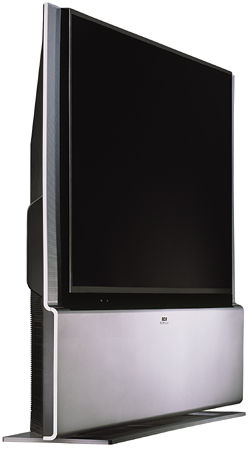 All input and output connections are accessed through a side panel on the TV's lower left corner (as you face the screen). A plastic cover hides them and allows you to neatly route the cables behind the TV, as long as you don't plug in too many of them. Those connectors include a pair each of composite, S-video, and component YPbPr video connections, plus a single HDMI input which can interface to set-top receiver and computer DVI cables.
Four pairs of analog audio inputs are available, plus the built-in HDMI digital audio interface. In addition, there's a digital audio output connection so you can hook up your AV receiver while watching HDTV and SDTV programs with Dolby Digital surround soundtracks.
There are also a pair of 6-pin IEEE 1394 jacks for recording or playback of digital video programs from compatible devices. These are not the smaller 4-pin FireWire jacks seen on D-VHS decks and digital TV set-top receivers, but you can easily purchase the correct adapter cables from any number of sources.
The connector complement is rounded out with an Ethernet jack so you can surf the web with the HD61THW263's built-in browser. This is accomplished with a full-size wireless keyboard and a fast Internet connection. RCA clearly wants this TV to be the nexus of your home entertainment center!
Remote and Menus
The HD61THW263's remote, although not "tiny" by any standards (it's over eight inches in length), suffers from having too many super-small buttons that are difficult to read in low lighting. (RCA would be well advised to study and adapt the design and functionality of NEC's baton-style remotes for future TV models.) On the plus side, it is illuminated, and it can learn the commands for devices not in its universal database.
In addition to a mousedisk navigation pad, the remote provides discrete buttons for screen format, program info, sound options, and the main menu. None of these are particularly easy to locate without careful study. And there is no direct access to any video input; you must repeatedly push the Input button until the desired video source is seen on screen. Other direct-access buttons are provided for picture-in-picture, freeze frame, closed captions, and favorite channels.
To be fair, you can choose inputs directly by pressing the Input button followed by the number button that corresponds to the desired input, but that requires some memorization on your part. You can also assign each input to one of the remote's component buttons (Sat, DVD, etc.). Then, when you press a component button, the TV powers on (if it's off) and switches to the assigned input; the selected component also powers on if it's an RCA product. If you want to control the TV from that point, however, you must press the TV button again.
During initial setup, you will find a bewildering array of onscreen menu choices. Take your time to read them carefully, you will need to access these menus to do such things as calibrate the display, set audio levels and equalization, enable CableCARD operation, scan for analog and digital TV channels, and surf the web.
Once you get past the main menu descriptions and into the actual menus, you'll find it quite easy to set up and operate this TV. RCA has provided just about every adjustment or tweak you could want, except for setting the white balance. That's reserved for the service menu, and it consists solely of overall white-point calibration, not RGB contrast and/or brightness.
The factory-preset color temperature choices are Cool, Normal, and Warm. Many of the picture presets use Cool or Normal, which are both way too bluish for everyday viewing (see Calibration).
Speaking of picture presets, there are six, one of which (Personal) is user-configurable. These image presets store everything from contrast and brightness settings to edge enhancement (two levels and off), green stretch (two levels and off), and contrast enhancement (on or off).
Before you ask: Yes, the edge-enhancement feature is turned on in all factory settings for all inputs and picture memories, even when you are watching HDTV programs that don't need it. The same goes for the green-stretch, contrast-enhancement, and noise-reduction controls. If you watch primarily progressive-scan DVDs and HD programming, you'll probably shut most of these off, as I did.
The audio menu presents a 7-band graphic equalizer and eight presets, of which one (again, Personal) is yours to play with. This is also where you set up SAPs (second audio programs), define default digital or analog audio inputs and outputs, and activate or defeat a peak limiter so you aren't blasted out of your seat by overly loud commercials.
LATEST VIDEO