RCA F38310 38-Inch CRT HDTV
RCA's F38310 HDTV is an easy yet high-quality way to introduce your family to satellite and HD programming.
RCA, that good old standby brand name, is still around and doing well. About two years ago, the company's entry into the HDTV market, the F38310, made a big splash. I saw this display at the National Association of Broadcasters show in 1999, and I was surprised not only by the set's excellent picture quality but by the fact that such a big CRT display could produce that quality. Back then, RCA showed high-definition images through the Sencore video streamer, an early version of the unit I now use in my test lab. Of course, back then, the Sencore was about the only source for displaying 1080i demo footage, and no 720p material was available. Since then, RCA (now officially known as Thomson, although they still trade under the RCA name) has made improvements to the F38310. In keeping with Home Theater's general philosophy regarding product reviews, senior technical editor Mike Wood and I agreed to wait and review the new version of the F38310. It was worth the wait.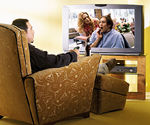 Before I get into my review of the TV's performance, I want to describe what this unit really is. The F38310 includes many firsts, and a general description should be enough to inspire you to visit your local dealer and check one out. First, at 38 inches diagonally, the F38310 is (as far as I know) the biggest direct-view CRT display on the market. Next, it has built-in HDTV and NTSC tuners. As if that weren't enough, it also has a built-in DirecTV satellite receiver. In one gray, plastic cabinet, you get a TV that reproduces an excellent 1080i picture and can receive just about any HD or SD broadcast. All you need is a DirecTV subscription and a dish for satellite reception. This is good. No, it's great. If you're a quality-conscious HD fan who's into the satellite sports packages but still wants to watch regular news and cable programming, then you have to check out this TV. RCA and DirecTV have given you everything you need in one box. If only they had made the TV a bit lighter (it weighs 216 pounds), my back would be just as happy as my wallet. Now, on with the review.
The F38310 is a widescreen CRT HDTV with a digital resolution of 1,280 by 1,080 and a dot pitch of 0.78 millimeters. The cabinet, which measures 26.375 inches high by 43.125 wide by 25.875 deep, doesn't have any handles, so you should have your dealer set up the TV for you or have a couple of strong friends help with the install. While the guys are at your house, have them help you run the antenna cables from the roof. You'll need to run two of them: one for the DirecTV antenna and one for the over-the-air antenna. RCA has supplied a cable for the cable input. A DirecTV agent can run the DirecTV cable and set up the dish, or you can do it yourself using the dedicated satellite-setup guide in the TV's setup menu. There's also a customer-service number in the user's guide if you have trouble.
Because of the F38310's onboard receivers, the back panel has few connections. You get the standard composite and S-video inputs, with left and right audio inputs, plus one Y/Pb/Pr component input (with left and right audio connections) for your DVD player. Note that, on this input, the gray side bars that accompany 4:3 images aren't active, so use caution when watching too much 4:3 because this may cause CRT burn-in.
The F38310's back panel offers left and right speaker outputs. There's also a switch for selecting internal or external speakers, as well as fixed- and variable-level audio outputs: The fixed outputs allow you to connect the TV to your external sound system, and the variable outputs are for use with the TV's remote to control the volume through the internal sound system. This is the first HDTV I've encountered that has an optical output for the AC-3 audio. This output connects to your receiver's optical input to give you 5.1 surround sound from the onboard HD and satellite receivers. The TV's internal speakers are actually quite good, offering good sound separation and imaging.