Rampage in A Quiet Place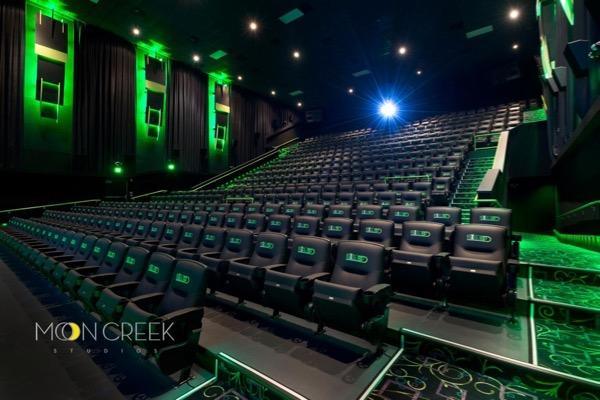 Back in the Jurassic age movie theaters routinely offered double features. That practice has long since disappeared, but you can recreate it by seeing two movies on the same day. It takes some doing to get the schedule right, with perhaps a half hour between the end of the first film and the beginning of the second—just enough time to see a man about a dog. Of course it will cost you for separate tickets, and you'll want to be sure you can get good seats for both films.
Then there's the challenge of making a good pairing. Dunkirk and Darkest Hour is an obvious combination, or even Dunkirk and Their Finest (the latter a small gem set in the British film industry at the time of Dunkirk). But The Perfect Storm followed by Titanic, or Mary Poppins and Psycho? Not so much.
Many potential double features, including the ones above, can only be achieved today through the wonders of home video as the films are long out of theaters (nor were they likely to have been in commercial release at the same time). But last week I managed a current combination: Rampage and A Quiet Place. I viewed them in that order as the timing was right, but it turned out to be the best sequence—the noisiest film currently in theaters followed by the…um…quietest.
Dwayne Johnson (aka "The Rock") had at least one fun movie in the past year. I don't count Baywatch among them, but the remake of Jumanji was excellent (far better than the original). It combined a solid cast and a witty script, and was recently released on an excellent UHD Blu-ray). Rampage is a monster flick capped off by the usual catastrophic destruction. It isn't a classic, but with Chicago the target this time they at least gave New York and Los Angeles a chance to recover from Godzilla, King Kong, Cloverfield, Independence Day, San Andreas, Battle Los Angeles, Volcano, most Marvel and DC superhero films, and other mayhem-loaded flicks too numerous to mention.
Rampage was noisy, scientifically ludicrous (though poor science has never stopped filmmakers), and featured acting all over the map. Johnson was good (he's no Shakespearean, but combines an appealing personality with a crisp comic timing). But the villains are straight out of the Perils of Pauline and, naturally, run an EVIL corporation.
But you know what? Rampage was fun. I was never bored, perhaps because my taste in movies is extremely broad with a high tolerance for popcorn fodder. I doubt that I'll eagerly await the inevitable Ultra HD Blu-ray, but I don't regret seeing it. Neither, apparently have others; it's a big hit.
So is A Quiet Place a genuine horror classic running neck and neck with Rampage for April's box office green. Both will certainly disappear in the tsunami of the 998th Marvel film, Avengers: Infinity War due this week, so the window of seeing either on the best big screens is closing fast. In the world of A Quiet Place Earth has been invaded by blind aliens that hunt by sound alone. They've nearly wiped out the human race. Here we see the result through the experiences of a single family, surviving by remaining "vewy, vewy, qwiet," to keep the "wabbits" from hunting them.
I did have a few quibbles with the scenario, but won't offer them in this spoiler-free blog. The movie is tense, extremely well done, and one of the best films of a still young 2018. The horror is more psychological than visual; there's violence but it happens quickly and isn't gratuitous. There's some blood but no gore. I'll be waiting anxiously for the video release; it will be a crime against section 4.5.2. of the Dolby video code if it's not in Dolby Atmos. I didn't see it that way (there isn't a theater within 100 miles of me equipped for that format), but the sound mix, with highly active surrounds, is easily Atmos, and Oscar, worthy.
I saw both films in a local Carmike theater (Carmike is now owned by AMC—more below), Rampage in their so-called "Big D Experience" auditorium, A Quiet Place in a smaller one with (I'd guess) less than 200 seats. There weren't more than four people in either theater, including me, for these weekday afternoon showings.
I've mentioned this particular northwest coastal Florida Carmike theater before. Design-wise, it's the nicest theater in the area, and the Big D house (see a typical Big D in the photo above), with its estimated 400 comfy (but not reclining) seats and 60-foot wide (also estimated) screen wouldn't be out of place in New York or Los Angeles. The Big D's sound is exceptional as well, loud but full-bodied and only rarely edgy.
But its Achilles heel is a dim, sepia-toned, and soft picture (as soft as possible without its being clearly out of focus). I've been to this theater before and only chose to go there this time because the timing of the two showings was more convenient than in a closer (but also flawed in different ways) IMAX-equipped AMC multiplex. Fortunately, the picture in A Quiet Place, in one of the smaller auditoriums, was much better (likely due to its much smaller screen), with decent (but relatively bass-shy) audio. The latter screen also had motorized horizontal masking for constant picture height; a big thumbs up for that. I had time between showings to take a sneak peek into the other smaller rooms at the theater, and they all looked similarly respectable.
Two years ago AMC, now owned by a Chinese magnate, bought the Carmike chain. But my local once-Carmike theater mentioned here still lacks any AMC badging. If anyone else has had experience with a formerly-Carmike theater, particularly their Big D screens, I'd be curious to hear if the picture quality is similarly compromised elsewhere in the chain. The on-line customer reviews for my Carmike (aka AMC) theater were centered on things like the refreshment stand doubling as the ticket booth, trash in the theaters and restrooms, poor management, the price of snacks, and other peripherals. (None of this affected me; I don't buy movie snacks and the thin attendance at the early showings meant that the lines were short and the theaters clean.)
Comments on the picture quality were rare and often either positive or non-committal, which is sad in today's market where almost everyone knows (or should know) what decent picture quality is from even modest HD televisions. The Big D picture quality was in no way comparable to acceptable high definition. Of course that begs the question as to how poorly many of those home TVs might be adjusted, and even if some folks are still watching their SD cable channels by accident! It's clear that most of the public doesn't recognize a poor picture when they see it. That's not good news for the battle between packaged media (Blu-ray and UHD Blu-ray) and streaming, addressed in my previous blog.
But one comment on the theater's website, by a visitor from Los Angeles, hit them hard on the poor Big D picture quality. Since I'm also accustomed to the better imaging available in the best LA theaters from my 15 years living there before moving to Florida, his impressions echoed mine. If the picture was better, I'd drive the extra 15 minutes more often. A closer AMC plex is no prize either; its small (315 seat!) IMAX-screen offers a much better picture than the Big D's, but its sound and overall environment isn't nearly as good. What a choice: a poor picture but excellent sound vs. respectable picture but poor sound!
I'm hoping for AMC-Carmike to convert my local Big D to a Dolby Cinema, complete with far better picture quality and Dolby Atmos (the closest Dolby Cinema to me currently is 150 miles away!). The look and size of the theater is fine as it is, and I could live without a change of décor and the addition of reclining seats with butt-kickers—two elements of all current Dolby Cinemas. I'd be happy merely with a new screen compatible with Dolby Cinema, upgraded projection, and Dolby Atmos. They can call it Dolby Cinema-X if they like, to distinguish it from the standard look and seats of the current Dolby Cinemas. But I won't hold my breath. I'm not sure if the local moviegoing public or the area total population (probably no more than 200,000 within a reasonable driving distance) would support it. But I would.