TiVo Founders Announce Qplay Streaming App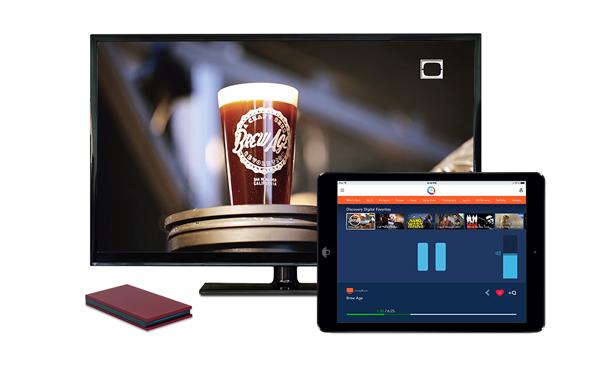 It was my first CES, and a remarkable device was being introduced—a recorder that didn't use video tapes or DVDs that could pause live TV. At the time it was hard to wrap our heads around the idea. In 1997 Michael Ramsay and Jim Barton co-founded TiVo. Watching TV would never be the same. Seventeen years later Ramsay and Barton have developed Qplay, a device and app they say will revolutionize streaming videos. The Qplay adapter was released earlier this month for "early adopters" who have been asked to give their feedback. According to a spokesperson at Qplay, final units are expected to be released in April.
The Qplay system consists of an iPad app, the Qplay TV adapter device that connects to a TV via HDMI, and a cloud service. The exact procedure isn't clear until I have had a chance to play with it but the premise is to add videos and organize them on the iPad app in video playlists called "Q"s (certainly a play on words that these are video queues). Qs can then be sent to the Qplay TV Adapter to watch on the big screen. Videos can also be watched directly on the iPad Qplay app.
The idea is that you can find videos from the supported streaming websites—launching with YouTube, Vimeo, Facebook, Twitter, Vine, and Instagram, with New York Times, Funny or Die, Reddit, and Digg added in the past week—and create a Q (queue) with videos you want to watch from any of these supported sites. One video may be from YouTube, the next could be a video shared on Twitter, the one after that a video someone shared with you on Facebook. The point is that a Q is not limited to videos from a single service, and you don't switch between the various content apps to watch each of them. A Q organizes them in one place. You could create a Q for funny videos, videos tutorials on various subjects, old movie clips, and so forth. When ready, you can watch back-to-back videos that you have added to the Q.
Similar to the way Spotify playlists can be shared with friends and others, Qs can be shared with friends or published to share with the whole Qplay community. QPlay "tastemakers" will also curate lists of videos for you to watch. Follow the trending videos Qs and you'll always be up to date on the videos everyone is talking about.
While the co-founders are espousing that the Qplay is an entirely new idea, many elements are reminiscent of other streaming devices. Creating video playlists and sharing them was a big function of Boxee that allowed users to gather videos in watchlists that could be shared publicly or with friends. Boxee also displayed recommendations of trending videos.
The ability to control a relatively inexpensive device using an iPad rather than its own menu and remote, can be likened to the Chromecast. Videos are streamed from their original source which suggests that the Qplay is also using a DIAL (Discover and Launch) technology like that used in the Chromecast.
A bookmarklet plugin can be added to your web browser that will add videos from websites you visit to your Q. Unlike the bookmarklet plugin from Playon (Playcaster), Plex, or Flingo, it appears that Qplay only includes those sites that are supported. In the first weeks, the company has already added four more sites. We can expect that there are many more to come including subscription services like Netflix and HULU.
If Qplay reaches its initial planned open release date in April, it will end its early adopter period where users who bought the device will be asked to give feedback. The company has promised to use the information to enhance the device over the coming year. While still in the early adopter phase, the Qplay is available on qplay.co for $49 (share it and you get a coupon code for $5 off).
While many Qplay features may have been used in other devices, they have not been combined in this unique way. We'll have to see how it works and be sure to share Qs.
LATEST VIDEO