A Prop To Top It Off
You've picked out your flat panel, sound system, and universal remote, but what about the other important details that make a home theater your own? By adding some well-appointed extras, you can transform your space from staid to standout in just moments. One way to make over a media room is to take the movie poster idea up a notch by including props or replicas from movies, TV, and video games. There are quite a few options for finding these items, but keep in mind that part of the process—and the fun—is in the hunt.

eFX (a subsidiary of The Walt Disney Company) is a great resource for this kind of stuff and is well known for its screen-accurate, full-scale, prop replicas and collectibles from sci-fi, fantasy, and action blockbusters like Star Wars and Star Trek, as well as from TV shows, video games, and all those classic Disney movies. Its full range of items can be viewed and ordered online at efxcollectibles.com and purchased at select retail locations.
New to the eFX portfolio is the first-ever line of collectibles based on the film and comic-book characters in the Marvel Universe. The first limited-edition prop replicas from the The Avengers debuted this year at WonderCon, a comics and pop culture convention, and should be available by the time the movie opens in theaters May 4.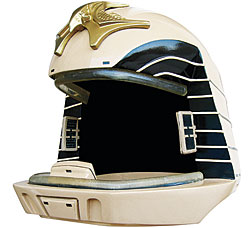 Some of the anticipated offerings include Captain America's shield, Thor's hammer, and a full-scale Iron Man Mark V mask, along with other items inspired by Marvel characters. Prices are expected to range from $49 to $1,500 and up.
Museum Replicas Limited, another resource, has supplied set props for TV, film, and theater productions, including Pirates of the Caribbean, Batman Begins, and Sahara. The company has an online catalog at museumreplicas.com, a store at the Mall of Georgia, and a retail showroom at the company's headquarters in Conyers, Georgia.
Through any of these outlets, you can purchase licensed replicas—swords, helmets, axes, gowns, crowns, and much more—from films like Gladiator, Braveheart, Monty Python and the Holy Grail, or, one of my favorites, The Princess Bride. Inigo Montoya's sword ($349), copied directly from the prop sword used by Mandy Patinkin, is limited to just 750 pieces worldwide. Each sword comes with a numbered plaque, a certificate of authenticity, and a prop story booklet with a special intro by director Rob Reiner. Harry Potter fans can go for a Hogwarts-themed home theater with Potter's cloak of invisibility ($395), Lord Voldemort's robe ($295), a Slytherin scarf ($28), or some Quidditch goggles ($15).
For the chance to sift through second-hand treasures and a constantly changing inventory, there's the 11,000-square-foot Film Biz Prop Shop (filmbizrecycling.org), a flea-market-meets-thrift-store in Brooklyn, New York. At this nonprofit outlet, you'll unearth everything from vintage VCRs and fake body parts to license plates and lamps. The shop is stocked with castoffs and donations from New York City movie sets, TV shoots, music videos, and commercial productions, so you're likely to find the completely inexplicable along with the truly remarkable. Prices range from 50 to 90 percent off what you would pay at retail.
Remember, outfitting your home theater is not something you're going to accomplish in a day, a month, or even a year. Adding these kinds of props is a process and an evolution; your cinema space is something you will curate over time. Whether it's a set of medieval swords or a wardrobe of superhero costumes, your collection will be a conversation starter before the lights dim and after the credits roll—and will make your home theater space special for you, your family, and your guests.