Proficient Has ZERO Interest in Wireless Audio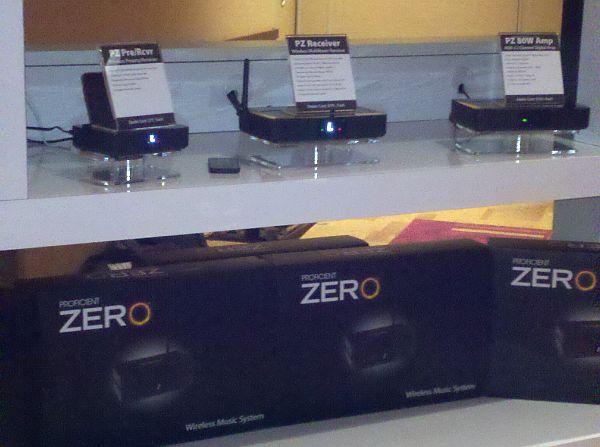 Although the claim that it's "the only wireless whole house music system specifically engineered for music" may engage in a bit of hyperbole, Proficient's ZERO wireless multizone audio system is designed to transmit audio up to 90 feet throughout a home using 2.4 GHz RF technology. ZERO transmitters support up to 8 receivers and have connections for three analog audio channels plus an optical audio input – and can transmit all channels simultaneously. Proficient says that transmitting all inputs enables the use of one transmitter to send "left and right" audio for "Zone 2" or "rear surrounds" (without latency being an issue) as well as audio to a subwoofer for a home theater system.
Proficient ZERO wireless amplified receivers include a built-in 35-watt x 2 digital amp with stereo speaker outputs, a stereo 3.5mm line output, a mono 3.5mm output (for use with a third analog audio channel), an optical input, and a stereo 3.5mm input (for use with a local source, such as a TV). The analog, digital, or local source inputs can be selected with the included IR remote. Proficient ZERO wireless preamp receivers will also be available in the near future.
ZERO extenders will use 5.8 GHz RF to extend the range of the system to 190 ft.
The Proficient ZERO system – including a transmitter, amplified receiver, and remote control – will have an MSRP of $500. Additional amplified receivers will be available for $350/each MSRP. Transmitters will initially not be available separately. Systems and amplified receivers are scheduled to begin shipping during the fourth quarter of 2011.
LATEST VIDEO