PRO Audio Technology Crams MASSIVE Sound in Your Walls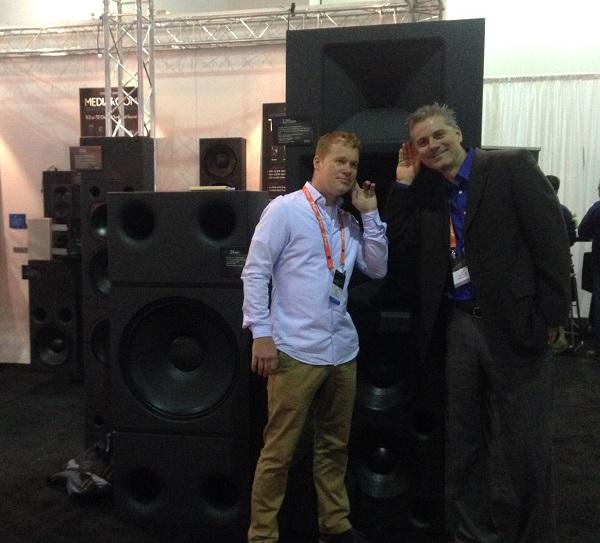 Looming just outside the PRO Audio Technology booth are speakers that literally dwarf my 6-foot 4-inch self. These speakers weigh upwards of 300 pounds, feature massive horns and woofers and are driven by 10,000 watts of amplification to deliver organ pulverizing SPLs in even the largest rooms. So when I went into the PRO Audio demo, I certainly expected to be blown away by big sound. What I didn't expect was what I saw when the demo was over and the company revealed what was actually playing!
Known for huge, pro cinema sound that requires massive amplification and giant speakers, the company is bringing its technology downstream to a far more affordable market and to support smaller rooms where giant, false walls can't conceal monstrous speakers and budgets aren't of the "money no object" variety.
This year the company chose to focus on a more value-engineered system that dealers could sell every day in practically any home. Inside the darkened booth following several surround movie clips, the company raised the lights to reveal that we had been listening to a 5.2-channel in-wall system that still delivered over-the-top thrills at a fraction of the price.
The demo system consisted of three SCRS-6iw 6.5-inch in-walls and two LFC-12v subs up front with two SCRS-5iw handling rear channel duties. The SCRS-6iw's have a long-throw woofer that can reach down to 52 Hz and a horn-loaded compression driver with extension beyond 30 kHz. The sub packs a professional 12-inch driver with 4-inch voice coil, producing sound that punched you in the gut when it needed to, such as the shotgun blast from the opening of Ratatouille. There was also terrific surround integration between the speakers, reproducing overhead sounds with terrific clarity despite there not being any physical ceiling speakers.
All of the power came from a single PRO DMA-1508, 8-channel, 1500-watt amp that fits in a 1U rack space. The amp has two 300-watt channels to drive the subs and six 100-watt channels for the other speakers. It is also DSP-optimized to work with the company's proprietary PRO SoundTools audio calibration software, wringing every last detail from the room, and handling chores like response shaping, time alignment, and boundary effect correction.
In a year dominated with immersive Dolby Atmos demos, Pro AUDIO Technology proved that a great 5-channel speaker system can still deliver a ton of thrills that don't have to break the bank.