Plasma Power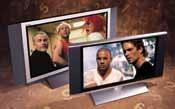 Photos by Tony Cordoza
---
Check it out:
In the Lab
Features Checklist
---
At the height of the stock-market bubble a few years back, I'd occasionally field a call from a rich guy - or his assistant - seeking advice on the cool, new flat-panel plasma TVs he'd been hearing about. The conversation usually went something like this. Rich Guy: "Yeah, I want six of them, one for every bedroom and one for the Jacuzzi. So what's the best one to get?" Me: "Have you seen what most video looks like on plasma TV? Before you buy even one, I'd visit a store and take a closer look. You may be disappointed." Rich Guy: silence.
| | |
| --- | --- |
| | |
| The Samsung Tantus SPL4225K (rear) and Hitachi 32HDT20. | |
I'd go on to explain that my lack of enthusiasm for plasma was based on two observations: 1) HDTV, which generally looked very good on plasma sets (and still does!), was then in short supply, and 2) back then, TV programs in standard 480i (interlaced) format didn't look good on them at all. The problem was in the built-in video processors that the panels used to map the relatively low-resolution standard video signals to their high-resolution pixel array. Images ended up with smeared details and ragged edges as well as "solarized" bands of similar-hued pixels in shadow areas - a picture artifact video geeks call false contouring. My reasoning, of course, didn't go down too well with the caller, who'd be crestfallen and confused by the time I had hung up. Wasn't plasma the state of the art in TV?
Fast-forward to the present. Plasma TV prices have dropped, and my enthusiasm for the technology's image quality has increased. It's gotten to the point where I'd seriously consider using a plasma set as the main TV in my home.
| | |
| --- | --- |
| | |
| The Zenith P60W26 (rear) and Pioneer PDP-5030HD | |
Sure, with an average price range of six to fifteen grand, most people aren't going to order one for every room in the house (and another for the Jacuzzi), but as a big-screen TV for movie watching, Web surfing, and videogame playing, at least some plasma TVs are nearing the realm of financial possibility. With these changes in mind, we rounded up four widescreen (16:9 aspect ratio) models spanning the plasma price and size spread to see how they'd fare in the lab and viewing room: at one end, the 32-inch Hitachi 32HDT20 ($6,000) and 42-inch Samsung Tantus SPL4225K ($6,500), and at the other end the 50-inch Pioneer PDP-5030HD ($15,500) and 60-inch Zenith P60W26 ($15,000).
Hitachi 32HDT20
| | |
| --- | --- |
| | |
| HITACHI 32HDT20 DIMENSIONS: 38 3/8 inches wide, 19 3/4 inches high, 3 5/8 inches deep; display size 32 inches (diagonal) WEIGHT: 58 pounds PRICE: $6,000 | |
Unlike many plasma sets in the past, which were stripped-down monitors devoid of friendly features like standard TV tuners, picture-in-picture (PIP), and built-in audio systems, the 32HDT20 from Hitachi, a 32-inch (diagonal) model with 1,024 x 852 resolution, includes all of that and more. (So does the company's larger, 42-inch model, which has 1,024 x 1,024 resolution and sells for $8,000.) Most of it is handled by the set's Audio/Video Control Center, a component-size outboard box that neatly connects to the display with a single proprietary cable.
With a silver frame and thin black speakers lining the left and right edges of its screen, the Hitachi panel has a sleek, appealing, techno look. The set comes with a tabletop stand that swivels 20° in either direction. If you plan to mount it on the wall like a piece of art, Hitachi offers both an optional wall-mounting bracket ($299) and a longer (32-foot) cable to the A/V Control Center.
Underneath a flip-up panel on the Control Center's front are most of the features you'd find on a regular TV, including power on/off, buttons to select channels, change volume, and navigate onscreen menus, and an A/V input for a camcorder. An auto-on feature automatically powers up the TV when a signal is sensed at any of the video inputs. The rear panel has a wide selection of A/V inputs and outputs, including two sets of wideband (HDTV- and progressive-scan-capable) component-video jacks, a VGA input for hooking up a computer, and a high-bandwidth DVI (Digital Visual Interface) connection, which carries uncompressed digital video signals from a set-top HDTV decoder. There are also jacks for hooking up the infrared (IR) blasters used by the set's A/V Network, a feature that lets you control up to four external components via "soft" keys on an onscreen menu.
The clean layout of the Hitachi's remote control makes it easy to use. Its backlit keypad includes buttons to directly access each input, toggle through the four picture presets, and select from its five display modes - two of these expand standard images to fill the wide screen. When you're watching programs in the 4:3 Standard mode, you can select either gray or black sidebars from the setup menu.
In case you were wondering, you set up a plasma TV in much the same way as a rear-projection or direct-view set that uses cathode-ray tubes (CRTs), but because the plasma panel's pixel array is fixed, you don't have to worry about issues like screen geometry and convergence, parameters that often need adjustment on CRT-based displays. In addition to its standard picture controls and picture presets, the Hitachi provides three color-temperature presets plus a setting that lets you optimize the TV's color rendition for standard- or high-definition programs. You can't store a custom picture memory for each of the Hitachi's video inputs, but you can customize each of its presets and call up the appropriate one when you switch sources.
After completing my picture adjustments with the Standard color-temperature preset selected, I was impressed with the set's image quality. Unlike some earlier plasma TVs I'd seen, the Hitachi displayed a satisfying black. Its performance here wasn't CRT-grade - as good as plasma technology has become, it still can't match tubes for displaying deep black and fine shadow details - but I was happy with most of the programs I watched. For example, in a scene from the Collateral Damage DVD where a terrorist posing as a traffic cop stands in front of a wall, I could detect differences between his black leather jacket and the darker black of the wall's granite surface. The TV didn't fare as well on very dark scenes, like a nighttime one where star Arnold Schwarzenegger, seeking vengeance, sets up his own bomb, but most of the plasma displays in this test came up short on tough material like this.
The Hitachi's color rendition was also very good. Skin tones of the actors and the vivid orange, red, and yellow hues of the gear carried by emergency crews responding to an explosion in Collateral Damage looked natural. For the most part, the 32HDT20 did a clean job of displaying standard video sources like DVDs. Its 2:3 pulldown feature ensured that all diagonal lines in programs shot on film looked solid, and I hardly detected any signs of false contouring (that typical artifact of early plasma displays), which mainly shows up as striations in solid surfaces and backgrounds.
One thing I didn't like was Hitachi's overly aggressive sharpness circuit. Even at the minimum setting, I could see white rings on the edges of the hieroglyphs in the opening excavation scene of The Fifth Element, one of my reference DVDs. When I switched over from my DVD player's standard output to its progressive-scan output, however, the ringing all but disappeared.
To check out some HDTV on the Hitachi, I took advantage of Dish Network's free Discovery Channel HD Theater preview. The relatively small 32-inch screen wasn't able to fully convey the drama of the dust storms in a nature documentary (there's something to be said for big screen sizes when watching HDTV), but the image was crisp and seamless. As a plasma TV for the bedroom or another small space (like the one where you'd put that Jacuzzi), Hitachi's 32HDT20 is a relatively affordable choice that offers great image quality plus all the trimmings you expect when you buy a TV.
Samsung SPL4225K
| | |
| --- | --- |
| | |
| SAMSUNG SPL4225K DIMENSIONS: 41 inches wide, 25 inches high, 3 1/2 inches deep; display size 42 inches (diagonal) WEIGHT: 71 pounds PRICE: $6,500 | |
With no TV tuner or convenient outboard box for making A/V connections, Samsung's Tantus SPL4225K has something in common with the plasma TVs of the past. But that's not to say that this 42-inch (diagonal) set is spartan. It comes with a tabletop stand and a pair of detachable speakers that you can hook up with supplied cables to the TV's onboard 14-watt amplifier. Wall-mounting hardware is also available but will cost you an extra $249.
Like the other TVs in this group, the Samsung sports a silvery-gray finish. A few controls are accessible from its front panel, including buttons to turn the set on and off, switch inputs, change volume, and navigate menus. The set's inputs and outputs are located in a recessed area on the lower part of its back panel. That makes them somewhat hard to get to, but it also ensures clean and orderly cable routing if you choose to wall-mount the set. Connections on the back panel include one VGA input and two sets of component-video inputs - one for 480i and 480p signals, a second for 480p, 720p, and 1080i signals. The display's native resolution is 852 x 480, which means that it can't display high-definition images at full resolution. Instead they're downconverted to match the "enhanced-definition" set's pixel array.
The Samsung features a solid, well-designed remote control with a clean button layout. Although the keypad isn't backlit, its buttons are easy to locate, and several functions can be controlled by a big joystick located at the center. A row of buttons at the bottom lets you directly switch the TV's inputs, and there are buttons to activate PIP functions, select picture presets, and switch between the set's six display modes, which include 4:3 and 16:9 aspect ratio settings plus zoom and stretch modes. A few additional control buttons are located under a flip-up panel on the top of the remote.
The video menu is pretty short on setup options. The only addition to the standard suite of video controls is a Color Tone setting that lets you choose between five color-temperature presets: Normal, Warm 1 and 2, and Cool 1 and 2. With its Warm 2 setting selected, the Samsung measured relatively close to the NTSC color-temperature standard at the low end of its grayscale, but additional adjustments in the set's service menu were required to move it closer at the high end (see "In the Lab," page 105). There's only one custom picture setting, and it applies to each of the Samsung's inputs. Unfortunately, this will limit your setup options when you're juggling a variety of video sources.
After I completed my adjustments, which included backing off the color control a few steps to compensate for a slight red push, the Samsung's color was right on the money. In the plaza explosion scene in Collateral Damage, I could distinctly see the various skin tones in the faces of the sitting-duck crowd. However, the set's black level wasn't as impressive as its color rendition. In the scene where the black-clad policeman stands in front of the deeper-black granite wall, his clothing appeared to merge with the background, giving the impression that his hands and face were floating.
My overall take on the Samsung was that its image hung together well - particularly with high-definition programs, which looked both bright and clean even though they weren't displayed at full resolution. But the set's video-processing capabilities left something to be desired. In the first scene from the Superbit DVD of The Fifth Element, I could see "stairstep" artifacts on a wooden plank that a messenger scales to join his friends, indicating that the set lacks 2:3 pulldown processing for film-based programs. I could also see false contouring in the background during the scene where Leeloo first gets "reconstructed." This wasn't a serious issue with DVDs for the most part, but it was more evident on programs received via satellite, some of which were very noisy and compressed-looking to begin with.
At $6,500, Samsung's 42-inch SPL4225K is a lot of plasma for the money. While there's room for some improvement, for the most part I found that it delivered accurate color and fairly clean images.
Pioneer PDP-5030HD
| | |
| --- | --- |
| | |
| PIONEER PDP-5030HD DIMENSIONS: 48 inches wide, 28 1/8 inches high, 3 7/8 inches deep; display size 50 inches (diagonal) WEIGHT: 86 pounds PRICE: $15,500 | |
Like Hitachi's plasma sets, Pioneer's 50-inch (diagonal) PDP-5030HD comes with a host of amenities, including a tabletop stand, speakers that attach to its sides and are powered by a built-in 24-watt amp, and an external Media Receiver with dual NTSC tuners that handles A/V switching and connects to the display with a single dedicated cable. Optional wall-mounting hardware is available ($500 for a flat mount, $650 for a tilting mount).
The PDP-5030HD's slender frame and stand give it a space-age look that definitely brought out my techno-lust. Only a smattering of small control buttons are on the TV's front panel, including those to switch inputs, adjust volume, and select channels. There's also a power button, but you won't have to press this more than once since the display remains in a standby mode until it gets power-on instructions from the Media Receiver.
According to Pioneer, a number of image-quality enhancements give the PDP-5030HD improved brightness and contrast compared with the company's previous plasma sets. These include a deeper, encased-cell structure for the 1,280 x 768- pixel panel and a black-stripe coating on its protective screen - a technique used to boost contrast in CRT-based sets. Pioneer also claims that its new panel design minimizes light bleed between adjacent cells, improving picture clarity and detail.
The Media Receiver is equipped with enough connectors of enough different types for almost any kind of hookup you might require. Both a VGA and an A/V input with composite/S-video connections are located on the front so you can easily connect a laptop computer, camcorder, or game console. Connections on the back include two sets of wideband component-video inputs, a second VGA input, and an RS-232 port for computer control.
Pioneer's remote control for the PDP-5030HD is a lot like the ones that come with the company's other TVs. That's to say it's big and loaded with so many buttons that it's hard to find the one you want. Besides having a backlit keypad, the remote features buttons to control the set's picture-in-picture features, toggle through its five video and two computer picture presets, and switch its display modes, which include 4:3, 16:9, zoom, and stretch. The remote has only one A/V input-selection button, forcing you to cycle through inputs until you reach the one you're looking for.
Pioneer offers lots of image-tweaking options in the PDP-5030HD's picture-setup menu. These include five color-temperature presets, high and low black level, and on/off settings for its PureCinema feature, which uses 2:3 pulldown processing to ensure smooth-looking images when you're watching material originally shot on film. In addition to creating a custom picture preset for each of the set's inputs, you can modify any of its four factory picture presets and store your changes.
The Medium-High color-temperature setting measured very close to the NTSC standard at the high end of the grayscale but drifted toward red-purple at the low end. After I made service-menu adjustments, the set's color was more accurate. Returning to Schwarzenegger's antics in Collateral Damage, I could see clear differences between Arnold's ruddy skin and the fairer skin tones of his doomed wife and son. And bright colors, such as in the orange bags carried by emergency crews in a later scene, looked extraordinarily vivid.
The Pioneer's brightness and contrast levels were also extremely good, lending credibility to the company's claims that the panel's new cell structure and black-striped screen improve picture performance. Even so, in dark scenes like the one where an enraged Arnold sets off a bomb on a South American street, the image tended to flatten out somewhat and lose shadow detail. On the positive side, there was almost no false contouring even in tough shadowy scenes. And high-quality satellite programs, like a nature documentary I caught on the National Geographic channel, looked crisp and clean.
If the Pioneer held up well on DVD and satellite programs, it looked stunning when displaying HDTV. Watching a high-def portrait of Spain from a JVC D-VHS sampler tape, I could make out intricate details in the complicated tilework of the Alhambra. And bright colors in the shots of a flower vendor's wares looked so intense that they gave new meaning to the term "eye candy."
At $15,500, Pioneer's plasma TV is bound to be a pricey option for most folks. But if you're looking for a set that can satisfy space-age desires and deliver great image quality with both standard and high-def video programs, it's one you should seriously consider.
Zenith P60W26
| | |
| --- | --- |
| | |
| ZENIH P60W26 DIMENSIONS: 57 3/4 inches wide, 34 7/8 inches high, 4 inches deep; display size 60 inches (diagonal) WEIGHT: 155 pounds PRICE: $15,000 | |
The photographer Ansel Adams is said to have preferred big photographic prints to small ones because large images involve the eye in a more lifelike dynamic. After looking at high-definition footage of desert landscapes on Zenith's P60W26 plasma TV, I knew what he was talking about. With a 60-inch (diagonal) display, the Zenith is one of the largest plasma sets available. Even so, at $15,000 its price is comparable to some smaller plasma sets, making the Zenith a big-scale bargain in the plasma TV world.
Like the other sets in this survey, the Zenith has a silver-toned frame and can be table-mounted when paired with an optional stand ($399). Ideally, though, a flat TV this big should be hung on a wall. Although Zenith doesn't offer any mounting hardware, your A/V dealer should be able to hook you up with one from a third-party manufacturer that makes a custom mount for the P60W26. Zenith does, however, offer optional side-mounted speakers for $499.
The sparse array of buttons on the lower edge of the panel let you control power, volume, and input selection. Video inputs are located on the lower part of the back and include wideband component-video and VGA jacks. All connections are grouped in a facedown arrangement, allowing for neat cable runs if you hang the TV on a wall.
The P60W26's small, solid remote control features a central joystick for adjusting volume and navigating menus. Its keypad isn't backlit, but the buttons are large and arranged in an intuitive layout. There are buttons to toggle through inputs and select PIP features as well as the display modes, which include 4:3, 16:9, and zoom.
Zenith makes very few picture controls available - a limiting factor, but at least it simplifies the initial setup. In addition to Clear and Soft picture presets, the set provides a custom User setting that stores your preferences. Unfortunately, User is the only custom memory available - the other two presets can't be modified, and the User setting applies globally to all video inputs. There are no color-temperature presets, although controls for adjusting red, green, and blue levels are available in the setup menu.
The Zenith required very little adjustment to make it look good. My first step was to move back the color control to compensate for its color decoder, which tended to emphasize reds. The set features Faroudja video processing with DCDi, an advanced system for converting standard 480i (interlaced) images derived from both film and video to progressive-scan. With the Faroudja technology working its magic, everything looked clean when scaled to the panel's native 1,280 x 720 pixel array. In The Fifth Element, for example, the image looked solid, and backgrounds were all but free of any false contouring.
The fires, explosions, and general mayhem of Collateral Damage looked as horrifying as they should have, and the Zenith displayed skin tones and other colors with a high degree of realism. I thought both DVDs and digital satellite programs looked slightly soft, but I was very impressed with the set's handling of shadows. Cueing up the scene in Collateral Damage where the leather-clad cop stands in front of the black wall, I thought the Zenith did an excellent job of distinguishing the various shades of black. And in the scenes later on where Arnold gives the terrorists a taste of their own medicine, the dark images showed a fair degree of depth instead of totally flattening out into a two-dimensional field of gray.
Returning to that high-definition desert landscape on the D-VHS sampler tape, the Zenith displayed an amazingly wide range of reddish tones in the rust-colored hills of Southern Utah. And when I fast-forwarded to the more familiar streets of Manhattan, I was mesmerized by the vibrant colors of a graffiti-splattered wall. The lifelike scale of the scene, and the Zenith's rendering of it, made it seem like I was looking out a window. I could even make out gritty details like the blackened blotches of chewing gum that are a permanent feature of most New York sidewalks.
With its P60W26, Zenith has an ultra-big plasma TV that's priced to compete with smaller sets. Although I found a few minor things about the set lacking - specifically, its minimal picture controls and single custom picture memory - it delivered very good image quality, which is something I didn't expect from a plasma TV this large. If you've got wall space to spare, this set is definitely worth a look.
After spending many hours with these four flat-panel TVs, it's obvious to me that plasma TV technology has come a long way in the past few years. While the traditional CRT still retains a picture-quality advantage over plasma, there's no denying the appeal of the latter's cool, space-saving design. And with some plasma TVs now selling in the $6,000 range, prices appear to be finally coming down. Now if I could only afford a Jacuzzi . . . .