Pioneer Spins Its First 4K Ultra HD Blu-ray Player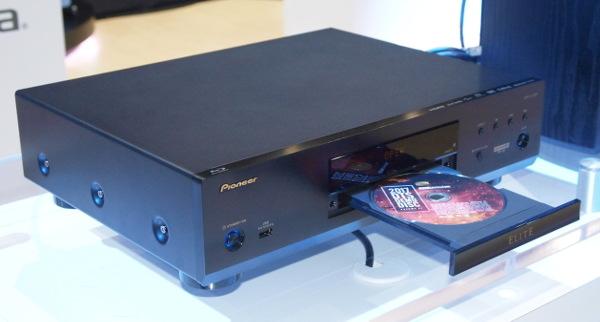 Pioneer is bringing its first 4K Ultra HD Blu-ray player to the CEDIA Expo, helping fill a premium-player void created by
Oppo's exit from the Blu-ray market
.
Pioneer's Elite series UDP-LX500, due in October at a suggested $1,099, is a high-resolution-capable universal disc player that plays DVD-Audio, SACD, Blu-ray, 3D Blu-ray, and DVD discs as well as CDs. It supports HDR10 and Dolby Vision HDR (high dynamic range) video and packs a variety of audio and video performance-enhancing designs, including "ultra-rigid" construction to prevent vibrations that would hamper optimum disc reading and reduce audio and video quality.
SDR/HDR preset modes let users optimize SDR and HDR video output for use with LCD TVs, OLED TVs or projectors, with automatic switching between SDR and HDR versions of the presets based on the video source.
Two HDMI outputs include a main output that carries audio and video and one sub HDMI output for transferring audio to older audio components with older HDMI inputs that don't pass through high-bandwidth video to a display.
The on-screen display shows disc details as well as mastering information, such as MaxFALL (Maximum Frame Average Light Level) and MaxCLL (Maximum Content Light Level), available with some HDR content. HDMI output information is also displayed.
To boost audio performance, the UDP-LX500 comes with:
• vibration-reducing construction, including a rigid disc drive and 1.6 mm-thick chassis base reinforced with a 3mm-thick steel plate.
• Pioneer's PQLS (Precision Quartz Lock System) to eliminate timing-error distortion when connected to PQLS-compatible Pioneer AV receivers, yielding the best possible digital-to-analog conversion, the company said.
• a Zero Signal Terminal connection to an AVR's unused audio or video input terminal, aligning the reference ground level (GND) of the audio/video signals between the two devices to deliver "precise and high-quality signal transmission," Pioneer said.
• a six-layer main circuit board said to eliminate digital noise and minimize ground impedance to dramatically improve the signal-to-noise ratio of audio and video.
• separate blocks for the power supply, analog audio, and disc drive/digital processing to eliminate electrical and magnetic interference.
• a direct function to bypass internal digital AV circuitry to maintain a pure analog-audio signal.
The UDP-LX500 supports high-resolution audio playback but isn't equipped with video-streaming apps or wireless multiroom audio. It plays content on USB sticks and USB-connected hard drives. To integrate with installed home-control systems, the player features RS-232c and Ethernet ports.
The universal player will be available in the U.S. through Onkyo USA, a privately held company that markets and distributes audio products under the Onkyo, Pioneer, Pioneer Elite, Integra, TEAC, and Esoteric brands.