Pioneer PDP-4340HD 43-inch Plasma HDTV Page 2
The Media Receiver's three sets of wideband component-video inputs include one on the front, and it has five digital video inputs: two HDMI (High Definition Multimedia Interface) and two i.Link (FireWire) jacks on the rear plus a VGA-type RGB input on the front. Any of the off-air analog and digital antenna/cable connections on the back can accept a direct cable feed.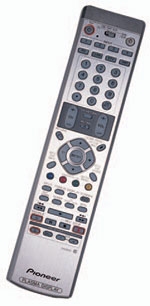 Pioneer's remote control is long, slim, and packed with buttons. But most of the buttons are logically bunched into discrete clusters, and the fully backlit keypad lets you find the one you want in a dark room. I was surprised to see eight direct-input keys for quickly switching sources - a new record in my experience.
You can toggle through picture presets by hitting the A/V Selection button, and pressing Screen Size lets you switch between the display modes. These include 4:3 (displays standard squarish images with gray sidebars), Full (for HDTV and widescreen DVDs), Zoom, and two stretch modes called Cinema and Wide. All modes functioned with standard-definition 480i (interlaced) and 480p (progressive-scan) signals, but not high-def programs.
Setting up the PDP-4340HD to tune in digital broadcasts was a pain owing to the Media Receiver's unresponsive onscreen signal-strength meter. No matter where I put the antenna, the meter indicated a weak signal. But when I finally gave up and let the Auto Channel Preset function fly, the receiver registered most of the digital stations in my area. Not only that, but it now said the signals were strong!
Along with the faulty meter, the Pioneer lacked any sort of electronic program guide (EPG) for digital broadcasts. Strangely, this feature was detailed extensively in the manual. Not that such a thing ultimately matters when you have a high-def cable box with its own interactive guide, but after reading the manual I was looking forward to using the EPG to program HDTV recordings on my JVC D-VHS deck. As it stood, I had to set the deck up to manually record HDTV broadcasts fed from the Pioneer's i.Link interface.
Tweaking the Pioneer's picture proved easier. The TV offers loads of flexibility: you get a custom User setting for each input, and you can adjust the various picture presets and store your changes. You can also use the digital video noise-reduction adjustment to smooth out background grunge on VHS tapes and analog TV, and there's an MPEG noise-reduction setting to smooth out noisy-looking DVDs.
A new Pioneer feature that you'll find on the PDP-4340HD is the Advanced PureCinema mode for viewing film-based programs on DVD. Instead of standard 2:3 pulldown (see "Home Theater," page 36), it uses 3:3 pulldown, bumping up the screen refresh rate to a speedy 72 cycles per second - a more accurate match for the 24-frame-per-second film original. According to Pioneer, Advanced PureCinema can deliver smoother motion on scenes with fast action, although to my eyes the difference was extremely subtle.
LATEST VIDEO