Picture the Sound of These Speakers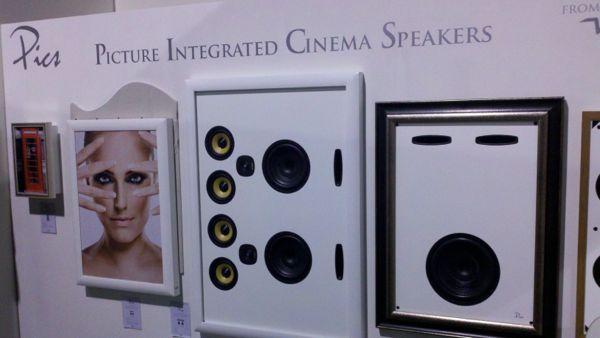 British speaker maker, VIBE (Vented Innovative Bass Enclosures), showed off some interesting hybrid in/on-wall speakers. The PICS (Picture Integrated Cinema Speakers) speaker cabinets are designed to extend into the wall in much the same way that a traditional in-wall speaker would, except the remainder of the speaker extends another inch or two out from the wall. In order to stealthify the speakers, they come with a basic picture frame bezel and a black, acoustically transparent grille cloth. The frame can be painted, or you can go to your local frame dealer and have a frame of your own made. VIBE says customers can choose from a number of images or submit their own image for printing on the grille cloth. Unlike other manufacturers who make art/photo grille clothes, VIBE fuses the image into the cloth. The process is supposed to maintain the acoustically transparent properties of the cloth. According to VIBE, traditional screen printing on grille cloth significantly changes the acoustic properties of the cloth.
Currently, PICS are not available in the U.S. due to a lack of distribution, but the company does intend to bring them to America. While pricing on the entire line was unavailable, the large grille-less speaker in the middle of the photo above sells for around $4,000/ea.