Paradigm Millenia Series Home Theater Speaker System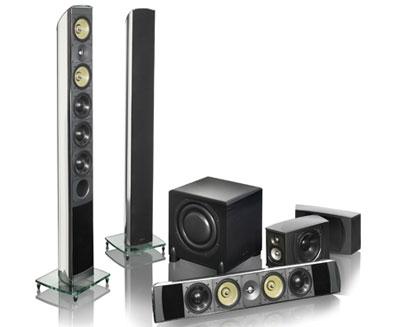 Just as with celebrity models, the trend in speakers these days seems to be toward the ever more slender yet exquisitely tall and glamorous. Okay, it's a pretty silly comparison, but if we push it one step further, the Paradigm Millenia 300s are so skinny, they must be the Kate Moss of loudspeakers.
At almost 4.5 feet high, yet only a shade over 5 inches wide, these speakers follow in the footsteps of other home entertainment gear that's becoming ever sleeker and more high-tech looking - specifically, those flat video displays that are flying off the shelves. With their chrome-like polished-aluminum finish (black chrome is also available) and elegant glass pedestals, it's not as if the Millenia are trying to disappear into the décor - more like they want to blend in harmoniously while making a modern visual statement of their own. Especially with their grilles in place, these should have a very high WAF (wife acceptance factor) because, despite their height, they take up very little floor space (again, just like a supermodel).
The catch with making a speaker so slender, of course, is that it puts tight limits on the size of drivers, so the most common solution is to use lots of smaller ones. Paradigm has fitted no fewer than five woofers to the 300, two of which also handle the midrange in this two-and-a-half-way design. Using a D'Appolito-style layout for the mid-woofers and tweeter (with the tweeter flanked by the mid-woofers) atop the tall tower, Paradigm ended up positioning these drivers a good bit above normal ear height when seated. Typically, this might be a concern because of the array's vertical directivity, but the designers seem to have minimized any problems through careful crossover design.
LATEST VIDEO