Panasonic Viera TH-50PZ85U Plasma HDTV
The One to Beat?
While LCD displays may dominate that video wall at your local Best Circuit Shack these days, don't dismiss the benefits of plasmas. No company has put more R&D into plasma development than Panasonic, and it's paid off. People may disagree about who makes the best plasma sets, but no one will dispute that Panasonic is in the thick of the action. When it comes to the breadth of its product range, Panasonic is the champ.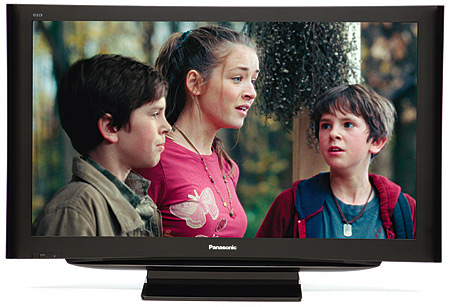 The Viera TH-50PZ85U is the largest of Panasonic's PZ85U line (42- and 46-inch models are also available), which is one step down from the company's THX-certified 800U and non-THX 850U sets. According to Panasonic, the latter adds a number of features, including additional controls in a Pro menu (panel brightness, gamma selection, and user-menu white-balance adjustments), a Studio Ref mode option, and Viera Cast (which provides direct connection to a limited number of Panasonic-selected Internet sites). The 850U series also offers true 24-frame-per-second playback (at a direct multiple of 24 fps), a fourth HDMI input, and the ability to play (via its SD card slot) full-motion AVC high-definition video recorded onto an SD card by an HD camcorder.
Features
Most of the TH-50PZ85U's inputs are on the back panel, but a more accessible side panel also offers shared composite and S-video jacks, L/R audio, and the set's third HDMI connector. If you use a DVI-to-HDMI adapter that requires a separate audio link, the set's Audio menu lets you select which L/R analog input you wish to use for this connection.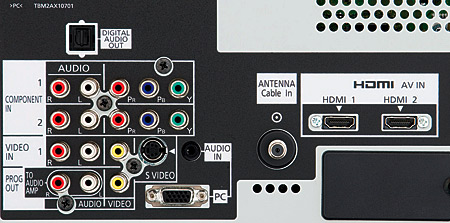 There's also a composite video output. This can pass along video only from the set's composite or S-video inputs. The display can pass through any digital video that the onboard ATSC tuner receives—after it converts it to analog composite NTSC at 480i.
An SD card slot is located under a panel on the opposite side, near the on-set controls. You can use the SD slot to play back JPEG still photos, but not HD or SD motion video.
The set displays sources up to 1080p/60p. Unlike Panasonic's previous sets, it produces a viewable image with 1080p/24 program material. But it converts any 24-fps input to 60 fps, by adding 3:2 pulldown prior to display. Any Blu-ray player does the same thing when you select 1080p rather than 1080p/24. (Most movies on Blu-ray Discs are 24 fps.) Whether the conversion happens in the set or in the player, it defeats the benefit of 24-fps sources (which can subtly smooth motion by eliminating the judder inherent in 3:2 pulldown).
There are no surprises here in the aspect-ratio settings. They include all of the usual suspects. The set does not have picture-in-picture or dual-picture capability, though.
The set's Viera Link feature (called EZ Sync on earlier Panasonic sets) provides interlinked operation with other Panasonic components equipped with HDAVI Control and connected together via HDMI. Viera Link might also work with some components from other manufacturers, but this is not guaranteed. Check out our "Hook Me Up" column in the February issue or at www.HomeTheaterMag.com for more information on Viera Link (a.k.a. EZ Sync) and HDMI CEC (Consumer Electronics Control—the generic name for the industry-standard HDMI interactive control that many manufacturers now offer).
The owner's manual warns about burn-in. Burn-in is a temporary or even permanent ghost image on your screen. It can result when you leave a stationary image—or an image that uses only part of the screen area—on the screen for an extended period of time. This can happen with any display that uses phosphors, including both CRTs and plasmas. The risk of burn-in decreases with brightness. With the Panasonic, it's less likely to happen in Cinema mode than in Vivid.
The Panasonic provides a number of features that are designed to minimize burn-in. These include a screensaver, an orbiter (which constantly moves the picture by a few pixels), and adjustable side bars for 4:3 images (with Off, Dark, Mid, and Bright settings). Panasonic also includes a scrolling bar that can help clear temporary burn-in from the screen.
It's a Setup
The Panasonic's detachable, locking AC connector is a smart touch. It's the first time I've seen one on a flat-panel display. It's unlikely that the more typical detachable cord will come out, but if it does, you'll have to take down a wall-mounted display to reattach it.
The Panasonic's onscreen menus have the usual standard video controls, along with manufacturer-specific adjustments. There are five preset picture modes: Vivid, Standard, Cinema, Game, and Custom. Users can adjust all of these modes. You can also set them individually for each input. Throughout this review, I used Cinema and tweaked it as needed.
LATEST VIDEO