Panasonic VIERA TC-P58V10 Plasma HDTV
Price
: $2,700
At A Glance
: Best blacks yet from Panasonic • THX certified • Excellent value • Superb off-axis performance
Plasma Brings the Juice
For many reasons, not the least of which is the sheer brightness that grabs eyeballs on the showroom floor, LCD HDTVs now outsell plasmas by a significant margin.
While some manufacturers have abandoned plasmas, or never went there to begin with, and others include a few plasmas in their otherwise LCD-dominated lines, Panasonic remains passionate about plasma. The company offers LCD sets, particularly in smaller sizes, but when you think Panasonic, you think plasma.
Panasonic's diverse lineup of sets is a confusing jumble on its Website. After some research, it was clear that at $2,700, the TC-P58V10 is the highest-priced set of its size in Panasonic's consumer line. At one time, you had to pay Porsche prices (well, relatively speaking) for a flat-panel display of this size. But those days are over. Even in today's highly competitive market, this set would be a remarkable bargain if it delivers. We're here to see if it does.
VIERA Tour
There's nothing unique about the TC-P58V10's appearance. While a set of this size doesn't exactly blend into the background, I found it perfectly comfortable to watch from 11 feet away in the 13-by-17-foot room I tested it in.
The inputs and outputs are clustered on side and rear jack panels. They not only include the usual suspects but also an SD card slot for viewing your photos and videos (but no USB port). Plus it has a LAN terminal to connect to your computer or home network and make use of Panasonic's VIERA CAST Internet features. You can also connect Panasonic network cameras so you can check the nursery or front door.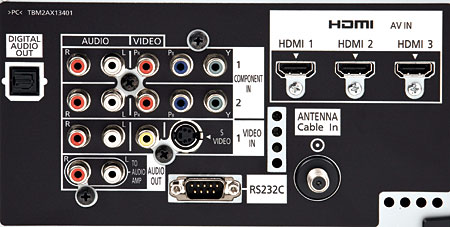 The supplied power cord is a special design that locks into position. We've seen this on several recent Panasonic sets. It's a smart precaution against the minor crisis of a power cord falling out after you've mounted the set on a wall.
All Panasonic VIERA plasma sets employ the company's latest plasma technology. The new design—or NeoPDP (New Plasma Display Panel)—is said to provide significant image improvements, including deeper blacks. Panasonic also claims that it significantly reduces power consumption.
The TC-P58V10 offers five preset Picture modes plus Custom, each of which may be individually tweaked by the user. However, the settings you dial in for each mode are universal; you cannot use the same mode with different settings for different inputs.
The active picture controls vary with each mode. While all of the modes offer five different fixed color-temperature settings that can be calibrated in a hidden service menu, the Custom mode is the only one with white-balance controls in the user menu. Two other settings are also exclusive to the Custom mode: panel brightness (three levels) and gamma (four settings).
As are a number of other Panasonic sets, the TC-P58V10 is THX certified. One of the picture modes is THX, which offers more user control over the picture settings than the THX modes found on some competing sets. However, like the other non-Custom modes, it doesn't offer user menu color calibration controls. The THX mode also has a fixed gamma and no panel brightness adjustments apart from the Contrast control.
Given these THX mode limitations, I needed to make a decision early on in the review period. The factory THX gray scale didn't quite hit the mark. The fixed Warm 1 color temperature setting was tolerable. But at roughly 6800K, it was a little too high, and none of the other options were any better. I could use the Custom mode and have user-menu access to the calibration controls. Or I could use the THX mode and enter the hidden service menu to perform the calibration. Either option would produce a good gray scale, with the Custom mode offering the flexibility of additional, useful controls.
However, the THX mode's color gamut was nearly dead on to the HD color standard, while the Custom mode's gamut was oversaturated. The set doesn't offer color management (there is an On/Off color management control, but it does little or nothing as far as I could see or measure), so the choice was easy. I went the THX route for the rest of the review. The lack of gamma or panel brightness controls in THX was no barrier. The THX gamma averaged about 2.25 (the recommended range varies from 2.2 to 2.4 depending on your expert du jour), and the set's brightness in THX was comfortable for both day and night viewing.
This is the first Panasonic HDTV I've tested that treats a 1080p/24 source optimally. When it sees a 1080p/60 source, it does the standard 1080p/60 schtick. But when you give it 1080p/24, there are three options: 60 hertz (with 3:2 pulldown added), 48 Hz (this repeats each frame twice, which doesn't compromise the benefits of the source's 24-fps frame rate but does produce visible flicker), or 96 Hz. The latter, as a direct multiple of 24 fps, keeps the benefits of the film frame rate without flicker. It's the best, no-compromise option.
The set's VIERA CAST feature can link you to specific Internet sites through a LAN connection—either directly to your cable modem or similar Internet port or through your home network. As with other sets that offer a similar feature, you cannot freely surf the Web. Instead, you are limited to specific sites that have partnered with Panasonic. As of this writing, those sites include YouTube, Picasa, Bloomberg, Weather, and Amazon's Video-on-Demand. If you're into this sort of thing, it works fine. I admit that YouTube, for example, can be a lot of fun, even if it is quality challenged six ways from Friday. We tested this feature in our review of the Panasonic TC-P46G10 in the July 2009 issue of Home Theater, available online at HomeTheaterMag.com.