Panasonic VIERA TC-P50VT25 Plasma 3D HDTV HT Labs Measures
HT Labs Measures
Black: 0.004
White: 27.3
Full-On/Full-Off Contrast Ratio: 6,825:1
For the picture adjustments used in this review, go to HomeTheaterMag.com. Unless noted otherwise, all of the measurements here were taken in the THX Picture mode, in 2D, through an HDMI input, and with the set adjusted as needed for the most accurate image in a darkened room.
This is the best full-on/full-off contrast ratio and the deepest black level we have yet measured on any plasma outside of the last generation of Pioneer KUROs (now discontinued). Only a few of the LCD designs with LED backlighting and local dimming can do better.
Both the Before Calibration and After Calibration color-tracking measurements were performed in the THX mode set to Warm 2, with the After calibrations done in the service menu. The Before Calibration result, out of the box, was fair. Post calibration, the Delta E ranged from 1.36 to 3.6 from 30 IRE (dark) to 100 IRE (peak white). It increased to 8.6 at a very dark 20 IRE, with a measurable but not visibly obvious blue shift. (Delta E is a figure of merit that indicates how close the color temperature comes to the ideal white point of D6500. The lower the number, the better. Experts generally recommend a maximum of 3 to 4.)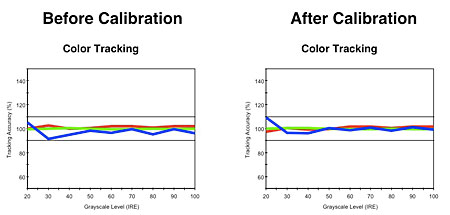 The CIE chart shows the color gamut results for the THX modes. The black triangle indicates the Rec. 709 HD standard, and the THX mode (white triangle) is as close to ideal as you'll ever see out of the box.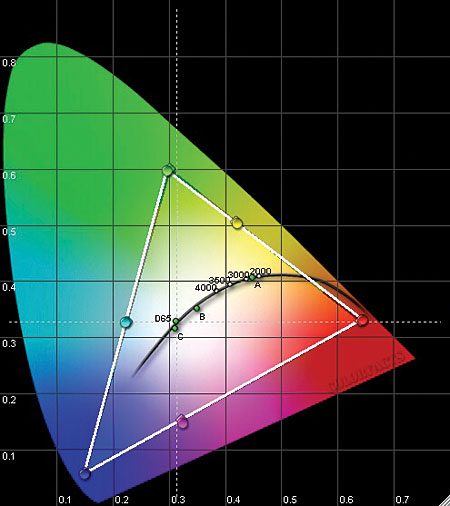 In THX mode, the set's gamma averaged about 2.05—a little short of the ideal of 2.2 to 2.4. A lower gamma can subtly wash out the image (lower gamma numbers indicate lighter mid-level brightness), but there was no sign of that in our viewing tests.—TJN