Panasonic TH-65VX100U Plasma Monitor
I watched a lot of television growing up. But I was also a passionate reader. Okay, more often than not what I was reading was a Radio Shack catalog or the latest issue of the now-defunct
Audio
or
High Fidelity
. But sitting at least a dozen feet away from my parents' 21-inch console television with all the room lights on, it was easy to divide my attention between the book—er, magazine—and the latest episode of
Gunsmoke
.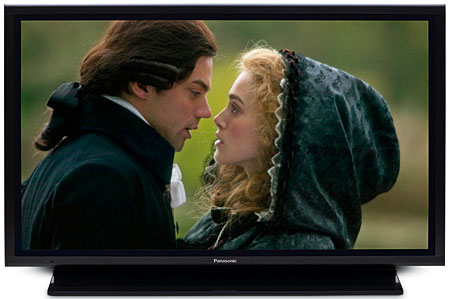 This sort of activity is now called multitasking (though a therapist might call it attention deficit disorder), and it's not easy to do with today's big-screen televisions. A big image commands your attention. And with its dominant 65-inch image, Panasonic's new TH-65VX100U monitor certainly does just that. It's pricey at $10,000; a smaller, less-expensive 50-inch version should be out soon. But put a great high-definition image on its screen and you won't want to do anything but sit back and watch.
Features
The 65VX100U is unique among the Panasonic displays we've reviewed—it's a monitor rather than an HDTV. Marketed through the Panasonic Professional Display Company and not Panasonic's consumer division, you won't find it in the aisles of Best Buy or with a Viera label attached. It's available only through your friendly neighborhood custom installer.
As a monitor, the 65VX100U adds controls and features that are seldom found in conventional HDTVs. But it's also missing a few features that may be important to some buyers. There are no onboard TV tuners of any kind, either SD or HD. If you rely on an over-the-air antenna, you'll need an outboard ATSC tuner, which was common in the early days of HDTV but scarce in today's consumer market. If you use a cable or satellite set-top box, you won't need an onboard tuner.
The set also lacks a full audio system. However, unlike some monitors, it does have a built-in stereo amplifier. If you plan to use the onboard audio system (even just occasionally), all you need is a pair of speakers. And with speakers of reasonable quality, you'll get far better sound than from any other flat-panel set we've reviewed. But please, Panasonic, what were you thinking with those cheap, push-and-grab terminals for the speaker leads?
Don't expect other familiar goodies, either, such as picture-in-picture, parental lock, direct Internet access, or the ability to view your vacation photos from a flash drive or card reader. You won't find them here. And while some of the features it does offer are familiar, some are not.
The video inputs are arranged on removable modules that slide into three slots. In the standard configuration, slots 1 and 2 each have two HDMI ports and slot 3 has a single component/RGB input with analog L/R audio connections. You can order a variety of HDMI or component combinations (but no more than two HDMI modules), or even DVI-D and HD-SDI (high-definition serial-digital Interface) boards. HD-SDI is a pro connection format, but it may be useful in some custom installations. There are no composite or S-video options. But a product such as this will normally be used with a flexible preamp/processor or A/V receiver that can get around this issue with its own video switching, processing, and cross-conversion.
The HDMI inputs are 1.2a, not 1.3. That means no Deep Color (increased color bit depth) or x.v.Color (expanded color gamut) when—or if—these two features ever become important in commercial content. There is little activity on that front apart from video games and a few HD camcorders.
There are also two non-modular inputs: a PC (VGA) connection (together with a L/R audio minijack) and an RS-232 port. There is no USB interface.
If the set receives a 1080p/24 source, it first doubles it to a 48Hz refresh rate. This is further processed into a "pseudo 96Hz" refresh rate to minimize flicker. According to Panasonic, this is done by using "intelligent subfield distribution." I could not get a clear explanation of this process—if I could describe it here, it would likely make your head explode—but the important point is that a 24fps source is not compromised by conversion to 60fps via 3:2 pulldown as it is in many sets.
LATEST VIDEO