Panasonic TH-50PZ800 Plasma TV
In my review of the
LG 50PG60
plasma, I identified its product line as one of only two with THX video certification. The other is Panasonic's PZ800 line, which includes a 58-incher as well as the 50-inch TH-50PZ800 reviewed here. Is its THX performance consistent with the 50PG60's? I was eager to find out...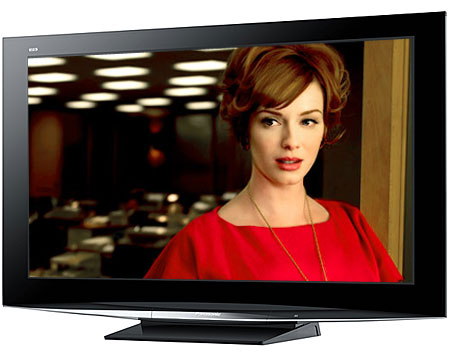 Features
The 50PZ800's most salient feature is THX certification. According to THX, its certification program has two primary goals—to drive quality in manufacturing and help simplify the consumer's buying decision by implementing a single testing methodology and specification.
Testing is divided into two categories—device performance, which includes things like contrast, grayscale, and color gamut, and video processing such as scaling, deinterlacing, and noise reduction. In addition, a certified TV must have a "THX mode," in which all parameters are preset to produce an image that conforms to the standards established for HDTVs. The 50PZ800 offers such a mode, which, unlike the LG 50PG60, allows full calibration from the user menu. (The LG's THX mode can be calibrated from its service menu.)
Another rare and welcome feature is the 50PZ800's ability to display 1080p/24 signals at 48Hz, simply doubling each frame. This avoids 3:2 pulldown altogether, resulting in smoother onscreen motion. As far as I know, the only other plasmas that do anything like this are the Pioneer Kuros, which can display 1080p/24 at 72Hz, repeating each frame three times.
Like many other Panasonic plasmas, this one has an SD memory-card slot. The company's digital cameras use SD cards, so it makes sense to include an SD slot on the TVs so you can easily share photos with family and friends.
With its HDMI 1.3 inputs, the 50PZ800 implements HDMI CEC (Consumer Electronics Control), which Panasonic calls Viera Link. This allows many CEC-capable devices connected via HDMI to communicate command codes such as power on/off, input selection, play/pause/stop, etc. Viera Link might not work with all other manufacturers' products, but it did turn my Samsung Blu-ray player on and off with the TV, though the transport controls on the remote didn't do anything.
All plasmas are susceptible to image retention—ghosts of still images that remain on the screen for a long time—though this is much less of a problem for modern sets compared with early models. The 50PX800 provides several means of combating image retention, including orbiting (shifting the image around by a few pixels every so often), sidebar brightness (lets you control the brightness of the sidebars with 4:3 material), and a horizontally scrolling white bar on a black background that "washes" the screen of retained images.
LATEST VIDEO