Panasonic Reports Healthy TV Sales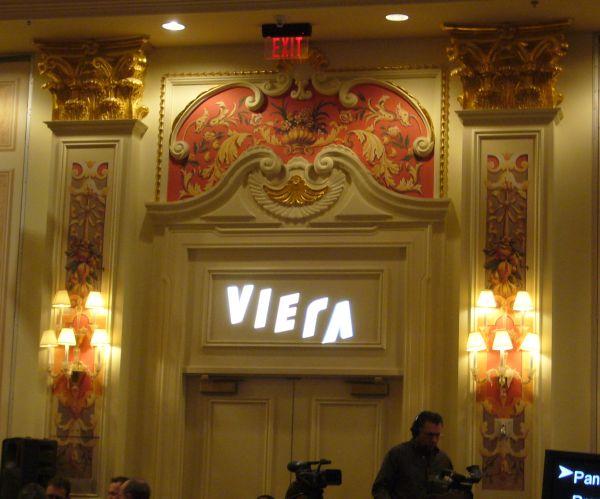 Recession? What recession? Panasonic's TV sales were up 30 percent in December 2010 over the previous year, the company reported at today's press event -- and sales of Viera sets were up 45 percent. So the little logo projected above the doorway in the picture above is one potent little symbol. The biggest sellers were 54-, 58-, and 65-inch sets. Areas of future growth include 3DTV, projected to rise to 32 percent of the worldwide market by 2014, and IPTV, expected to hit 42 percent the same year.
Perhaps the biggest news for 3DTV fans is that Panasonic will push for a standard for active-shutter glasses. For consumers, this would be a big improvement over the current balkanized situation, with each manufacturer having its own type. Panasonic says eyewear interoperability would drive growth. We're guessing it would also help the company defend its investment in active-shutter 3DTV technology at a time when passive 3DTV is starting to arrive from Vizio and LG. Panasonic is also opening a 3D Innovation Center to foster production technology in Hollywood. A new committee of the International 3D Society will do the same in Japan. Panasonic also seeded the student filmmaking community with 3D camcorders, with results to be chronicled on the website of the Campus Movie Fest.
This year's IPTV move is to upgrade Viera Cast to Viera Connect, enabling consumers to personalize their broadband-enhanced viewing experience with third-party apps. The cloud-based platform will be open to developers and the middleware technology to makers of connected devices. New apps from Body Media and Withings enable fitness-conscious viewers to work out in front of their sets while an armband monitors vital signs. The Viera Tablet got lots of oohs and aahs and made nearly every camera in the huge room click madly. It is Android-based. iPad envy among major TV makers has emerged as one of the key themes of the show.
Among the new Viera TVs are 14 3D-HDTVs including, for the first time, some LED-backlit LCD models. See press releases (with model numbers) for 2011 HDTVs, HD plasmas, LED/LCD and regular LCD models, and HD-3DTVs.
The early part of the press conference glittered with plans for the future including "eco ideas." Panasonic's acquisition of Sanyo will give it commanding positions in solar power and the lithium ion batteries that power electric cars. Tesla Motors will be among its first customers. Panasonic has also created a U-Connect in-car entertainment system for Chrysler.