Panasonic Personalizes TV and Recognizes Each User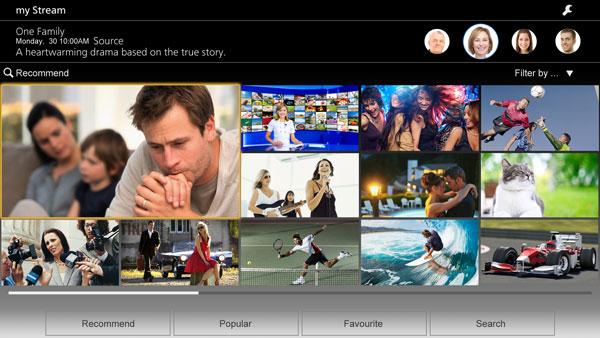 Walk by this Panasonic smart TV and the weather and information for the day pops up onscreen as it employs a camera proximity sensor to recognize each user. Panasonic's smart TV hub displays a personalized home screen for up to six individuals. Each user's home screen can be customized. Using the MyStream feature, recommended TV shows and movies will display from all of your streaming service subscriptions and VOD apps as well as what is playing on live TV.
Panasonic's accompanying smartphone or tablet app acts as an advanced remote. Menu items like video calibration can be selected and adjusted directly on the tablet. Using the Panasonic app, media can be swiped up to play on the TV. The app also has a messaging feature. Messages sent from the app while at home or away, will appear on the TV screen when the recipient is watching. Whether it's a reminder that you forgot to do something before you left home, or telling the kids to turn off the TV, the message pops up onscreen so there's little chance it will be missed. Again, if the TV is turned off, it will power on to play the message when it sees that individual walk by the TV.
WHERE TECHNOLOGY BECOMES ENTERTAINMENT