Origin Acoustics Aims to Reinvent Architectural Audio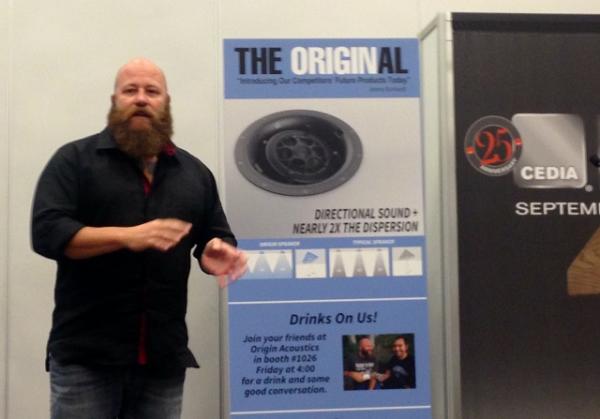 Origin Acoustics is made up of the team that literally invented the architectural speaker in 1976 and they have re-teamed to revitalize and re-revolutionize the in-wall and in-ceiling category. Company president, Jeremy Burkhardt, said they reunited because of the shared passion and love for this business and industry and the desire to continue making innovative products. The team's first step was to get together and examine the leading architectural speakers currently on the market and brainstorm ways to make these speakers smaller so larger woofers can fit in smaller spaces and easier to install.
Burkhardt stressed that Origin Acoustics is built on the values of product quality and reliability; resolution of service, return and repair issues; quality of sales reps; and policies that support specialists. They are a custom speaker company made for custom installers by custom installers. Origin Acoustics is "introducing our competitors' future products today," he said.
The line-up will be divided into Director, Composer, Producer, Seasons, and Landscape collections, all geared toward different performance and budget categories. There will also be subwoofers, amplifiers, volume controls, and infrared components.
The Director series is comprised of round, in-ceiling models while the Composer series features rectangular in-walls based on the "Golden Mean" aspect ratio found in classic design, art, and architecture; the result is a sleek aesthetic versus traditional squarish in-walls.
The company emphasized ease of installation with a new SpringLock and ZipClip tool-less mounting system for the Director and Composer series that's designed to shave 10 minutes off the time it takes to install a pair of speakers. Another benefit is the introduction of a full line of speakers featuring bigger sound from smaller spaces, including a 10-inch-woofer model that can be mounted in the footprint of an 8-inch model. They did the same to fit the footprint of an 8-inch model into that of a 6-inch speaker.
Burkhardt stressed that Origin started with a clean slate and built a new line of speakers from the ground up using custom drivers and no "off the shelf" parts.
In all, Origin Acoustics is launching 120 products in 2014, some of which will begin shipping in October.