Onkyo TX-NR901 Digital Surround Receiver Page 2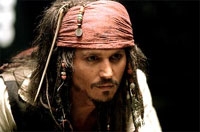 Every cannonade, splintering mast, mustket shot, and shouted "Har!" in Pirates of the Caribbean came through clearly in its proper place in the sound field.
Case in point: the playful yet exciting Pirates of the Caribbean, with one of the better-produced surround soundtracks I've come across in the last year or two. The opening 10 minutes is a smorgasbord of surround and Foley effects - hell, the entire film is! - and the Onkyo served them up fresh, hot, and delicious. The yard­arm-to-yard­arm engagement in Chapter 11 involves a lot of simultaneous activity in every channel - cannonfire, musketry, swelling music, splintering masts, pirates yelling "Har!" - but every element came through clearly in its proper place in the sound field. And the TX-NR901 had enough oomph to play this demanding soundtrack over my power-hungry speaker array at fully cinematic levels and even a tad louder.
This receiver gives you unusually complete control over its surround modes, which include the full range of Dolby Pro Logic II and DTS Neo:6 parameter adjustments and a decent range of adjustments for Onkyo's own ambience modes. There's also an option to set relative channel delays individually for the center, surround, and back surround speakers over a +6/-4-millisecond range - endless amusement for any surround sound geek.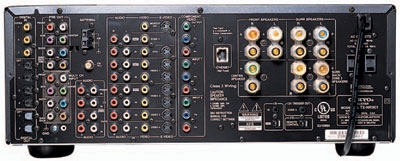 I evaluated the Net-Tune feature by jacking the receiver's rear-panel RJ-45 port into my home network, which assimilated it without complaint. The whole process took only a few minutes.
KEY FEATURES
• Dolby Digital EXand DTS-ES 6.1-channel decoding • THX Select-certified; THX Cinema/ Surround EX modes; THX Re-Eq • Dolby Pro Logic II, DTS Neo:6, and Logic 7 (6.1) processing for 5.1/6.1-channel playback from two-channel or matrixed four-channel sources • 7 DSP-surround modes, including virtual surround for two-speaker playback • Net-Tune streams Internet radio via broadband connection over a home network and can stream music files from a networked Windows PC • 2 assignable HDTV-compatible component-video inputs, 1 output; onscreen menus and displays routed to component output • 6 A/V inputs, 3 outputs, all with S-video; can be upconverted to component video for output • 5 optical, 3 assignable coaxial digital audio inputs (1 optical on front panel); 2 optical digital outputs • 3 stereo audio-only analog inputs (including phono); 1 record output • Multichannel analog audio input (8-channel) and preamp output • 6 selectable subwoofer-output crossover frequencies • Preprogrammed/learning IR/RF system remote can control up to 16 components; 8 macros with up to 8 steps each • User-definable input and preset labels • Multiroom A/V capability (composite-video only) with independent source and volume; back surround amp channels can be redirected to second-room stereo • 12-volt trigger output; IR-control input and output
The TX-NR901's Internet radio arrives subscription-free from the XiVA-Net service (
xiva.com
), which provides several dozen streams of widely varying quality. Much as I found last year, one jazz and two classical "stations" streamed at 64 kilobits per second (kbps) from Radio Denmark (though in Danish, these appear to originate at the BBC) sounded much better than the rest. The rock and pop stuff was strictly hit or miss, and far too many streams were 20-kbps WMA - the aural equivalent of a root-canal without
Novocain
.
Net-Tune's ability to stream music from a networked PC will prove more useful to those who routinely rip their music CDs onto a computer's hard drive. Onkyo's Windows interface is crude even by Windows 98 standards (especially if you're an iTunes user), but it covers the basics, searching your networked hard drives for MP3 or WMA music files, creating a database, and sorting it by album, artist, or genre. You can then create playlists by simply dragging and dropping.
Playlists can be called up onscreen via the TX-NR901 and then played just like CDs: play/pause, fast-search, skip, and all the rest functioned normally, if with a slight delay. I ripped some tracks to my PC in 128-kbs WMA, and they sounded very good indeed via the TX-NR901.
Overall, using the TX-NR901 was a pleasure. Its onscreen menus and displays are simple and informative, and most controls and functions are easy and intuitive to use. But the new remote control, while in many ways an improvement over the old, is designed around a source-selection scheme that's, well . . . bizarre. To change the receiver's input, you spin the remote's scroll wheel, rolling forward or back through the list of 12 possibilities. As you scroll, the receiver cycles through each input, relays clicking merrily - but if you happen to land on, say, Tuner by mistake, you might get hit by a burst of sound. How Onkyo came up with this scheme mystifies me.
The scroll wheel can also select which source component the remote will control (you must first hit the Mode key). But usually you'll want both the input and the controlled source to change together - so when you scroll to the DVD input, for example, the remote will control the DVD player. Push-clicking the scroll wheel puts the remote in its receiver-control mode, but to get back to the component you were controlling before, you have to tap the Mode key and scroll back to it again. It would be nice if you could get back to the previous component by simply push-clicking the scroll wheel. Otherwise, the remote is well laid out and its buttons generously spaced. It's also fully backlit - a big plus, though the LCD window is far too dim.
PLUSExcellent sound. Superb technical performance. Upconverts composite- and S-video inputs to component video. Onscreen displays on component output. MINUSBizarre input-selection scheme on remote.
The TX-NR901 is a superb A/V receiver. The network-audio stuff is really just a bonus, but a potentially useful one. If I did the PC-music thing, running an Ethernet cable to my A/V rack would be my first step after basic hookup. (Now, if Onkyo would serve up a Mac OS X version of Net-Tune, or at least give it hooks to iTunes . . . .) When it comes to centralized A/V signal management, surround sound decoding and processing, and audio amplification, the TX-NR901 provides flagship-class receiver performance at a fair price.
LATEST VIDEO