One Man's Trash...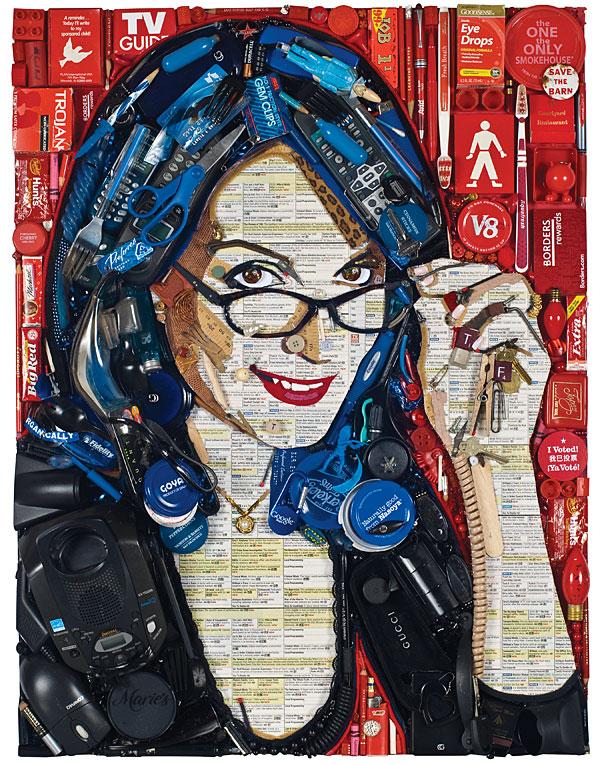 Jason Mecier combines his crafty nature and a love of pop culture to create these unique mosaics. About 20 years ago, the San Francisco–based artist wanted to take macaroni art to a new level and made more than 200 bean and noodle portraits, mostly of '70s TV icons like Charlie's Angels, The Dukes of Hazzard, and Mary Tyler Moore. Feeling limited by the earth-toned palette, he started working with bright-colored candy. Then came experiments with yarn, pills, fake fingernails, makeup, and finally anything he could get his hands on.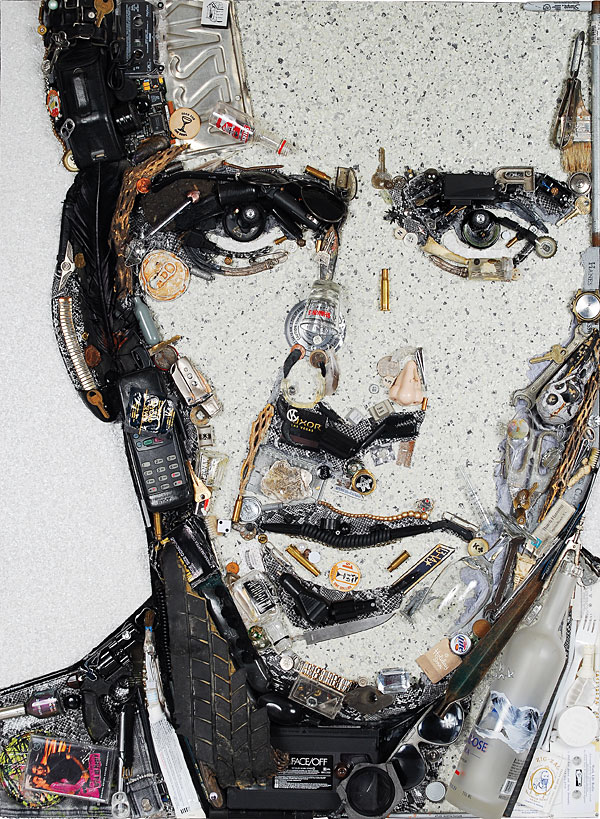 "I was making large junk portraits of my favorite celebrities, and I would imagine what they would have in their house and that my junk was really their junk," Jason says. "I figured I should just ask all my favorite people to give me their junk and I would make their portraits out of it."
So Jason found Phyllis Diller's address listed online and mailed her a request letter. Three weeks later, she mailed him a box of junk! "She actually kept mailing me boxes every few months until she died," he says. "I still have about 40 boxes of her stuff—things like old prescription bottles, pinecones from her lawn, art supplies, and Cortaid."
Over the years, Jason has collected items from thrift stores and off the street. Friends give him their old cell phones and makeup. He tries to only buy something if it's really necessary. His closets are filled with bins containing everything from toothbrushes to bullet shells and cigarette butts—all sorted by color, size, and object.
"For the junk pieces, I use whatever I feel is appropriate and is the right size, shape, and color," Jason says. "I usually use hot glue to hold things in place with a dab of E-6000 or Weldbond so they won't fall off over time. I also use bookbinding glue for paper and occasionally a staple gun and screws."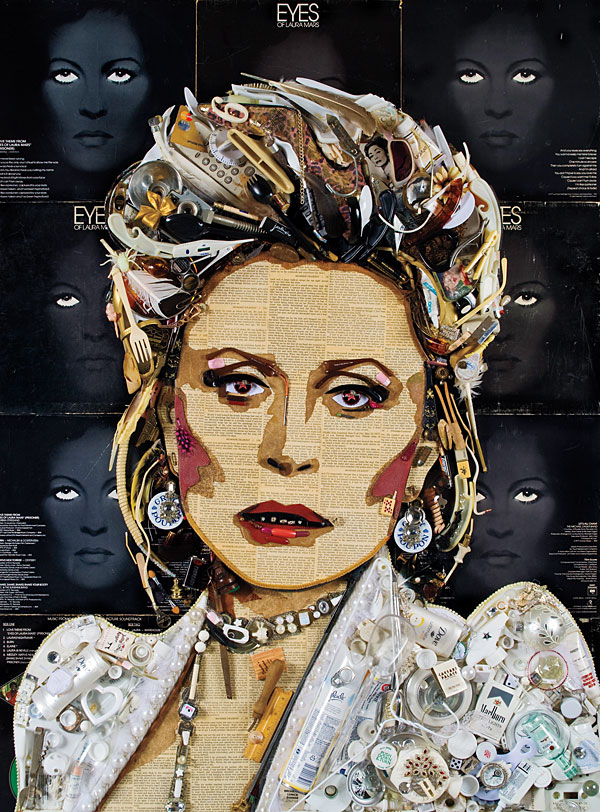 So what do his celebrity muses think about their trashy replicas? "Usually they love them," he says. In fact, there's a growing list who hang the artwork in their own homes: Parker Posey, Rosie O'Donnell, Elvira Mistress of the Dark, Pink, George Lopez, Kathy Najimy, Björk, Margaret Cho, and Ricki Lake.
While Jason is used to bizarre requests (he's created a mosaic of Kevin Bacon made entirely out of, well, bacon), one in particular ran a bit afoul of the norm. He explains: "My very first food art piece was Drew Barrymore from Firestarter made out of chicken and egg dishes. It was for my friend's zine cover. Chicken nuggets mixed with chow mein, scrambled eggs, lunch meat, and soup. It was messy and gross but a fun learning experience."
Custom orders start at $2,500. Posters are also available on his Website, and Jason can make special-order prints on request.
Jason Mercier • jasonmecier.com