October 2017 New Gear Part 1
Polk Audio MagniFi Max SR Soundbar System
Polk takes on the typical soundbar-plus-sub competition in the new MagniFi Max SR with two weapons. First, there's the included pair of wireless rear surround speakers that ensure a room-filling 5.1-channel experience. But the "big" news is the inclusion of Polk's Stereo Dimensional Array (SDA) technology, the same secret sauce that makes the tiny MagniFi Mini compact soundbar stand out with a giant soundstage.
Chock-Full:
The svelte soundbar houses seven drivers and is packed with other features, including Dolby and DTS processing, Voice Adjust for dialogue clarity, a Night mode, three HDMI inputs, 4K/HDR passthrough, and support for Bluetooth and for Wi-Fi with integrated Google Home that lets the bar connect to any Chromecast-enabled device for multiroom functionality. "Smart Remote" setup lets you easily control the bar with your TV remote. Price: $599
Polk Audio • (800) 377-7655 • polkaudio.com
Outlaw Audio RR2160 Stereo Receiver
That's right, stereo receiver…but not just any stereo receiver. The RR2160 is an update of the venerable RR2150 Outlaw introduced more than a decade ago with the tagline "the last great stereo receiver." Like a farewell tour that never ends, the company has reinvigorated the product founder Peter Tribeman calls a labor of love, adding a more powerful 2 x 110-watt amplifier, internet radio, an updated bass management/crossover section, and hi-res capability, courtesy of a high-performance Burr-Brown 192-kilohertz/24-bit digital-to-analog converter (DAC).
Get Connected: A wealth of connectivity options are provided, including an updated moving coil/moving magnet phono input, coaxial and optical digital inputs, four RCA inputs, USB-A and -B ports, A/B speaker terminals, and a minijack input and ¼-inch headphone jack on the front panel. Removable pre-out/amp-in jumpers accommodate an external power amp. Price: $799
Outlaw Audio • (866) 688-5297 • outlawaudio.com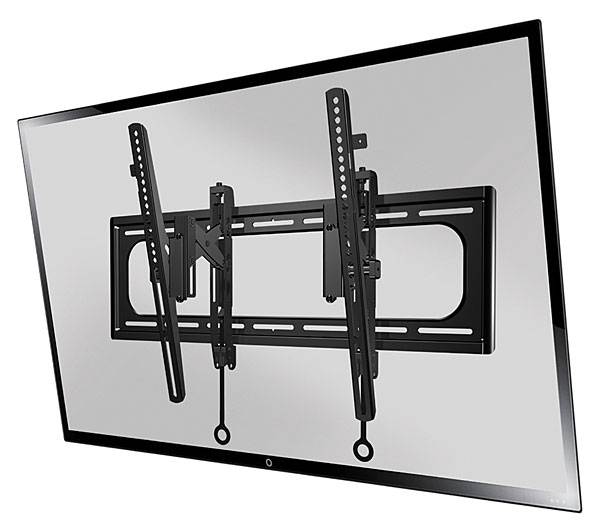 Sanus VLT6 TV Mount
You won't have to worry about getting a crick in your neck with the Sanus VLT6 TV mount. Designed to support TVs with screen sizes between 46 and 90 inches and weighing up to 150 pounds, the bracket tilts up 7 degrees, down 12 degrees, and extends up to 6 inches from the wall, making it easier to plug cables into the back of the TV.
Gimme Three Steps: Installation is a simple three-step process said to take less than 30 minutes, and the VLT6 can be positioned over electrical outlets for easy power hookups thanks to its open design. To ensure you get the TV positioned just right, it has height, leveling, and side-to-side adjustments. The bracket is 30 inches wide, 18 inches tall, and 2.75 inches deep. Price: $135.
Sanus • (651) 484-7988 • sanus.com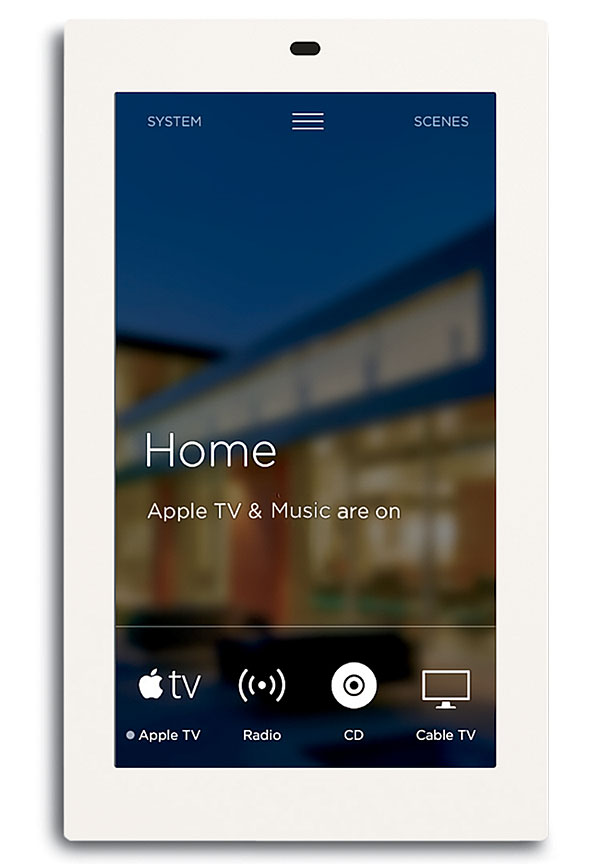 Savant Wally Smart Home Touchscreen
As we enter the age of voice control, you may be wondering about the longevity of touchscreen controllers. Fact is, sometimes it's just easier to walk over to a wall panel and press a (virtual) button, especially when the panel puts control of your climate, lighting, entertainment, and other smart-home systems in a convenient location. Savant's Wally does just that and is described as perfect for high-traffic areas where quick control is a must.
Wally on the Wall: The super slim iPad-like touchscreen creates a personalized control experience from a hi-res 5.5-inch color touchscreen designed to mount over a single-gang electrical box (existing or new). Wally gets low-voltage power via Power over Ethernet (802.3af) and has a presence sensor that activates the screen whenever someone walks into the room. Price: $850 (5.5 inch)
Savant • (508) 683-2500 • savant.com
BDI Venue Media Cabinet
Retrofuturism beckons with BDI's Venue media cabinet (8649G/W), featuring adjustable shelving, flow-through ventilation, and cable channels with ties to keep wiring organized. Put your A/V gear in the center compartments and reserve the side sections for accessories and prized physical media. The super sleek console is 78 inches wide, 29 inches tall, and only 20 inches deep.
Quick Access: You don't have to be a contortionist when it's time to change or rewire components: Removable/sliding back panels provide easy access to connectors and spare your back in the process. If you don't want to mount your TV on the wall, BDI offers an optional swiveling bracket that attaches to the back of the cabinet. Available in charcoal-stained ash with two wood and two center glass doors (8649G) or satin white with four wood doors (8649W). Price: $2,299 to $3,120
BDI • (800) 428-2881 • bdiusa.com