Obegränsad: That's a Mouthful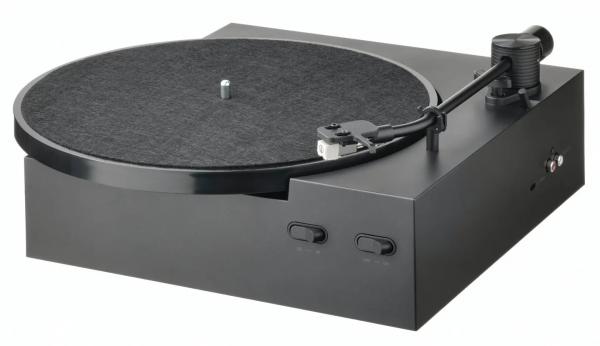 I like Swedish meatballs and I cannot lie. Moreover, I would seldom say a discouraging word about cinnamon rolls. Therefore, when IKEA announced that it will be serving up a turntable, my appetite was immediately whetted.
Aperitif Much like Brussels sprouts, vinyl is an acquired taste. However, a steadfast segment of the population has acquired, and maintains, a strong preference for vinyl. One might say that they liken vinyl to fine dining, whereas to them digital is fast food. Personally, I confess that I don't mind sinking my teeth into a Whopper now and then. But I digress.
Appetizer IKEA is widely known for its furniture, which is affordable, functional and even stylish — in a medium-density fiberboard sort of way. But the Swedish company also dabbles in wireless speakers (the Eneby) as well as some furniture with built-in charging capabilities. Even so, an IKEA turntable comes as a bit of a surprise.
Soup The furniture giant's marketing department has teamed up with the electronic music trio Swedish House Mafia to produce a very robust-looking turntable — simultaneously stylish and Soviet in appearance, with a bit of Lego thrown in. Details are scarce, but it appears to have an integrated preamplifier; the RCA jacks on the side of the case suggest that it can be plugged into a plethora of downstream devices. You can spin at either 33-1/3 or 45 rpm. Also, reportedly, and interestingly, the turntable is powered via USB — although, I can't confirm that.
Entrée A press release touts a stylus "of well-known make and good quality." I'm not sure why they needed to be coy here; a quick glance at the photo shows a swappable Audio-Technica cartridge, which is not a bad thing. For those who value convenience above all other things (such as sound quality), there is also Bluetooth on board. Leaving no liner notes unturned, the Obegränsad brand will encompass furniture such as a music-production desk with two speaker stands and a pull-out shelf for MIDI keyboards (or QWERTYs) as well as an accompanying stylish armchair. Meanwhile, I have questions. Lots of questions: 1) Does the turntable come in a flat box? 2) Do you use cam-lock fastener screws to put it together? 3) Is the turntable case made of medium-density fiberboard? 4) And of course, does it come with instructions with those weird IKEA pictures drawn by Martians?
Dessert Just the facts: 1) Available sometime in the fall. 2) Price was not announced. Probably just as well. With the current rate of inflation, whatever figure they quote today would have to be multiplied by twelve million by the time it goes on sale. 3) I'll buy one just so I can frame the instructions and hang them on my wall next to my Elon Musk poster.
Coffee In Sweden, Burger King establishments serve beer. However, it is non-alcoholic. What a disappointment — that's like listening to vinyl records via Bluetooth — the aural equivalent of empty calories. Ideally, calories that are consumed via cinnamon rolls.