NuVision: The Custom Installer's Secret Weapon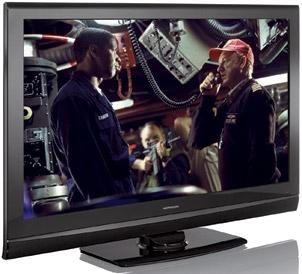 The Short Form
$4,199 (without stand) / NUVISION.COM / 877-738-7641
Snapshot
A fine LCD that should make custom installers - and their customers - very happy
Plus
• Excellent, natural colors • Good sound quality • IR pass-through system
Minus
• Only two HDMI connectors • Noise reduction doesn't help poor-quality standard-def signals • Price $4,199 (without stand)
Key Features
• 1080p resolution • 1080p/24 input compatibility • Backlit remote • Built-in IR pass-through • Optional pedestal stand ($299) • Inputs: 2 HDMI 1.3; 2 component-, 2 composite-, and 1 S-video; VGA • Outputs: Coaxial digital audio; composite video with analog stereo; headphone; NuControl • 50 1/4 x 35 1/2 x 4 1/2 in (12 1/2 in deep with stand); 79 1/4 lb (90 lb with stand) NUVISION.COM :: 877-738-7641
For a new TV company, NuVision is pretty savvy. Rather than get caged in the mixed-martial-arts ring of today's HDTV mass market, it focuses on high-performance sets sold mainly through custom installers. Its 52-inch LED-driven DLP rear projector reviewed last July (recently discontinued) was one of the best-looking HDTVs I've seen. So I was curious: What could NuVision do with a high-end LCD flat-panel - a much more challenging technology?
The 52-inch NVU52DCM is part of the Lucidium series of high-def LCDs that runs from 22 to 65 inches - a thoughtful attempt to give installers the option of stocking every room in the house with TVs that share the same IR codes. In another nod to installers, there's a NuControl port for an RS-232 connection to an advanced control system or, via an adapter, a Cat-5 connection to NuWire plug-and-play modules for IR control, distribution, or amplification. Built-in IR pass-through allows control of other components via the TV's IR sensor; you only need to point your universal remote at the screen to get full system operation.
The set's high-gloss black frame and the optional plastic pedestal stand ($250) offer clean, modern styling and quality fit-and-finish. The speakers sit below the screen behind a sculpted grille that gives the flat facade a bit of panache.
Basic control buttons are on the right edge of the frame. There are no up-front convenience jacks, but one of the TV's two rear jack packs is set behind the left side of the screen and can be tapped with a short reach-around. While most recent TVs offer three HDMI 1.3 connectors, the NuVision has two, which could be a problem in some setups.
The buttons on the compact remote are too small and too close, and some legends are confusingly straddled by two rows of buttons. But backlighting illuminates not only the labels on the remote's body but also a symbol imprinted directly on each rubberized key.
There are keys for input and aspect-ratio selection, and inputs can be relabeled. Display modes for high-def signals include Full Screen (16:9), Zoom, and 4:3. In Full Screen mode, overscan (the amount of picture area cut off at the edges of the TV's screen) can be set to default to 0% (in other words, pixel for pixel) or a modest 2%. Standard-def options via HDMI include only Full Screen or 4:3.
SETUP
The NVU52DCM offers four picture presets - Normal, Bright, Soft, and User - as well as Day and Night modes that alter contrast when you hit a button on the remote. The out-of-box setting, Normal/Day, defaults to the set's preferred Warm color-temperature option. Even so, Normal looked too bright and oversaturated with the Day or Night options selected, causing reds to look orange and faces to look pink and lose skin-tone definition.
Selecting the User preset and Night mode resulted in a much more natural picture in our darkened lab, and only the brightness control needed to be adjusted for basic calibration. Grayscale - the color temperature of individual gray steps increasing in brightness from the darkest black to the brightest white - was remarkable even for an LCD, but it tracked a bit toward blue. A service-menu calibration resulted in nearly spot-on tracking to the industry-standard 6,500-K neutral gray.
LATEST VIDEO