NuBryte Has a New, Bright Approach to the DIY Smart Home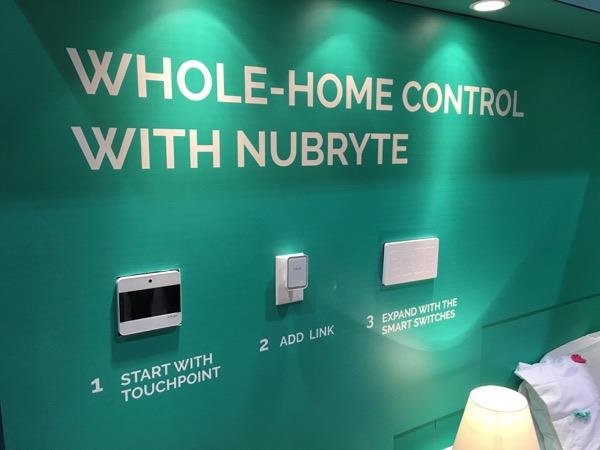 NuBryte
, a relative newcomer to the smart home automation playground, is adding to and expanding on the company's initial NuBryte Touchpoint touchscreen console with more flexibility in applications plus less expensive add-on, non-touchscreen light switches.
NuBryte's Touchpoints combine many of the most desirable smart home features in one, easy-to-install touchscreen panel that replaces an existing single-gang or double-gang set of standard light switches. Although they include many of the features found in a typical smart home hub, NuBryte's Touchpoints aren't actually hubs. In a solo Touchpoint installation, the touch panel includes home security features (including an integrated camera and motion detection, the ability to flash connected lights, and a 100 dB alarm), touch-free lighting (including five smart lighting modes), and functions as a family hub (providing weather and room conditions, energy monitoring, a timer, and access to a Google-enabled family calendar). When two or more Touchpoints are installed in a home, the system offers the added capabilities of room-to-room communication and voice-messaging. (Phone to Touchpoint communication will be possible with a coming firmware upgrade.)
The main Touchpoint utilizes your home's Wi-Fi network for connection to NuBryte's cloud (that includes free video storage from the security camera recordings), as well as communication between Touchpoints. In the first quarter of 2017, NuBryte expects to begin shipping two of four planned ZigBee-based smart light switches/dimmers/fan controllers. The basic model will feature standard light dimming capability. The second model will include a motion and temperature sensors that will relay information back to the Touchpoints, which means they can be used to expand the automation, environmental, and security applications of the individual Touchpoints. A ZigBee translator—the NuBryte Link—will be required to incorporate the new switches/dimmers (one per system).
The single- and dual-switch Touchpoints are available now for $249 and $259, respectively. A Touchpoint with ceiling fan control will be coming later in the year. The NuBryte Link and the first two NuBryte smart light switches will be available by March 2017, with each model tentatively expected to carry an MSRP of less than $100. NuBryte products are currently available through Amazon.com and from NuBryte direct. Additional retail distribution is expected soon.