NuBryte Adds Smart Switches and Distributed Audio To Its Home Automation Platform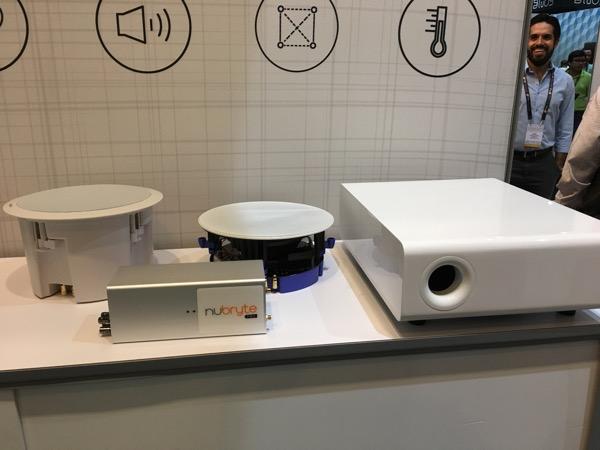 I've written about
NuBryte
before because of the company's unique and beautiful TouchPoint color touch-screen consoles that fit in single- or double-gang junction boxes, replacing existing light switches—and the company continues to be noteworthy. The Touchpoint serves as a home hub that displays Google-enabled family calendars, weather and room conditions, energy monitoring results, and timers. But there's much more to these beautiful wall-mounted consoles. They provide Wi-Fi-based intercom capabilities (requires two or more Touchpoints to be installed in the same home), offer subscription-free home security features (including an integrated camera and built-in motion detection), and touch-free lighting modes. NuBryte's new Smart Switches are designed to be used as auxiliary switches (typically for use in secondary rooms, such as bathrooms, hallways, and laundry rooms) that wirelessly connect to and be controlled by the central Touchpoint. The Smart Switches can be installed in any one- to four-gang light switch box and feature motion-sensing for security purposes and smart lighting features. They also provide in-room temperature and humidity conditions. In addition to smart dimming, NuBryte's Smart Switches will soon offer 3-speed smart ceiling fan control and on/off control of outlets or motorized devices.
With its most recent announcements, NuBryte now offers integrations with Amazon Alexa, Google, Google Calendar, and Nest. Coming soon will be integration capabilities with IFTTT, Sonos, ecobee, Yale, and Honeywell. Although those integrations are exciting news and the capabilities will definitely enhance the usefulness and control reach of each NuBryte system, the company offered an enticing look at its new NuBryte Audio line.
The NuBryte Audio includes a Wi-Fi-enabled Smart Amplifier with a built-in WiSA receiver and two 50-watt amplifiers. It includes built-in line-level and Toslink digital audio inputs and can be installed in the ceiling or a wall. The NuBryte Passive Ceiling Speaker is a two-way, 6.5-inch traditionally styled in-ceiling architectural speaker that can be used with the Smart Amplifier or paired with NuBryte's Active Ceiling Speaker that includes a built-in power supply, Wi-Fi connectivity (802.11 b/g/n), and a line-level audio input.
NuBryte's Smart Speaker Bulb incorporates a full-range, high-excursion speaker into a 10W RGB LED lightbulb that screws into standard lightbulb fixtures, including 4-, 5-, and 6-inch cans. Each Smart Speaker Bulb includes Wi-Fi-connectivity and up to 30 Smart Speaker Bulbs can be linked and controlled via a NuBryte Touchpoint or the NuBryte mobile app. The NuBryte Smart Subwoofer is another Wi-Fi-enabled device with a built-in 80-watt amplifier that can be used with any of the other NuBryte Audio devices.
Although initially available for purchase by consumers via Amazon during NuBryte's introductory phase, NuBryte is now available only through installing dealers. There are no subscription or recurring monitoring fees required. You can find the nearest NuBryte PRO dealer by entering your zip code here.