Nirvana: Oh Well, Whatever, Nevermind: Forever and Ever, Amen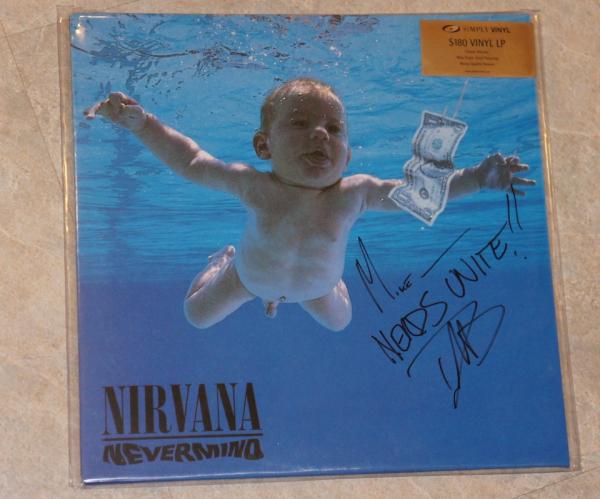 "Simple needs and simple expectations make for beautiful longevity."
That's Dave Grohl's thoughtful assessment of Nevermind, Nirvana's convention-shattering 1991 album, which came out 20 years ago this week. Dave made the above comment to me back in March while we were standing on a hot blacktop driveway outside of the Southern California studio where we had just shot S+V's June-July-August cover. I had handed him my copy of Simply Vinyl's 180-gram Nevermind LP and asked what he thought of the album now, two decades later. Dave was in a reflective mood after our shoot, and since we had just bonded over our mutual love of Led Zeppelin's In Through the Out Door, I thought it would be okay to finally ask him about the album that changed his life - and all of our lives, really - before most everyone else brought him down a similar retro-introspective road in the months ahead.
"It was all about integrity," he said, looking down at the album sleeve and turning it over a few times. "It was important that our intentions were right on. As long as our intentions were real and we were doing the right thing, people would appreciate us for that. I still feel the same way, you know?"
Many, many words have been written and spoken about Nevermind since its 1991 release (and many more will surely come forth, anniversary-related or no). But integrity and longevity are two of the best descriptors of it that I've ever heard.
I know exactly when and where I first heard the album. On September 18, 1991, I was in the office of Arista publicist Kris Nicholson, killing some time before heading in to a conference room to interview Urban Dance Squad (whom I still love, but that's another story) for then sister pub Car Stereo Review. "Hey," she said, "listen to this. It comes out next week." She pulled an advance cassette from the stack on her desk (yep, most advances were on tape in those days), put it in the tape machine, and hit play. The first three chords of "Smells Like Teen Spirit" came forth. I shivered. It was an instant paradigm shift. I felt it right then and there. After leaving Arista and touching base at the CSR office, I walked four blocks up Broadway to Boomers (I think I still have some of their purple bags somewhere in my storage space) and bought the Smells Like Teen Spirit CD single (anybody remember those?), which had three extra tracks. I played little else on my office boombox the rest of that week. The song, suddenly, was everywhere - radio, MTV, you name it.
When Nevermind came out on September 24, I bought the disc at Boomers, and felt the change again as I cued it up at my desk. Producer Butch Vig had helped trigger the revolution by doubling melody-maker Kurt Cobain's vocals and guitar lines, giving the dissonant punk seeds at the heart of "In Bloom," "Come as You Are," and "Lithium" an accessible alt-rock edge. There were those who grumbled at what they felt was production sheen, but not me. The winds of change were blowing through my speakers.
Four days later, on September 28, Bill Wolfe, my boss at Car Stereo Review, and I made our way to the Marquee in New York after a light dinner. The ticket price: 11 bucks! (I still have it, of course - see the included pic!) We were literally the last two people allowed into the packed club, and I remember feeling the door being forcibly pushed closed on my back as I stumbled into the room only four or five steps forward; there was nowhere else to go. It was a magical gig, one of those true once-in-a-lifetime shows I'll never forget. Toward the end of the set, Cobain hurtled himself face first into Grohl's cymbals and, from our vantage point at the back, it really, REALLY looked like he'd just decapitated himself. The room was abuzz at what just happened - this was months before the repetitive image of Kurt leaping into Dave's drums had been burned in everyone's brains thanks to the well-rotated "Lithium" video - and it seemed like a lifetime before he got back up and finished the set. Relief, joy, and amazement washed over me all at once after he reappeared on his feet and ambled back over to his mike. When Bill and I walked out of the club, we knew we'd just seen and heard history made.
Back in April, producer Butch Vig and I were discussing how it felt to be working together again with Grohl and Nirvana bassist Krist Novoselic, who guested on the Foo Fighters' Wasting Light. Toward the end of our hour-long chat, I asked how he felt about Nevermind today.
"To me, Nevermind still sounds fresh and passionate, 20 years later," Vig said. What's refreshing for me to go back and think about it now is remembering that we had fun making it. Kurt was great to work with. And Dave had this energy and enthusiasm that he still has today - a joie de vivre; it's really endless. You need a positive factor in whatever you record, and he definitely brought that to Nevermind. I mean, sure, there were points where Kurt would tune out because he really had these incredible bipolar mood swings. One minute he would be articulate and engaging and funny and then he'd go sit in the corner, and I could feel this black shroud come over his head. He would disappear into himself. Sometimes it would be an hour, or half a day.
"But for the most part, they were energized, and that's how I hear the record. Even though some of the songs like 'Polly' and 'Something in the Way' are very dark, when you put that record on, that band is firing on all cylinders. Part of that is that the songs are really hooky, but the production isn't dated. It was just recorded guitar, bass, and drums. If I had used some MIDI keyboard like a Yamaha DX-7 or some other trick in the studio, it would sound like it was from 'an era.' But to my ears, it sounds like a band in a room, playing really intense.
"To me, I think it feels as good and fresh and passionate and intense now as when it came out."
Couldn't have said it better myself, Butch. A two-disc Deluxe Edition of Nevermind is out tomorrow (and a mondo Special Edition is due October 25) with a bunch of B Sides, original session mixes, rehearsals, and live tracks - and all of it is essential. Get it, and feel the rush of a cultural shift as it happened, doused in bleach.