Nintendo TVii Comes to Wii U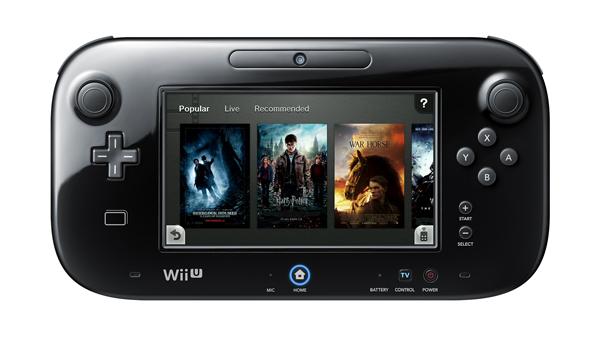 In a press conference about the upcoming Wii U "home console" last Thursday, Nintendo introduced Nintendo TVii. The entirely redesigned new generation Wii console brings the Wii into the world of streaming entertainment. For years, the Wii has been running last place in sales of video game consoles. Among all of the streaming devices I test, my favorite for streaming online movies and TV shows has been the Xbox 360. Nintendo TVii may change all of that. Using its tablet-like Wii U GamePad controller, the new console will offer a complete second-screen experience.
About the Wii U
When I first heard the name, "Wii U" I thought it should refer to Wii University. No, it's nothing educational. According to a spokesperson for Nintendo, "Wii U" refers to "we universal." Their hokey explanation is that "Wii" has come to represent "we" having fun together. And the "U" is for a universal platform where developers can build virtually anything.
The new console finally brings HDMI connectivity to the Wii. Note that Nintendo is calling the Wii U a "home console" instead of a "video game console" to emphasize its expansion into the world of streaming entertainment. Nintendo TVii (yes, they like to add those "ii"s to the end of each word), is the name given to the TV and streaming entertainment experience. It starts with the Wii U GamePad controller.
Wii U GamePad controller The Wii U will still include the old model WiiMote (Wii remote) wand controllers so players can use it to swing a virtual tennis racket, baseball bat, or golf club when playing Wii sports games. The Wii U GamePad controller will be used in various gameplay and for Nintendo TVii.
The Wii U GamePad controller is the Wii U's crowning glory. A tablet-like 6.2-inch, 16:9 aspect ratio LCD touchscreen sits between joysticks and game buttons. It is the touchscreen that turns this controller into a media hub and universal remote:
The screen can be used to access streaming video providers--Hulu Plus, Netflix, Amazon Instant Video.
It has an IR blaster to be used with your TV and home theater components as a Universal remote.
It can be used as a second screen experience offering secondary menus or content while watching a movie or TV show.
Second Screen Experience
The Wii U GamePad controller will provide a true second screen experience. That is, when watching TV, you will be able to bring up a menu on the controller without interrupting the TV show you are presently watching. You can navigate and choose a video from the touchscreen without displaying a menu on the TV. A list of the Wii U's streaming partners are displayed on the touchscreen. Simply tap to browse through movies or TV shows available from Hulu Plus, Netflix, or Amazon Instant Video. Play them on the TV or stream the video to watch on the Wii U GamePad controller.
Once you are watching a movie or other TV programming on your TV, the Wii U GamePad controller can display related and enhanced content. From the Wii U GamePad controller screen, you will be able to learn more about the cast and crew of the movie through a connection to IMDB (internet movie data base). A display of related video clips, news, reviews, and other articles will also be available on the controller screen.
The Wii U demo included a particularly interesting second screen sports experience. When watching a football game, a graphic of the field was displayed showing the recent play. Game, player, and team statistics along with scores from other games, were also available on the Wii U GamePad controller.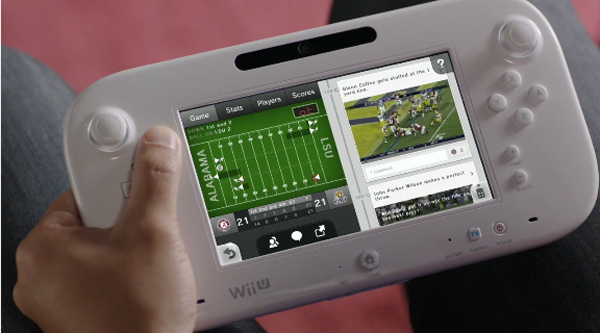 Search Across Multiple Devices
As part of the second screen experience, you can search for TV shows and movies from the Wii U GamePad controller while another TV show plays on the TV. Here is where the Wii U outperforms its competitors. While Google TV may search both online and live TV from your cable or satellite, the Wii U adds search of recorded content on your TiVo DVR. If this performs as promised, it will unify available content (although it doesn't show connection to your own media libraries)and allow you to look for what you want to watch without concern for where it is found.
Your Mii Profile- Personalized Recommendations and Favorites
Your Mii is your big-headed customized avatar that represents your individual account. Each person in the family can create their own Mii where individual viewing habits will propagate a list of suggested content. Each Mii profile displays personalized favorites for easy access, so you don't have to go through your kids' Nickelodeon and cartoon series to get to what you like.
Availability and Pricing
You can pre-order a Wii-U for delivery on November 18th. The basic game console with an 8 GB hard drive, and GamePad are available in white for $299, and the Deluxe Set that includes a 32 GB hard drive, and additional accessories and the new Nintendo Land video game will be available in black at $349. I've heard that many Gamestop stores have already sold out of its pre-orders on black unit.