Hands On: Roku 3600R Streaming Stick and Remote App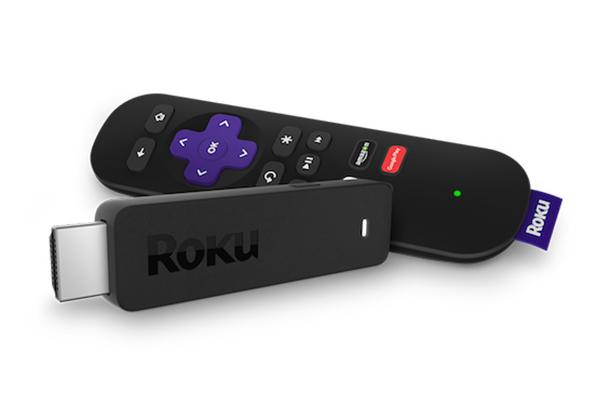 Roku has added the 3600R, its newest streaming stick to a line of media streaming devices. The stick has been upgraded to an impressive quad-core processor that makes this flash drive-sized media player fast and responsive. While it has the power to rival any media streamer on the market, it's only $50. It has all of the channels and the same operating system available on other Roku players and is small enough to put in a pocket. The only reasons to not get the newest Roku stick is if you want 4K as the stick can only handle up to 1080p (and you'll have to go into the settings to change it from the default of 720p), or if you are happy with the Roku you already own.
Like full-sized Roku players, the Roku stick runs the Roku OS7.1 operating system. The two shining features of Roku OS7.1, are My Feed and agnostic search. If you've ever wanted to know when a movie currently in theaters will be available to stream, or when a title will be available to stream for free on a service to which you subscribe—Netflix, Hulu, Tribeca Shortlist—My Feed is for you. Browse through "Coming Soon" on My Feed and you can click a box to follow the title of your choice. When that title is available to stream, you will receive a notification. When that title is later available for free streaming, you'll be notified again. Following TV shows in My Feed is helpful because you will be notified when an episode airs or when a season is posted and ready for you to binge.
Roku has the best search of any media streaming device. Unlike the Amazon Fire TV or Apple TV, Roku does not have its own streaming service. The Roku search is agnostic and doesn't favor results from any services—as the Amazon Fire TV favors Amazon Video or Apple TV favors titles in iTunes. The Roku search has been expanded to include results from 50 different channels: ABC, ABC News, Acorn TV, Amazon Video, BIGSTAR, Bloomberg TV, CBS All Access, CBS News, CinemaNow, Comedy Central, CONtv, Crackle, Disney Channel, Disney Junior, Disney XD, Docurama, Dove Channel, DramaFever, Encore Play, FandangoNOW, Fandor, Fox Business Network, Fox News Channel, FOX NOW, Freeform, FXNOW, Google Play, HBO GO, Hulu, Indieflix, Met Opera on Demand, MTV, NAT GEO TV, NBC News, Netflix, Nickelodeon, Nick Jr., Premiere, Popcornflix, Pop Flix Classic Movies, Shout Factory TV, SHOWTIME, Smithsonian Channel, SnagFilms Watch Free Movies, Starz Play, Time Warner Cable, Tribeca Shortlist, Tubi TV, VH1, Viewster, VUDU, WATCH Cooking Channel,WATCH DIY Network, Watch Food Network, Watch HGTV, and Watch Travel Channel. It can also find YouTube videos.
A search for Star Wars: The Force Awakens turned up results to rent the movie in Amazon Video, Fandango Now (previous M-Go), Vudu, and Google Play. TV shows will display results of which services stream each season of the show. Clicking on the service that is listed for a specific season will open the first episode of that season. In Netflix, the first episode will automatically start to play. The rental page appears for that first episode in services that charge by title. Thanks to the new, faster processor, the title starts playing in less time than you'd have to grab a snack.
The Roku remote has lost its glossy luster, and has been pared down. Unlike the Roku 3 or Roku 4 remotes, there are no volume buttons. There is no search button. The "ok" button has been relocated to the center of the navigation cross (where it is found on most other home theater devices). Ever-changing to reflect popular apps, the remote has four direct-play buttons to open Netflix, Amazon Video, Sling TV, and Google Play Movies and Videos.
But the remote is superfluous, as the Roku remote app (iOS and Android) is one of the best remote apps available for any home theater device. It adds voice search to the Roku stick; the app even suggests possible titles to match what it thinks you said, then lets you click on the results to play on the Roku or on the corresponding app on your phone. The My Feed section offers a number of recommendations based on the titles you are following. There is a section for the Channel Store so you can browse the channels to add to your Roku device. Photos, music, and videos saved on your phone can "Play on Roku."
To top off all these great features, the Roku app offers a headphone mode. The Roku 3 remote control had a connection for headphones which was pretty handy for streaming in bed when your spouse is trying to sleep. The Roku remote app has an icon of a headphone on the remote screen. Plug your favorite headphones into your phone, tap the icon and the TV mutes while you listen in private.
The new Roku 3600R stick is slightly smaller than its predecessor Roku 3500 stick. It requires power from a micro USB cable connected to either the TV's USB port or to the wall. The included cable is a bit short to reach a wall power outlet (especially if you have the TV mounted on the wall). To make it easier to fit into tight spaces on the back of a TV, the USB cable has a right angle attachment that fits into the port at the end of the Roku stick. It would have been much better to have the port in the middle of the stick as the extra length could make it a tight fit in some TV's port panels. Another option that would ensure an easy fit would be the inclusion of an HDMI extender like the one provided with the Amazon Fire Stick.
While smaller in size, it has quadrupled its power. That is, the Roku 3600R has a quad-core processor. That's the same processing power as the full-sized Roku 4. Launching apps, browsing libraries in various channels, and starting to play a video is as fast as a button press. Roku devices have a dancing Roku logo when starting up. The stick barely finished a couple jumps before the home screen was displayed.
I'd be hard-pressed to come up with an app (channel) that isn't available on the Roku stick. Along with the numerous services from Netflix, Hulu, Amazon, Vudu, and music streaming from Spotify, Pandora, and Google Play, there are live TV channels. Food Network now offers a live option in its streaming channel. Playstation Vue is now available to watch live TV channels, along with Sling TV. There was an odd glitch when I first tried the Sling TV app. It wouldn't load video (but it worked on my other Roku devices). After turning off the TV, and therefore the power to the Roku stick, the app worked when the Roku rebooted. It was a probably a bug in the Sling TV app that will undoubtedly be fixed in a future update.
All in all, the stick is affordable, rich in features and you can take it with you. The picture and sound quality is excellent even though it isn't 4K. Like other Roku devices, it's easy to use. Unless you have a massive iTunes library (in which case you might want an Apple TV), this Roku stick should fulfill most of your streaming needs.