New Products -- November 2002
Sunfire
Forget about separate power amps for your back surround speakers-Sunfire's Ultimate Receiver is rated to deliver 200 watts each to seven channels, which should satisfy even the most demanding Dolby Digital EX or DTS-ES soundtrack. It's said to use power efficiently thanks to a Tracking DownConverter that anticipates large changes in signal level and adjusts the power available for amplification accordingly. Dolby Pro Logic II and DTS Neo:6 can process stereo signals for multichannel playback, and there's an eight-channel analog audio input for a DVD-Audio or SACD player. The receiver has three wideband component-video inputs, and the stereo Zone 2 output has a separate volume control. The supplied universal learning remote control has an LCD screen and backlit soft keys that change with the selected component. Price: $3,995.
www.sunfire.com
, 425-335-4748
B & W

Redesigning the Nautilus 805 speaker for its Signature series, B&W created the Signature 805. The two-way speaker keeps the distinctive Nautilus tweeter, a 1-inch metal dome mounted in a tapered tube that's said to reduce backwave radiation to produce more detailed sound. The 6 1/2-inch woven-Kevlar woofer has a larger magnet structure than its predecessor to give it more punch, and the rated frequency response is 56 Hz to 20 kHz ±2 dB. (High-resolution-audio listeners may be interested to know it's also rated to the unhearable 50 kHz at -6 dB.) Optional stands (shown) cost $600 a pair, finished in black or brushed aluminum. The Signature 805 comes in gray tiger's eye or red bird's eye real-wood veneers and measures 9 3/8 x 16 1/4 x 13 1/2 inches. Price: $3,500 a pair.
www.bwspeakers.com
, 800-370-3740
Sharp
With a screen that measures 22 inches (diagonal), Sharp's LC-22SV2U Aquos LCD television is perfect for a cozy space you want to fill with a widescreen image. The 854 x 480-pixel enhanced-definition monitor accepts high-def signals, but can't display them at full resolution. The set has component-, composite-, and S-video inputs. Displayed images have a rated contrast ratio of 500:1 and are said to be uniformly bright at a viewing angle of 170°. The set has an NTSC tuner, side-mounted speakers, and a headphone jack. The stand shown is supplied; mounting brackets are optional. Price: $3,500.
www.sharp-usa.com
, 877-388-7427
Panasonic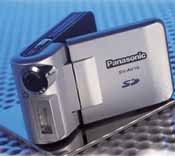 It's a DVD world, and your home movies can catch up with it via the Panasonic VDR-M20 camcorder, which records video and still images on 3-inch write-once DVD-R or rewritable DVD-RAM discs. Not only does recording on DVD give you the benefit of random access (with the first frame of video clips displayed as thumbnails), but the cam automatically looks for blank space on the disc when recording, ensuring you won't accidentally record over existing scenes. Some basic editing functions like scene rearrangment, fades, and wipes let you customize your videos on the fly, and a USB port makes for easy file transfers to a PC. The cam has a color viewfinder, a 2 1/2-inch LCD viewscreen, a 1.1-megapixel image sensor, electronic image stabilization, 12x optical and 240x digital zoom, and composite- and S-video outputs. Price: $1,000.
www.panasonic.com
, 800-211-7262
Pioneer
DVD-Audio and Super Audio CD aficionados looking for simpler hookups may want to turn their lonely eyes to Pioneer, whose DV-47Ai universal player and VSX-49TXi receiver connect like never before. Digital multichannel audio travels from the player to the receiver via a single FireWire (a.k.a. i.Link) connection, replacing those six cluttery RCA cables used for analog hookups (though the player also has multichannel analog jacks for interfacing with other gear). The receiver handles bass management and speaker delay settings in the digital domain, and the FireWire link will also pass Dolby Digital and DTS signals. Of course, the picture wouldn't be complete (and crisp) without a progressive-scan component-video output on the player. Prices: VSX-49TXi, $4,500; DV-47Ai, $1,200.
www.pioneerelectronics.com
, 800-421-1404
Sony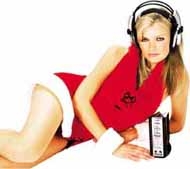 It seems like yesterday that XM Satellite Radio launched, but Sony's already on to its second generation of XM plug-and-play receivers. After buying the home receiver and the car accessory kit (or vice versa), you'll be ready to take satellite radio from your drive to your dive. A backlit 20-character LCD readout shows channel and program information, and there are presets for 20 favorite channels. A jog dial on the supplied remote control eases channel selection. Each receiver comes with a cradle to hold it, and the accessory kits include another cradle and antenna for the other location. Prices: home or car receiver, $300; home or car accessory kit, $150; extra antenna, $70.
www.sonystyle.com
, 800-222-7669
M&K
You can put M&K's Column Surrounds anywhere you like-the speakers are designed to work either out in the open or next to a wall. The series consists of the 40-inch-tall CS-150 (far right in photo), the CS-35, the CS-29, and the 22-inch CS-22. All feature M&K's Tripole design, combining simultaneous dipole and direct radiation. Except for the CS-150, each speaker sports a top-firing 3 1/4-inch midrange driver and a 1-inch tweeter along with 3 1/4-inch midranges on opposite sides and a 6 1/2-inch woofer near the base. The CS-150 also has dual midranges but lacks the top-firing array, instead pairing its tweeter with a 5 1/4-inch woofer near the top. Bandwidth is rated as 70 Hz (80 Hz for the CS-150) to 20 kHz. The base of each speaker measures 10 x 10 1/4 inches. All are available in either black or white. Prices: $1,149 to $1,299 a pair.
www.mksound.com
, 818-701-7010
Monitor Audio
Welcome to the Bronze Age: Monitor Audio has an all-new Bronze Series, which comprises the Bronze B1 (on stand), B2 (foreground), B4 (right), and Center speaker (shown at left atop the ASW100 subwoofer). Each speaker uses the company's 1-inch Gold Dome tweeter and Metal Matrix Polymer woofers-the Bronze B1 and Center have 5 1/2-inch woofers, while the B2 and B4 have 6 1/2-inchers. A second woofer on the B4 handles the deep bass, and its overall frequency response is rated as 36 Hz to 22 kHz ±3 dB. The cabinets are all ported except for the sealed Center, which measures 18 x 10 1/4 x 6 1/2 inches. Available finishes are beech or black ash vinyl with black grilles. (You were expecting bronze?) Prices: B1, $259 a pair; B2, $300 a pair; B4, $599 a pair; Center, $399.
www.monitoraudio.com
, 905-428-2800
ProLine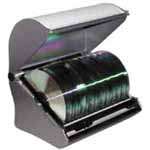 It's all about convenience-"it" being ProLine's Select-A-Disc CD/DVD holder. Available in a 12-disc version or a 60-disc version as shown, the holder neatly stores discs only a few millimeters apart between thin plastic separators. Despite the close quarters, retrieving your desired disc is easy-just push down on the spring-loaded selector tab, slide it under the disc's position, and it will automatically pop the disc up for you to grasp. A plastic-covered label on the lid can be used to list the discs in the holder. The case can be locked, and a retractable plastic handle eases transport. Prices: 60-disc, $20; 12-disc, $10.
www.ami-proline.com
, 800-325-0853
Philips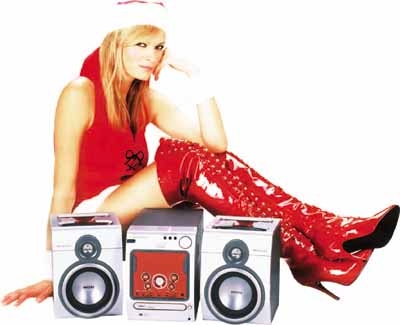 Wow, check out those high-def images on that 50-inch screen. Now just try looking away from Philips's 4 3/8-inch-thick 50FD9934 plasma HDTV monitor-a much more difficult task. The 1,365 x 768-pixel panel gets those detailed high-def images from an outboard decoder through its wideband component-video, VGA, and RGB+H/V inputs. A separate, optional "e-box," the FTR9964, simplifies hookup by consolidating the wiring between the box and the set in one cable. The pictured stand costs $499 extra. But you were going to hang it on the wall anyway, right? Price: $13,999; e-box, $999.
www.philipsusa.com
, 800-531-0039
Studio Experience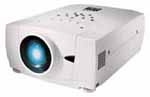 The Cinema 20HD front projector from Studio Experience will cast some serious light on your home theater-its brightness is rated at a whopping 2,200 lumens. Hooked up to an HDTV tuner, the LCD projector displays images at its 1,366 x 768-pixel native resolution and is said to have a contrast ratio of 900:1. Studio Experience claims that the projector's Micro Lens Array will virtually eliminate video blemishes like moiré and jagged edges. In addition to component-, composite-, and S-video connectors, there are DVI, VGA, and a set of component/RGB+H/V inputs for HDTV signals. The Cinema 20HD measures 12 1/2 x 6 1/2 x 17 inches and weighs 171/2 pounds. Price: $7,999.
www.studioexperience.com
, 800-667-6147
Atlantic Technology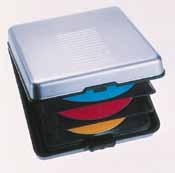 Mono, stereo, or dipole sound-the choice is yours when you have Atlantic Technology's in-ceiling IWTS-8 CMS TriMode speaker. With its 8-inch dual-voice-coil woofer and dual 1-inch silk-dome tweeters, it can produce mono or stereo direct-radiating sound. In TriVector mode, however, the 8 CMS creates a single-channel but diffuse sound field by driving its tweeters out of phase. Front-mounted switches and rear-panel jumpers let you change between mono, stereo, and TriVector modes and adjust the treble. Frequency response is rated as 45 Hz to 20 kHz ±3 dB, and the ceiling cutout must be 9 1/2 inches in diameter and 4 1/4 inches deep. Price: $400.
www.atlantictechnology.com
, 781-762-6300
ButtKicker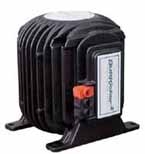 With a ButtKicker 2 installed under your home theater seat, you'll really feel the boom when the T-Rex stomps by in Jurassic Park or when Korn brings down the house. By shaking your booty to the tune of bass frequencies from 5 to 200 Hz, the compact device (5 3/8 x 5 1/2 x 5 1/2 inches) in effect turns your chair into a tactile subwoofer. You'll need to power it with a separate amplifier, though-one that can deliver at least 400 watts of continuous power. But with only one moving part, the ButtKicker has inherent durability, and a built-in thermal switch protects it from overheating. Price: $499.
www.thebuttkicker.com
, 888-676-2828
AudioControl
The Cat-5 balanced-line video distribution system from AudioControl is designed to make long A/V cable runs in multiroom systems both easy to install and resistant to degradation. The system comprises the BVD-10 driver (shown) and BVR-10 receiver, which look virtually identical except for a few controls. You feed analog stereo audio along with either two composite-video signals or one S-video signal into the driver, which converts them to high-current balanced signals on Cat-5 cable. Connected between RJ-45 jacks on the driver and receiver, the cable can be as long as 1,000 feet. The system can convert composite to S-video or vice versa, and a pair of distribution systems can be used to transmit a component-video signal. Both the driver and the receiver measure 5 1/4 x 4 x 1 1/4 inches. Price: $600.
www.audiocontrol.com
, 425-775-8461
Xantech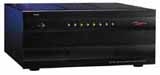 Want to spread the magic of your home theater to your whole house? Consider a multizone entertainment system like Xantech's MRC88, which has facilities for up to eight components and eight zones. Each source connects via composite-video and stereo audio jacks, and any source can be selected from any zone via the six supplied keypads. Linking zones is possible, and you can limit control of a source to specific zones. The system is rated to deliver 35 watts each to 12 channels, with preamp outputs for the other two zones. Each 4 1/2-inch-square keypad has an infrared sensor and an LCD that displays the selected source. If eight zones aren't enough, two MRC88s can be combined for a total of 16 zones. An RS-232 port allows for even more control options. Price: $6,800.
www.xantech.com
, 800-843-5465
Universal Remote Control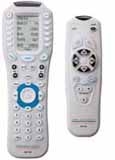 The Home Theater Master MX-700 remote control is ready to dominate even the most complicated home theater. It can hold up to 20 components in its thrall and stores up to 900 macros with 190 steps each. A thumb-operated joystick eases navigation of onscreen menus. Most interesting, it comes with a SideKick remote designed to satisfy technophobes or kids who just want to watch TV. Its deceptively simple look masks the SideKick's ability to turn on or configure an elaborate home theater with one touch. And after downloading the MX Editor software and connecting the MX-700 to your Windows-based PC with the supplied serial cable, you'll be writing complex macros much more efficiently than you can by pushing buttons. The software also includes a remote-code database. The MX-700 is powered by four AAA batteries, while the SideKick takes two-all are included. Price: $500.
www.hometheatermaster.com
, 914-835-4484
Parasound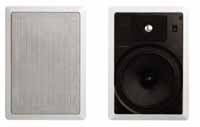 The walls may have ears, but with Parasound's C Series of in-wall speakers, they'll have voices as well. The line comprises the C 280, 265, and 260 in-walls and the C 85 and 65 ceiling speakers. The C 280 (shown) has an 8-inch Kevlar woofer, and its 1-inch aluminum tweeter has a vented double chamber, said to result in a smoother high end, as well as a three-position switch that boosts or attenuates treble output by 3 dB. The C 265 features the same tweeter and has a 6 1/2-inch woofer, and the C 260 has a 6 1/2-inch woofer and a 1-inch soft-dome tweeter. Circular in shape, the C 85 and C 65 have coaxially mounted drivers with 8 1/2- and 6 1/2-inch woofers, respectively. Prices: $250 to $535 a pair.
www.parasound.com
, 415-397-7100
Sonance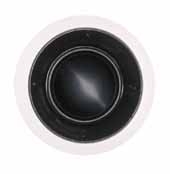 Rated to deliver 50 watts each to two channels, Sonance's two-source ASAP2 SAT is designed to provide convenient amplification for a remote source in a distributed, "whole house" audio system. Audio from the main system connects though speaker-level connectors, while the remote signal is input through RCA jacks and amplified. The amp automatically switches to the remote source when it's turned on, and there's an AC trigger control to prevent sudden loud pops. The efficient amp requires only a small heat sink, keeping cabinet dimensions to 16 3/4 x 1 3/4 x 13 1/2 inches. Optional SmartAmp modules are available to configure the ASAP2 for different types of connections. Price: $375.
www.sonance.com
, 949-492-7777