New Products--January 2003
Harman Kardon
Master of the digital domain-Harman Kardon's DPR 1001 Digital Path Receiver is designed to keep digital signals digital right up to the final output stage. It's rated to deliver 50 watts each to seven channels and can decode Dolby Digital EX and DTS-ES soundtracks. Dolby Pro Logic II, DTS Neo:6, Logic 7, and VMAx processing are all available to enhance playback of two- and four-channel sources. Digital bass management is provided on its multichannel analog input for DVD-Audio or SACD signals. The two component-video inputs can switch HDTV signals, and there are three optical/coaxial digital audio inputs. The sleek receiver measures a modest 17 3/4 x 4 3/4 x 18 3/4 inches and weighs only 17 pounds. And the supplied universal remote control has a built-in sound-level meter to help calibrate your speaker system. Price: $1,499.
www.harmankardon.com
, 800-422-8027
Bang & Olufsen
Plasma TVs have been hanging on walls for a few years now, but Bang & Olufsen is taking the TV-as-art concept a few steps further with its BeoVision 5. Designed to mimic a framed painting, the 42-inch widescreen panel is combined with slim stereo speakers underneath the screen to fit in a 42 x 45 1/4-inch brushed-aluminum frame. The panel, which has an enhanced-definition TV (EDTV) resolution of 842 x 480 pixels, can accept high-def signals but can't display them at full resolution. There are wideband component-video and VGA inputs for digital video along with six composite/S-video inputs. A built-in sensor adjusts the picture brightness to compensate for ambient lighting. And you won't ever hang it on the wall once you try out the optional motorized stand ($1,000), which rotates the set up to 35° to either side at the touch of a button on the supplied remote control. Price: $19,500.
www.bang-olufsen.com
, 847-590-4900
SpeakerCraft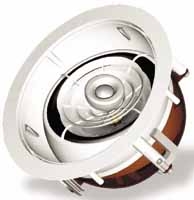 Take AIM-if you want in-ceiling speakers that can pivot in any direction. SpeakerCraft is expanding its AIM line, adding four models with 8-inch woofers mounted coaxially with 1-inch tweeters. You can pivot the woofer by hand up to 17°, and the proprietary WavePlane baffle lets the tweeter pivot independently to direct high frequencies toward the listener. The flush-mount design keeps the drivers behind the paintable grille even when fully pivoted, with readily accessible controls for bass and treble. The AIM8-Four (shown) has a rated frequency response of 33 Hz to 20 kHz ±2 dB. The cutout diameter for all models is 9 3/4 inches. Prices: $400 to $1,500 a pair.
www.speakercraft.com
, 800-448-0976
SonicBlue

Nothing makes recording TV shows easier than a video hard-disk recorder, and SonicBlue's ReplayTV 5000 series can save you time, too. While the QuickSkip button will instantly jump playback ahead 30 seconds, the Commercial Advance feature sets the recorder to automatically skip all commercials during playback. Of course, you can still pause live TV and get program listings via your Internet connection (the subscription costs $9.95 a month or $250 for the life of the recorder). Multiple ReplayTV recorders in the same home can easily share content, and you can even send video over the Net to other Replay owners. Priced by the capacity of the hard disk: 40 hours, $300; 80 hours, $400; 160 hours, $500; 320 hours, $900.
www.sonicblue.com
, 877-737-5298
Mission
Call Mission's fs1 home theater speaker system what you like, but it's not conventional. The modern-looking system uses NXT flat-panel transducers to produce a sound field that's said to be more diffuse than those from traditional speakers. The fs1 satellite speaker measures a slim 3 1/8 x 12 1/2 x 1 5/8 inches and has a frequency response rated as 265 Hz to 20 kHz ±3 dB. The corner subwoofer, styled to match the satellites, has an 8-inch paper-cone driver, a 100-watt amplifier, and a rated response of 38 to 180 Hz ±3 dB. Small desktop stands are supplied, but the pictured floor stands are optional. All five fs1 speakers connect to the subwoofer, and you use the supplied multichannel cable to hook your receiver to the sub. Price: $1,000.
www.mission.co.uk
, 973-396-0810
Rotel
Its silver faceplate looks simple enough, but the Rotel RSX-1055 receiver packs some sophisticated hardware in its chassis. It can decode 6.1-channel Dolby Digital EX and DTS-ES soundtracks and is rated to deliver 75 watts of continuous power to each of five channels-the back surround channel is sent to two line-level outputs. Dolby Pro Logic II and DTS Neo:6 processing will finesse stereo signals for surround sound playback, and a multichannel analog audio input allows hookup of a Super Audio CD or DVD-Audio player. There are also two optical and three coaxial digital inputs, two component- and five composite/S-video inputs, and a serial port via an RJ-45 jack. The Zone 2 multiroom outputs are fully independent. Price: $1,299.
www.rotel.com
, 800-370-3740
Alpine

Feel like you need some more control behind the wheel? In-car entertainment is yours to command with Alpine's DVA-7996 in-dash DVD head unit. For starters, you have your choice of playing DVDs, CDs, CD-Rs or RWs with MP3 files, or just tuning into the airwaves. And once you have a separate satellite tuner and monthly subscription, the DVA-7996 can bring you XM Satellite Radio. Alpine's proprietary Media Xpander is said to improve the dynamics and impact of compressed audio like MP3, and you also get controls for speaker bass management, switching subwoofer phase, time correction, and more. There's also an optical digital audio output and three preamp outputs. Price: $1,300.
www.alpine.com
, 800-257-4631
Cakewalk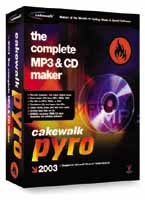 If you're an MP3 junkie, Cakewalk's Pyro 2003 software aims to be your one-stop Internet-audio ripping/editing/burning/organizing tool for the Windows PC. Once you supply the hardware and music, Pyro can rip audio in the MP3, WMA, and WAV formats, and you can even clean up clicks and pops from analog recordings. With Internet access, song titles and artist names are just a mouse click away at Gracenote.com. You can add crossfades to your mix or use the waveform editor to perform precise edits. When you're ready to burn, Pyro copies your mixes to a CD-R or CD-RW, and it can do data discs, too. Electronic CD-labeling templates are included. Price: $39.
www.cakewalk.com
, 888-225-3925