New Products—February/March 2003

JVC
No room for one more component in your rack? How about half of one? At 2 1/4 inches thick, JVC's XV-N5SL DVD player won't crowd anyone. It still does everything a chubbier player can do, including deliver progressive-scan images through its component-video output and perform 2:3 pulldown to compensate for frame-rate differences between video and film. The graphical onscreen menus allow point-and-click operation, and a proprietary CompuLink connection will turn on your JVC receiver when a disc is loaded. Feel free to retire that slide projector-the player can display JPEG photos from discs on your TV, with 13-step zoom to check them out up close. There are both optical and coaxial digital audio outputs. A backlit universal remote is supplied. Price: $250.
www.jvc.com
, 800-526-5308
Samsung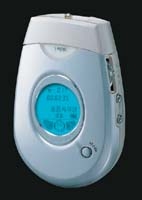 If your portable CD player is starting to seem a little unwieldy in the 21st century, it's probably time to replace it with a shiny new MP3 player like Samsung's latest Yepp, the YP-300S. Weighing a mere 2 ounces, it can play MP3 and Windows Media Audio (WMA) files from the 64 megabytes (MB) of built-in flash memory, and there's a SmartMedia card slot for more. A USB port lets you transfer files from a Windows PC. The filename, along with artist and song information, appears on the backlit LCD screen, and you can store four presets for the onboard graphic equalizer. The player has a belt clip and comes with earphones, a USB cable, RioPort Audio Manager software, a carrying case, and a wrist strap. A pair of AAA batteries (included) is said to keep the YP-300S going 20 hours. Price: $149.
www.samsungusa.com
, 800-726-7864
Dynaudio
Adding to its Confidence series, Dynaudio introduces the C1 bookshelf speaker, a two-way ported design. Its Esostar soft-dome tweeter-said to have a smooth, extended response-is housed in an aluminum block to reduce unwanted vibrations. It's combined with a 63/4-inch woofer in an inverted array that's intended to minimize high-frequency reflections from the speaker baffle. The woofer is made of magnesium-silicate polypropylene, said to have a damping characteristic that reduces distortion. Frequency response is rated as 45 Hz to 22 kHz ±2 dB, sensitivity as 87 dB. The 7 7/8 x 17 1/2 x 17-inch C1 weighs 24 pounds and comes finished in maple or rosewood. The speaker attaches to the optional Dynaudio Stand, available in black or silver. Price: $6,000 a pair; stand, $450 a pair.
www.dynaudiousa.com
, 630-238-4200
Fujitsu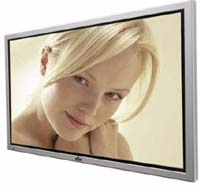 For your TV, you want big, you want plasma, and you want to keep your kids in college. You just might want Fujitsu's PDS-5002 50-inch plasma HDTV monitor, which will fulfill your first two desires for under five figures. The widescreen monitor is less than 4 inches thick and has a native resolution of 1,366 x 760 pixels. It accepts high-def signals in the 1080i (interlaced) or 720p (progressive) format through its component-video, RGB+H/V, and DVI (Digital Visual Interface) input. A built-in scaler is said to upconvert standard 480i-format programs with optimum image quality on the fixed-pixel display. Price: $9,999.
www.fujitsu.com
, 888-888-3424
NAD
Sure, it can play DVDs-and even has a progressive-scan output with 2:3 pulldown and a five-step zoom-but NAD's T 572 will also come in handy at parties as a five-disc CD changer. Besides letting you remove four discs while the fifth plays, the changer's flexible random-play function can shuffle all the tracks on one disc at a time or play two successive songs per disc until all songs on all five discs have been played. The rear panel has composite- and S-video outputs as well as optical and coaxial digital audio outputs, and there's a 12-volt trigger input for auto turn-on. A full-function remote control is supplied. Price: $699.
www.nadelectronics.com
, 781-784-8586
Sony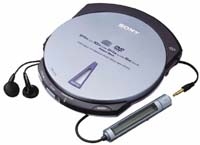 You can burn CDs on the run with Sony's MPD-AP20U portable CD recorder. It comes with a cradle (shown, in black) that has a high-speed USB 2.0 port for data or music transfers. And not only can it record on CD-Rs at 24x speed (10x for CD-RWs), but it can be used with any computer that has a USB 2.0 port. There's also a Memory Stick slot enabling quick relays from Stick to CD. Shock protection and an 8-megabyte (MB) buffer will reduce the chances of ruining a disc while recording, and software for your Mac or Windows PC is supplied. The built-in rechargeable battery is said to last 1 1/2 hours for DVD playback, which is about enough juice to burn nine CD-Rs. The MPD-AP20U can play discs with MP3 and Windows Media Audio (WMA) files. Price: $299.
www.sonystyle.com
, 800-222-7669
ATI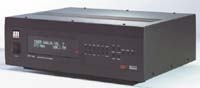 Want to hear that back surround channel in Dolby Digital EX and DTS-ES soundtracks? The processing power of ATI's ATP7500 preamp can help fill in the rear of your home theater, plus give you Dolby Pro Logic II and DTS Neo:6 for rendering surround sound from stereo sources. An eight-channel analog input lets you hook up a DVD-Audio or SACD player, and it provides analog bass management for the input. A pair of component-video inputs can switch HDTV signals, and S-video signals can be downconverted to composite video. There are two optical and four coaxial digital audio inputs as well as six composite/S-video inputs. Price: $2,995.
www.ati-amp.com
, 888-777-8507
Earthquake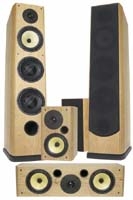 Not the first product to be named after the Roman god of agriculture, the Saturn from Earthquake is a five-speaker system comprising two Model 3611 towers, a Model 2511 center speaker, and a pair of Model 1511 surrounds. Each ported 3611 has a 6 1/2-inch carbon-fiber woofer and a 1-inch tweeter. Rated bandwidth is 20 Hz to 25 kHz, and sensitivity is 90 dB. The speaker measures 8 7/8 x 41 3/8 x 13 inches and weighs 49 1/2 pounds. The center and surround speakers both have 5 1/4-inch woofers; the center has two of them. Available finishes are cherry and black oak. Price: $1,999.
www.earthquakesound.com
, 650-327-3003
NHT
Taking its Evolution series of modular speakers in a different direction, NHT has created the slim L5, an on-wall speaker designed to tonally mate with other Evolution satellites. It's a three-way design with dual 5 1/4-inch woofers, a 3-inch midrange driver, and a 1-inch tweeter. Rated frequency response is 65 Hz to 20 kHz ±3 dB, and sensitivity is 86 dB. Finish is a paintable matte white, and proprietary mounting gear lets the speaker swivel for aiming while keeping the mounts out of sight. The L5 measures 7 3/4 x 21 7/8 x 5 3/8 inches and weighs 18 pounds. Price: $450 each.
www.nhthifi.com
, 800-648-9993