New Product: Cambridge SoundWorks Radios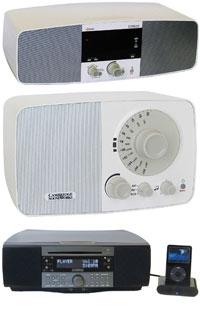 Sure, satellite radio is great. But for many listeners, there are still times when they want to come back to earth, so to speak. For those listeners and those times, Cambridge SoundWorks offers a new line of high-performance radios, including this trio of terrestrials.
The Model 820HD (top, $300) is indeed HD Radio-ready. CSW says it offers superior HD reception through a telescoping antenna for FM and an external loop antenna for AM. An infrared remote control is included. Don't like the Arctic White you see here? Opt for Onyx.
For those who want to go not just back to earth but also back to mono, the Model 705 (bottom, $120) transcends the usual tabletop radio in styling and sound. The custom-designed full-range driver is housed in a sturdy molded enclosure witha downward-firing bass vent. And hey, if you get tired of listeing to your local stations, just plug in your MP3 player. The 705 won't mind!
Back to stereo, the Model 745 ($400) won't mind if you take your iPod and (get Redding!) sit it on the dock and press play.
The dock will charge your iPod while you're listening, and the 745's remote control can handle the 'Pod's navigation. Also included is a CD player. (Don't need? Then go for the Model 735 at $300.) Pumping out the sound are two main speakers and a dedicated subwoofer - for bass response that, says Cambridge, "no other table radio can match." cambridgesoundworks.com