New Gear: Summer 2022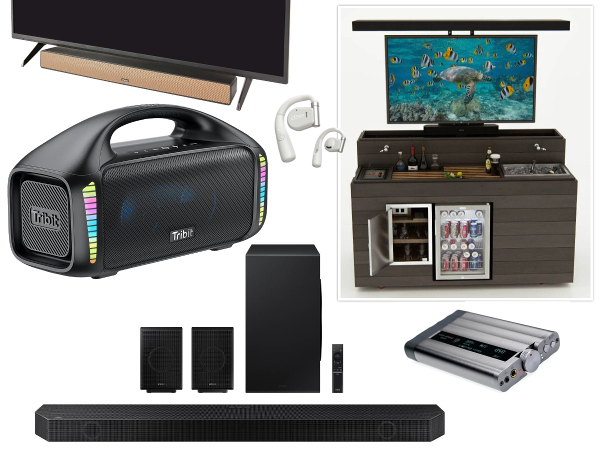 Summer is perfect for sitting back, relaxing and enjoying music and videos. There's plenty of gear available to enhance the experience, including products that enable letting go
on the go
or while lounging on the beach or by a pool. Then, there are devices meant for inside use where you might be prone to switch on a fan or power up the AC. Just grab a cool beverage and pick your product!
Hooked on Wireless Buds
FOFO (Fear Of Falling Out) persists no matter how long you wear those no-wire earbuds, the type supported entirely by your own ear cavities. Besides the lingering dread that a bud will be dislodged and roll away, there's the suspicion created by buds plugged deep into your ears that their snug seal might be a safety hazard, especially if you're running outside and not entirely alert to possible dangers.
Enter the new ARC Open-Ear True Wireless Earbuds ($130) from Cleer Audio that slide over your earlobes in safety-hook fashion. With the buds pointed into your ears, the arrangement allows just enough ambient sound to seep in, so you don't feel entirely cut off from the world.
The "hook" is a flexible, bendable plastic that adjusts to each lobe. Said to use a no-pinch, comfortable design, the buds allow you to maintain spatial awareness. Battery life is an estimated 7 hours. Touch controls allow for adjusting volume, playing and skipping tracks, and answering or ending calls. The buds contain generously sized 0.6-inch graphene neodymium drivers and the ARC's Bluetooth 5.0 connectivity is aptX-enabled.
Offered in blue or gray, the earbuds come with a charging pad-capable carrying case. For more information, visit cleeraudio.com.
Tribit Gets the Party Started with StormBox Blast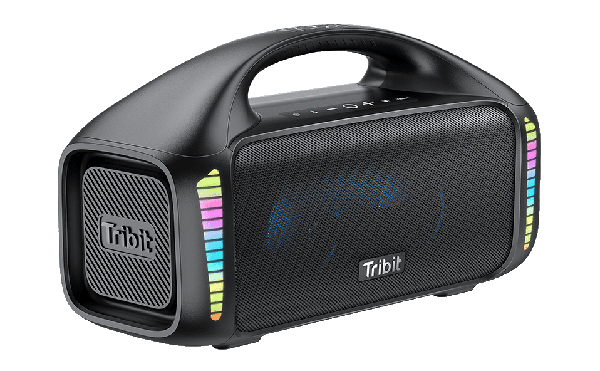 Tribit promises rich, balanced sound from its new StormBox Blast portable Bluetooth speaker, the company's most powerful outdoor speaker yet.
The $200 Stormbox Blast is a self-contained party-maker that mixes a waterproof boombox-type design with high audio performance and a visual light show — ideal for camping trips, beach parties, backyard bashes, and more. Its IPX7 rating means it can be submerged in 3 feet of water for up to 30 minutes without incident, so the party can go on rain or shine.
With as much as 30 hours of playtime between charges, the StormBox Blast delivers 90 watts of total power to its dual 4-inch woofers (30 watts each) and 1-inch tweeters (15 watts each) and has an XBass button for adding a bit of rumble to the party. A series of 32 color LEDs that bookend the front panel can be synced to the music, creating a soundtrack-generated light show that pulses to the music.
The StormBox Blast links to a source player via Bluetooth 5.3 and has a USB port behind a rubberized flap on the back panel that can be used to charge phones and other devices. The speaker weighs 16 pounds and is 16 inches across with a handle that makes party hopping a cinch. For more information, visit tribit.com.
Cabinet Tronix Elevates Backyard Entertainment
Why settle for staring at the tiny screen on your phone while stretched out by the pool when you can wheel a big screen TV and mini refrigerator in front of your lounge chair? The Outdoor Mobile TV Lift Cabinet Bar & Fridge Stunner from Cabinet Tronix is a customizable entertainment center on wheels that accommodates TVs with screens up to 65 inches. When you're watching, say, shark documentaries, the TV can be manually swiveled up to 360 degrees so those in the pool can catch the action, too. When the TV is not in use, it retracts into the cabinet via a motorized system.
The interior is made of solid mahogany and contains a mini-fridge with a see-through door so you can keep tabs on the beer supply without getting up and a stainless-steel ice bin that holds up to 40 pounds of cubes. There's also a built-in walnut/cherry cutting board, condiment station, and storage spaces for bottles, cocktail glasses, shakers, and more.
A pair of detachable lights hang over the bar so you can distinguish between olives and pearl onions once the sun goes down and a charging station inside the storage door helps your phone's battery return to 100 percent even when you're not. A variety of finish options are available, including wood, stone, or stucco and wood, each with a stone or metal top. You can even add an optional soundbar for bolder audio.
Cabinet Tronix Outdoor TV Lift cabinets start at $6,150 and the lift mechanism is covered by a 10-year warranty. For more information, visit cabinet-tronix.com.