New Gear: Roku Streaming Stick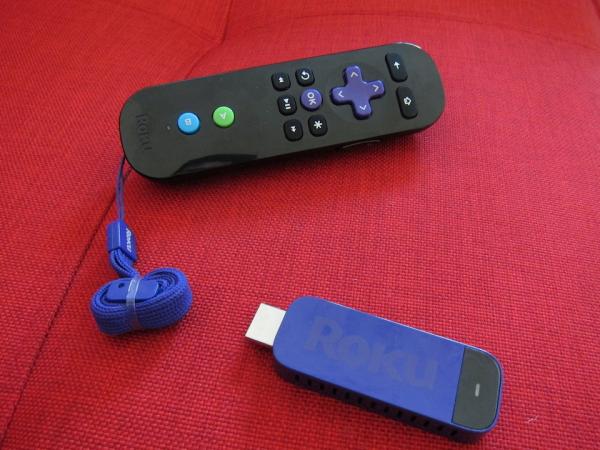 Yesterday S+V got a peek at the long-awaited new Streaming Stick from Roku - and it turns out to be a lot more than just a Roku 2 XS in a tiny package.
The little purple dongle (which'll set you back a reasonable $99.99 when it debuts next month) sports an MHL connector at one end, and a dual-band Wi-Fi antenna at the other. Between those, you'll find the miniaturized brains of the current Roku flagship, but its the connectivity that makes the difference here.
Now, we saw a surprising resurgence of interest in MHL earlier this month at the CEDIA Expo, but the Streaming Stick turns out to be one of the most interesting applications of the technology we've yet seen.
The Stick terminates in the HDMI-style connector that's typically used on the TV end of MHL devices, but that connection - as well as streaming 1080p video from the Stick - allows your TV to communicate with the source device. Now, this is a functionality that's built into MHL to some extent, but Roku has also begun a "Roku Ready" certification program with hardware partners (three budget TV manufacturers - Hitachi, Apex, and Insignia) are part of the initial rollout. Some other very interesting product partnerships are in the works.
So what does Roku Ready mean? It means that you plug in the Stick, the TV recognizes it, and then lets you control all Roku functions via the TV's own remote control, which (as part of the program) will carry keys to control Roku-specific core functions. And TV makers can bundle the Stick with their sets. Very, very cool.
It also means that TV manufacturers don't necessarily have to provide Smart TV functions, which might become outdated quickly. They can farm that duty out to Roku, and still provide seamless integration. Then, when it's time to upgrade you don't necessarily need a new set, just a new dongle.
Of course, the Stick will also work with other MHL-endowed sets, though the company can't guarantee the same tight integration (and you might have to do some remote programming). But for such use cases, the Stick also has a revamped remote of its own, which resembles the 2 XS' controller (it includes the gyroscope for gaming applications), but adds a volume control (which is a very nice - and very rarely seen - thing for a set-top box). Also, while the XS' remote communicated over Bluetooth, the Stick's remote communicates over a direct Wi-Fi connection, for a more robust connection and improved response. The remote is only included with Sticks bought at retail; if you get it bundled with a TV, you'll be using that manufacturer-provided remote.
All in all, it's a very slick application of MHL. But, you might ask, since the original point of MHL was to let you plug your phone or tablet into your TV, what do you do with the content on your mobile device if a Streaming Stick is in the way (especially since we haven't seen all that many devices with multiple MHL inputs yet). Well, another new introduction from Roku might help a bit.
The revamped Roku remote app adds a "Play on Roku" feature. So long as your mobile is signed into the same Wi-Fi network as your Streaming Stick, you can stream music and photos (no video support as yet, so it doesn't solve the MHL input shortage entirely) from that device to the Stick (the App works across the board with Roku devices, by the way, so you don't necessarily need a Stick). The app also gives you a QWERTY keyboard to search your streaming services, something we appreciate a lot around here and hasn't made its way to many "lean-back" oriented remotes.
And also announced today - Roku is adding the VUDU video-on-demand service to its roster; it joins Netflix, Amazon Instant Video, and Hulu Plus, giving Roku about the most complete roster of movie and TV content of any of the digital media receivers.
We'll keep you posted on how it all works in detail once we get our hands on a Streaming Stick.