New Gear: Harman's Dock+Go Personalized Dashboard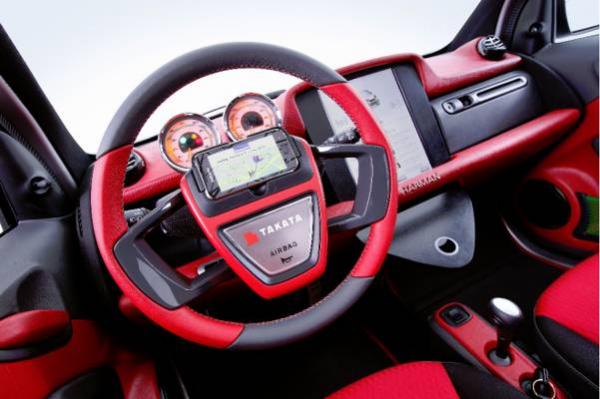 Who says Switzerland is known only for chocolates, cheese, and watches? There's plenty of exciting news coming from the 2012 Geneva Motor Show. First up: Harman ( in association with automaker Rinspeed) is showing off a new connected system, the Dock+Go - a steering-wheel mount for a smartphone that lets the device become the heart and soul of the car.
User preferences are stored on the smartphone, so different individuals can share a car, but their preferred seat positions, music and even sound system settings are maintained. It integrates with Harman's Aha cloud-based system, so entertainment options are a wave away – it uses gesture control (á la Kinect) or voice control for completely hands-free operation. The Aha platform supplies access to audio books, radio, music, podcasts, plus a host of location-based services (it will, for example, offer up nearby restaurant coupons).
More than bringing your music on the road with you, this is also an advanced navigation system. It learns drivers' preferred routes, speed and braking habits, and can also detect - based on this data - how alert a particular driver is. If it determines a driver might be getting sleepy (it relies on sensors that measure steering wheel movements, voice timbre and braking/accelerating patterns), it will offer safer routes or suggest that driver take a break. Here's a use for a smartphone that might actually be, well, smart.
While this is just a prototype system at this point, it could become a reality quite soon, given how quickly car systems are evolving.
Don't you think the first manufacturer to integrate this smartphone system should be SmartCar?