New Gear
LG 55GA7900 3D LED-Based LCD Google TV
TV makers are responding to our lust for ever-more content with smart features, which means Google TV in the case of LG's newest 55-inch 1080p model. With the Magic Remote you use Google Chrome to search the Web and wave, click, scroll, speak, or type (via the remote's keyboard) your way through Internet content and shows on satellite or cable. Everything is neatly organized on the customizable Home Dashboard screen and the PrimeTime Quick Guide aggregates content from multiple sources, including your DVR and on-demand TV. The Wi-Fi-enabled set supports passive 3D viewing with 2D-to-3D conversion and four sets of glasses.
Master Multi-Tasker: Thanks to a fast L9 dual-core processor, you can watch favorite shows while you network online or post videos on YouTube. Price: $2,400
LG • (800) 243-0000 • lg.com
Niles Cynema Soundfield In-Wall Soundbar
Soundbars are all the rage these days so we should expect innovation—like a soundbar that mounts in the wall. Available in three lengths—the 48-inch CSF48A ($1,600), 55-inch CSF55A ($1,750), and 65-inch CSF65A ($2,000)—each system comprises a 3x30-watt amplifier module with Dolby Digital processing and left, center, and right speaker modules that snap into a shallow frame that screws into the studs; the whole shebang is concealed by a paintable grille cover with magnetic fasteners.
No Drilling Necessary: Wiring runs through spaces in the mounting frame so you don't have to drill holes through the studs and each system includes a low-voltage power supply so you can avoid running high-voltage wiring in the wall. The series also includes the non-powered 48-inch CSF48P ($1,196). Niles • (800) 289-4434 • nilesaudio.com
AudioControl Rialto 400 Amplifier/DAC
It's no accident that the Rialto 400 looks like a companion amp for the Sonos music system. The compact stereo power block is designed to improve the sound quality of any music system, especially those with digital outputs thanks to its audiophile-quality Wolfson digital-to-analog converters. It boasts an arsenal of inputs—optical and coaxial on the digital side plus RCA, minijack, and speaker-level on the analog side—and priority switching for preferred sources.
Better Bass: Patent-pending AccuBass circuitry is said to rejuvenate bass that's "lost in digital compression schemes." Rated power output is 2 x 100 watts into 8 ohms or 200 watts into 4 ohms, and the amp can be bridged for monoblock action. Available in black or white. Price: $799
AudioControl • (425) 775-8461 • audiocontrol.com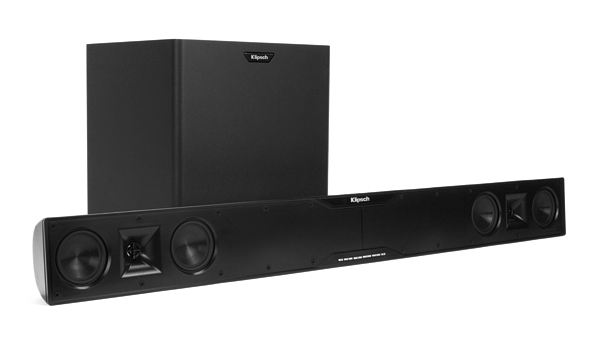 Klipsch SB 3 Horn-Loaded Soundbar
Klipsch has put horn technology to work in the new SB 3—its "best sounding, highest output soundbar to date." The slender, 44-inch-long cabinet houses two Tractrix Horn-loaded tweeters plus four 3.5-inch drivers and provides optical digital and analog inputs for connection to your TV; sound is processed by the onboard Dolby Digital decoder when the digital hookup is used. The soundbar has stylish L-shaped feet for placement on a flat surface or it can be mounted on the wall.
Subwoofer Sensation: Best of all, the SB 3 is bolstered by a badass wireless subwoofer with a 10-inch driver. System response with the sub is rated as 28 Hz to 20 kHz +/–3 dB. Power output? 300 watts peak. Ba-wit-daba da bang da bang diggy diggy. Price: $800
Klipsch • (888) 250-8561 • klipsch.com

Harman Kardon AVR 3700 A/V Receiver
One of two new AVRs from HK, the AVR 3700 is a 7.2-channel receiver with DLNA 1.5 Ethernet connectivity, Wi-Fi, and AirPlay for streaming media from Apple devices. Power output is 7 x 125 watts, and you can run two subwoofers—nice if you have a big room or just love bass. The receiver supports Dolby TrueHD and DTS-HD Master Audio decoding, 4K passthrough, and is equipped with Harman's EzSet automated calibration system and eight HDMI inputs. Download the HK Remote Control app, and your Apple or Android smartphone or tablet becomes a remote control.
Get High: You can use the receiver's two extra channels for front height channels or to serenade a second room (Zone II remote included). Price: $1,000
Harman Kardon • (800) 422-8027 • harmankardon.com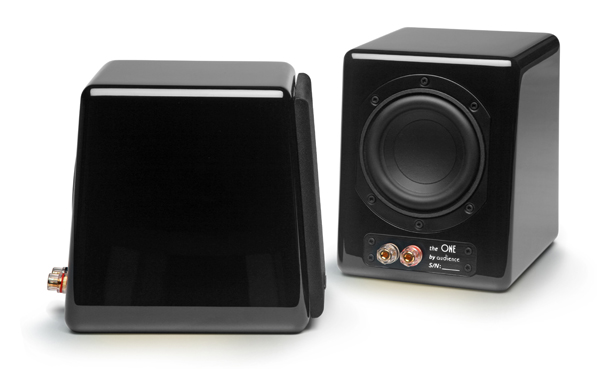 Audience 'The One' Speaker
Don't be fooled by its size or tweeterless design. The One may be the smallest speaker in the ClairAudient line, but it holds the promise of big sound from a single driver and rear-firing passive radiator mounted in a 7 x 5.5 x 7-inch cabinet. Because the speaker uses only one active driver to produce sound, there's no need for a crossover and its "inherent sonic compromises." Response is said to be flat from 50 hertz to 20 kilohertz when the speaker is placed on a desk or near a wall.
Patriotic Pleasures: The One is offered in gloss red, white, blue, or black (all with a black grille). A pair of matching desktop stands is available for $75. Price: $995/pr
Audience • (760) 471-0202 • audience-av.com
Screen Innovations Pure Zero Edge Projection Screen
"Edgeless" screens are all the rage in flat-panel TVs. Now you can choose a projection screen with a Zero Edge bezel. Two types are available in 16:9 sizes up to 120 inches and 2.35:1 sizes up to 150 inches: the 1.3-gain Pure White Zero Edge and the 0.85-gain Gray Zero Edge. Both screens use SI's ultra-fine Micro Texture material, which is said to handle resolutions beyond 8K.
No Assembly Required: Pure Zero Edge screens are ready for installation out of the box and can be mounted on a wall or suspended from the ceiling in as little as 15 minutes. You can choose to have adjustable LED lighting built into the frame. Remote controllable options include full perimeter lighting and six custom color settings. Price: $1,599 and up
Screen Innovations • (512) 832-6939 • screeninnovations.com
Goldenear Invisa HTR 7000 and MPX In-Wall/Ceiling Speakers
GoldenEar's Invisa Series speaker line moves into home theater territory with the HTR 7000 and MPX speakers, both of which feature the same folded diaphragm tweeter used in the company's $3,000 TritonCinema Three tower speaker, which netted a
Top Pick
. The HTR 7000 combines a 7-inch woofer and tweeter in a 5-inch-deep round frame designed for ceiling mounting, while the MPX "multipolar" speaker (shown) sandwiches a tweeter between a pair of 5-inch woofers in a 3.75-inch deep rectangular frame designed for wall or ceiling mounting. Both models employ angled drivers to direct sound toward the listening position.
Make Me Disappear: When either model is installed, a magnetically fastened, paintable grille conceals the frame so the speaker effectively disappears. Price for both models: $499 each
GoldenEar Technology • (410) 998-9134 • goldenear.com
LATEST VIDEO