New DSP Presets for Sonance Amps and iPort Systems Get Glassy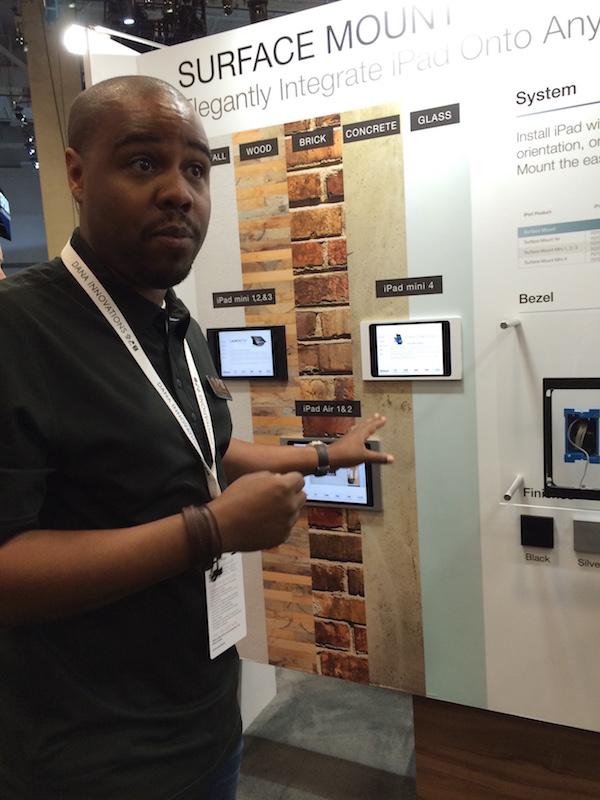 At Sonance's press conference this morning, Jack Hill, the company's Director of Marketing, detailed the expanded capabilities of Sonance's DSP amplifiers with built-in SONARC (Sonance Advanced Room Correction). Sonance currently offers over 600 specifically designed DSP presets already preloaded. The DSP amps also include a built-in 10-band parametric EQ that allows for additional, optional DSP customization. The three amps in the series—DSP 2-150, DSP 8-130, and DSP 2-750—sell for $900, $2,750, and $1,500, respectively.
Esteemed members of the press (even me) were given a hands-on demo of the new Surface Mount from Sonance's sister company, iPort. Surface Mount is a special mounting system that allows for purpose-mounting Apple iPads on nearly any surface, including glass. The 2-part design of the electronics associated with Surface Mount consists of a Splitter and an Injector. The electronics package is small enough to fit into any single-gang wall box in the world and can utilize power from a PoE (Power over Ethernet) or 24-volt power source, as well as power from any wall receptacle worldwide. The Surface Mount system for iPad mini 1/2/3 models will be available this month. Surface Mount for iPad Air 1/2 models will ship in November, and units for iPad mini 4 are expected to be available in December. Surface Mount systems for iPad minis are $399 MSRP. Units for iPad Airs are $449 MSRP.