Netgear IP Camera Is Wireless and Solar-Powered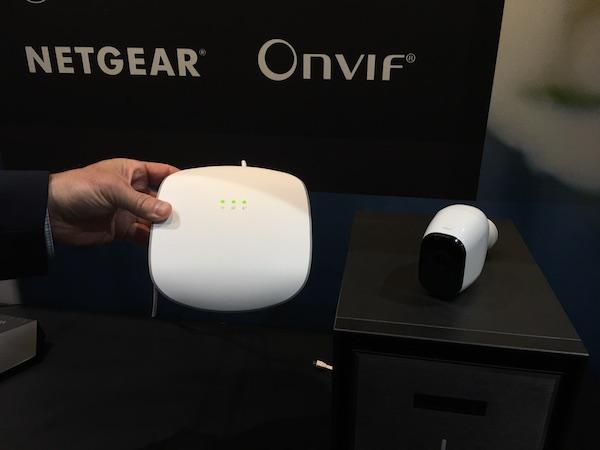 At CEDIA 2017,
NETGEAR
introduced the
Netgear FlexPower, ONVIF Compliant Wire-Free IP Camera System
, what the company describes as "the industry's first and onqdly wire-free, battery-powered ONVIF-compliant camera." The new NETGEAR security-camera system consists of two basic components: the FlexPower Wire-Free IP Camera (VNC4030) and the FlexPower Base Station (VNB4000). Each FlexPower Base Station is capable of supporting up to a total of four FlexPower Wire-Free IP Cameras. The company says that the systems are easy-to-install and compatible with existing VMS and NVR security systems.
The FlexPower Wire-Free IP Camera captures "HD-quality" video (720p) using a 130-degree wide-angle lens. The Camera includes built-in 850nm IR illumination with a 25 ft range for surveillance at night. Three power options are supported: battery, AC, or solar (with optional hardware). The Cameras are weatherproof with an IP65 rating. PIR motion detection is used to preserve battery life by streaming video only when motion is detected. PTZ controls in the video management system app will wake the camera for live streaming.
The FlexPower Base Station performs as a 2.4GHz wireless access point for FlexPower Cameras with a range of up to 300 ft (line-of-sight). The Base Station supports up to four FlexPower Cameras; and each Base Station includes the necessary processing to support ONVIF standards while simultaneously extending the Cameras' battery life. Additional Base Stations can be added to extend the wireless coverage area and incorporate more FlexPower Cameras into the system. FlexPower Base Stations provide wireless connectivity for FlexPower Cameras only. They cannot be used as general Wi-Fi access points with other wireless devices.
According to Netgear:
The Open Network Video Interface Forum, or ONVIF, is an industry forum creating a global open standard for the interoperability of IP-based physical security products. The FlexPower Wire-Free IP Camera is compliant with ONVIF standards, ensuring its compatibility with other ONVIF-compliant surveillance video management systems (VMS)." This makes FlexPower an easy, cost-effective option for security installers needing to complement existing systems.
Netgear FlexPower Cameras and the FlexPower Base Station are available for pre-order now with shipping to begin in October in the US and Canada. The FlexPower ONVIF-Compliant Wire-Free IP Camera (VNC4030) has a suggested retail price of $229.99/each. The NETGEAR FlexPower Base Station for FlexPower Cameras (VNB4000) carries a suggested retail price of $99.99/each.