NAD Announces First Streaming Preamp with 4 Sub Outs and Dirac Bass Management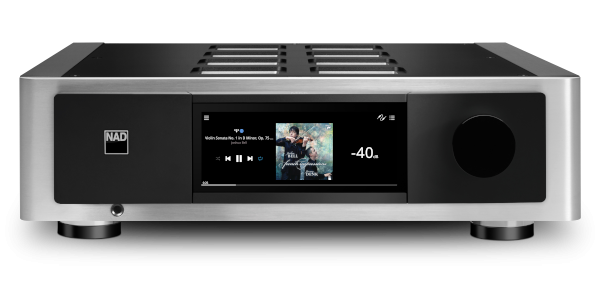 NAD is making waves in the hi-fi community with an industry first: a two-channel streaming DAC/preamplifier boasting four subwoofers outputs plus Dirac Live room correction and bass control.
The Masters M66 will be unveiled at next week's High End Munich audio exhibition and is expected to sell for $5,499 when it hits retail in the fall.
As the new flagship in NAD's prestigious Masters Series, the M66 houses a network streamer based on Lenbrook's proven BluOS multiroom music platform and an audiophile-grade ES9038PRO Sabre digital-to-analog (DAC) in a stylish component featuring aluminum casework and a 7-inch touchscreen. Lenbrook is the parent company of the NAD, PSB, and Bluesound brands.
With the M66, NAD is providing the tools to achieve the most accurate in-room response of any two-channel component. The preamp includes the full version of Dirac Live Bass Control, which enables independent calibration of multiple subwoofers — in this case, up to four through the use of balanced (XLR) or unbalanced (RCA) outputs. Dirac bass management is designed to optimize bass output in both the frequency and time domains to attain a seamless blend between the main speakers and subwoofer(s) as well as smooth low-frequency response throughout the listening room.
Engaging Dirac is a simple matter of connecting a supplied calibrated microphone to the M66's USB port and launching the Dirac Live app on a smart device or PC. After playing test tones, Dirac analyzes the results and upload filters to the M66 that compensate for common acoustic problems such as standing waves and unwanted reflections. The goal is tighter bass, improved clarity and timbral accuracy, and more precise imaging.
Analog signals are converted to digital by ESS Technology's flagship ES9822PRO analog-to-digital converter to allow all signal sources to take advantage of Dirac room correction and bass management. The M66 also has a selectable Analogue Direct mode that bypasses all digital processing.
Digital and analog signal paths are discrete with separate power supplies to avoid digital interference when the direct mode is engaged. As a further signal purifying measure, the preamp's Wi-Fi and Bluetooth circuitry can be disabled to minimize RF interference.
The BluOS music-management system is designed to share music over a Wi-Fi network with up to 63 BluOS-enabled components from NAD, Bluesound, and other brands and provides easy access to music in up to 24-bit/192-kHz resolution. The system includes full MQA decoding and rendering and is controlled via the BluOS Controller app, which supports more than 20 streaming services (with support for Apple AirPlay 2, Spotify Connect, and Tidal Connect) and provides access to thousands of internet radio stations as well as music stored on local or network drives.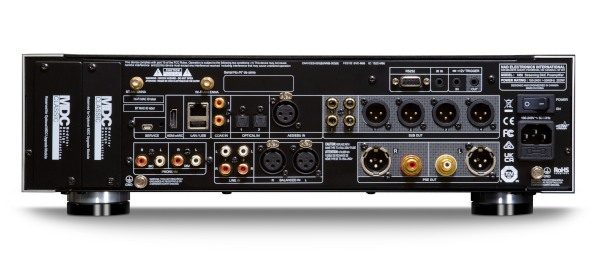 BluOS supports streaming via aptX HD-enabled Bluetooth and voice control through Amazon Alexa, Google Assistant, and Apple Siri. It is also compatible with control systems from Control4, Crestron, ELAN, RTI, and URC.
The only physical control on the M66's front panel is a weighted volume dial. Volume is adjusted in the digital domain using a resistor-ladder circuit designed to reduce distortion, maximize dynamic range, and match left- and right-channel output across the entire range more accurately than an analog control.
In another interesting twist, the M66 is the first component to feature NAD's Dynamic Digital Headroom (DDH) circuitry, which is enabled in the BluOS app. DDH is said to eliminate digital inter-sample peak clipping distortion, which can occur during digital-to-analog conversion of sudden high-frequency transients. NAD says the result is most obvious with percussion: cymbals sound more realistic and rim shots are less strident and more impactful.
Connections Galore
In addition to the eight subwoofer outputs (four XLR, four RCA), the M66 provides a full suite of analog and digital inputs, including a moving magnet/moving coil phono input that feeds a low-noise phono stage featuring precise RIAA equalization, high overload margins, and a circuit said to remove infrasonic noise without compromising bass response.
Digital connections include HDMI with eARC (enhanced Audio Return Channel) for connection to a TV, two optical and two coaxial digital inputs, and one AES/EBU balanced digital input. On the analog side there are two pairs of RCA line-level inputs and one pair of XLR balanced inputs.
The M66's impressive list of features also includes a dedicated headphone amplifier, featuring low output impedance and high output voltage capability to ensure it can drive the demanding high-impedance headphones, and two rear-panel MDC2 expansion slots for adding future capabilities. The slots embrace the latest version of NAD's Modular Design Construction future-proofing technology. An infrared remote is included.
In other news, NAD announced the C 3050 stereo power amplifier that ships later in the month.
For more information on the Masters M66 streaming DAC-preamplifier, visit nadelectronics.com.