MSR Elite Home Entertainment Experience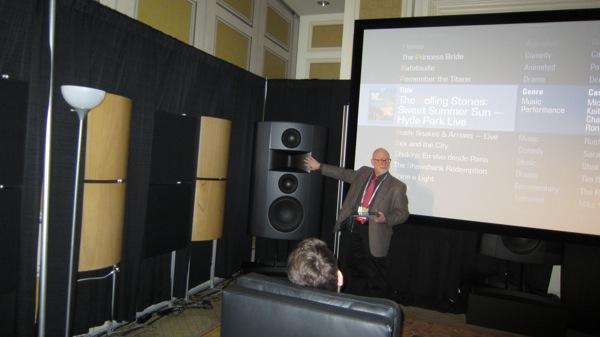 In the most ambitious home theater demo at CES, MSR Acoustics coordinated an Elite Home Entertainment Experience in a large room at the Venetian Hotel. It's a bit unfair to call this an MSR demo, as it combined efforts and products from MSR (its new line of acoustic panels shown on the room walls), Triad loudspeakers, D-Box, Digital Projection, Kaleidescape, ADA, BitWise Controls, Fortress Seating, Perfect Path, and Seymour Screen Excellence (their acoustically transparent screen).
The result was superb, though at first too loud for (my) comfort (and this from someone who plays his own home theater setup too loud for some). The last of the demo pieces, from the new Star Trek film, was toned down a bit, ostensibly due to complaints from an adjoining conference room! It was still loud, but at a level far preferable—at least to me. It also engaged the D-Box seat motion system. Not my cup of tea (too much like an amusement park ride and a distraction from the film) but I can see how some might love it.
WHERE TECHNOLOGY BECOMES ENTERTAINMENT