Mordaunt-Short Genie Home Theater Speaker System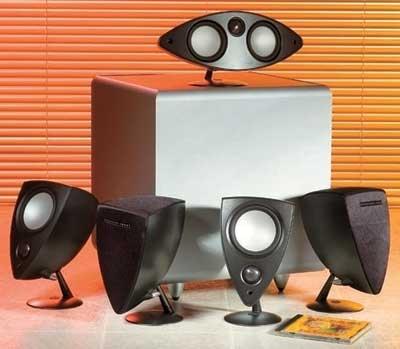 Not long ago, someone figured out it was possible to get good sound from small, inexpensively made speakers - and ever since, the home theater scene has been dominated by compact six-piece rigs that sell for a thousand bucks or less. But a new trend of "step-up" subwoofer/satellite systems seems to be emerging: speakers that fit the less-is-nearly-as-good-as-more ethos in aspiring to something beyond the mainstream. Here you even find some unfamiliar (in this country, at least) speaker makers getting in the game - like England 's Mordaunt-Short.
To get an idea how much of a design departure the $1,900 Genie "Home Cinema" system is for Mordaunt-Short, just check its Web site. The graceful, curving Genie satellites have more in common with the company's $6,000-a-pair Performance 6 speaker than with its other, more traditional-looking models. Housed in wedge-shaped metal-alloy cabinets, the four Genie 402 left/right satellites and Genie 404 center speaker have an aerodynamic appearance that lets them blend in easily and unobtrusively with their surroundings. The system comes with the compact Genie 409 subwoofer, featuring a down-firing 10-inch driver.
SETUP The Genie design allows for maximum installation flexibility. Each satellite has a sturdy attached base that swivels 180° with a quick twist of an Allen wrench to permit wall mounting. You can also order the optional $165-a-pair stands for the 402s. A set of bullet-type speaker terminals on each satellite accommodates bare wires, banana plugs, and spade lugs - but the space between the terminals and the mounting plates is too cramped for banana plugs to connect as easily as they should.
Getting the Genie system up and running was quick and painless. I placed the L/R satellites on stands at the front and rear of the room, with the surround speakers to the sides, slightly behind and angled toward the seating area. I put the center speaker on the middle shelf of my TV stand.