Monster Unleashes Monster 2.0 with New Headphones & Portables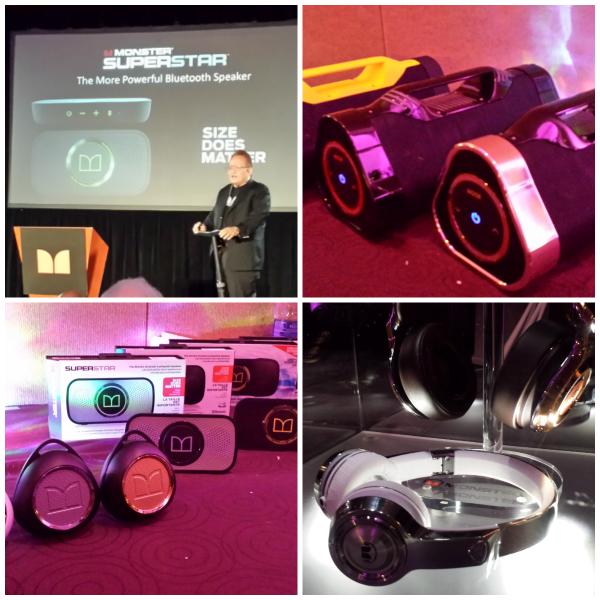 Head Monster Noel Lee (flamboyant CEO of Monster) knows how to kick off CES with enthusiasm that's hard to ignore. Monster is attempting to rethink, revamp and reinvent themselves with an almost-overwhelming number of new products. While still a monster in the cable industry, Monster seems to be more focused on reclaiming the headphone and portable markets.
Following up with the launch last year of the SuperStar portable Bluetooth speaker, Monster also has a waterproof version that floats on its back, appropriately named the SuperStar BackFloat. Brand new to the SuperStar lineup is the ultra-portable HotShot (available March, 2016 for $49.95) which measures a petite 3.3-inches across and has NFC pairing.
Bringing the "boom" back to boombox, the new SuperStar Monster Blaster is a portable boombox, except now no "D" batteries are required; it runs for up to 8 hours on a rechargeable Lithium-ion battery. The Monster Blaster has speakers on both sides of the triangular box for direct and reflected sound with a downward-firing sub. It also has built-in LEDs for a rave light-show effect.
Monster seems to have covered every category of headphones, with new Fatal1ty-branded gaming headphones, Adidas-partnered sport headphones and the iSport headphones in conjunction with major athletes, and multitudes of fashion and pop-icon partnerships. One headphone category that was particularly interesting was the Inspiration Traveler. It's a "smart" headphone that stores your music onboard and syncs overnight to the Internet to download new listening material. It also has active noise-cancelling along with the passive cancelling inherent to on-ear headphones. The Inspiration Traveler will retail for $299 in summer, 2016.
Monster is still showing a variety of new cable, power-management and connectivity options, but it seems that they want to revitalize the brand as a monster in the headphone and portable market.