Monster Kicks off CES with Sport-centric News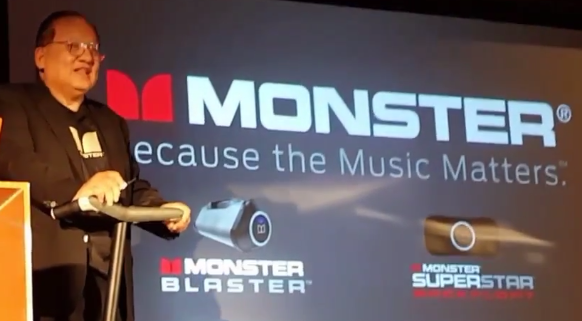 Noel Lee, the always-energetic CEO of Monster, kicked off the Monster 2017 press conference with a bevy of sport and fitness celebrities, clearly showing where the company is focused moving into the new year.
Using the concept of "Regional Global Marketing", the company will use local celebrities who are known regionally to promote their products. Makes sense - why feature German soccer star Lukas Podolski in ads in Canada, or fishing superstar Peter Miller in Africa? Indeed, Monster's collaboration with sports figures range from fitness gurus to golf pros and more.
Especially exciting is Monster's commitment to stadium collaborations. In 2016, they teamed up with the Miami Marlins for a Home Run Challenge, daring any player to hit the "o" in the Monster billboard in the outfield to win a Bentley. Luckily for Noel Lee, so far no one has hit it. Moving forward, expect to see Monster along side of the Heat, Barclays Center and the Brooklyn Nets, the Washington Wizards and more.
Monster unveiled a variety of new portable devices, including the Superstar Ravebox ($399) which is a massive boombox with an impressive LED lightshow that uses rhythm and frequency response to determine the pulse and color scheme with 12 hours of playback.
Monster is taking advantage of all the new applications for voice control. Two new products are most interesting in the lineup. First is the new Soundstage2 with "His Master's Voice" technology. Borrowing from the iconic RCA Victor image of the dog and gramophone, it's one of the first wireless non-Amazon products that will feature Alexa voice integration.
Perhaps the most interesting new concept in the voice-activated arena is the new collaboration with Melody Personal Music Assistant. Integrated into wireless headphones, users can speak voice-activation commands to change streaming music selections, switch from Spotify to iHeart Radio, change volume and more. Wireless headphones with voice control seems like a perfect application - no more rummaging through a backpack during a hike to change tunes, or fumbling with a phone while holding on the handlebars on your mountain bike.
Any time Noel Lee is on stage, you know the energy level will be high. This year, he truly has quite a few things to be excited about.