Monster Fuses Fashion and Tech with New Headphones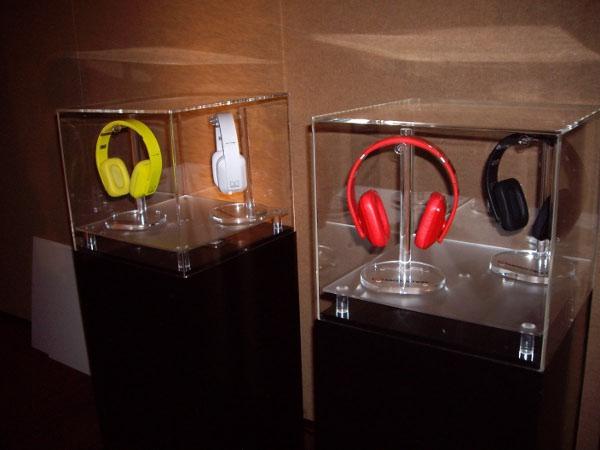 When it comes to headphones, for Monster it's all about fashion with lots of color and style, a parade of headphone-wearing models, celebrity endorsements and marketing—lots of marketing. A host of celebrities—including recording artist and former Prince collaborator Sheila E, boxing legend Sugar Ray Leonard, America's Got Talent host Nick Cannon and New Orleans Saints quarterback Drew Brees—were on hand at Monster's pre-CES 2013 press event to help the company introduce a slew of new headphones.
Highlights include the gaming-focused EA Sports MVP Carbon by Monster headphone ($270), featuring proprietary surround processing and available in black or white beginning in February; the in-ear ClarityMobile line with three models aimed at business travelers—a $50 model with an in-line microphone and two $70 models—slated to hit stores in April; an angular on-ear addition to the Diesel VEKTR line offered in military green and chrome ($280); three washable iSport in-ear models for the work-out crowd, ranging from $80 to $160; seven on-ear and in-ear DNA models, featuring triangular ear cups and dual inputs that allow five 'phones to be connected at once, ranging in price from $130 to $230; new on-ear and in-ear Bluetooth-powered wireless models with noise cancellation for the Nokia Purity line; and the youth-focused N-Pulse headphones, a new addition to the NCredible line developed with Nick Cannon and available in black or white for $200.
Beyond headphones, the company introduced the Katana apt-X-based wireless music system ($700) with multiroom streaming capability; the M-Series line of smart HDMI cables that show the resolution of the signal passing through ($50-$500); and the PowerTap line of backup mobile-phone chargers ($40-$100) with built-in rechargeable batteries for times when an AC outlet is not available.
Monster also announced that the PCT 100MC ($60) and PCT 300MC ($100) PowerControl smart plugs, which work with the wireless People Power app that monitors power consumption, are now available.
For more detail, visit monsterproducts.com.
LATEST VIDEO