Modulus M1 Makes Movies and Media Marvelous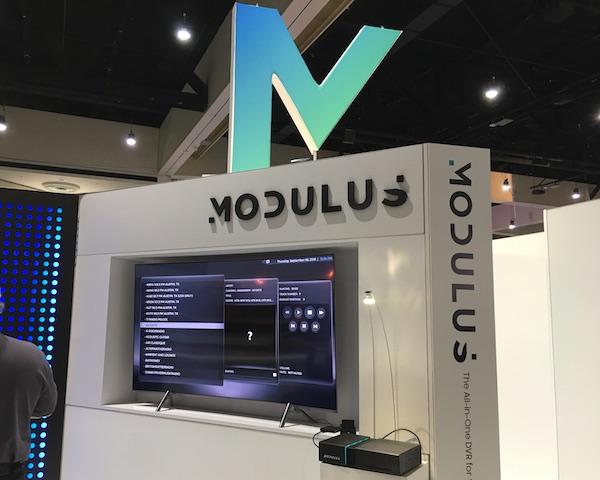 Two years ago, I stumbled across a display booth with an overly energetic dude eager to convince me that he'd invented something akin to the home-theater version of sliced bread. Actually, he said something like, "It's a DVR for the Streaming Age!" So, being a sucker for an enthusiastic sales pitch, I sat (stood, really) through Modulus President/CEO Steve Schulz's extremely compelling demo of the
Modulus M1
.
Although I started the conversation off with my usual (and not-quite-true), "I've only got 10 minutes until my next appointment," half-an-hour later we were still going through the 20+ features included in the Modulus M1. Schulz called the Modulus M1 a "revolutionary media hub."
Here's how I described it at the time: "Part DVR, part media server, part universal remote, as well as part nearly anything else you can think of that's important for a modern home theater system, the M1 includes 12TB of media storage space; an RF-based 'Ultimate Remote Control' with voice search, air mouse, and full QWERTY keyboard; as well as an internal Blu-Ray/DVD disc player/ripper." I also said that it was "almost too good to be true."
Just a couple weeks ago, during CEDIA 2018 in San Diego, I met up with Schulz at the (much larger) Modulus booth to talk with him about what was starting to look like one of those products using vaporware running on unobtanium-based hardware. Fortunately, Schulz, enthusiastic as ever, told me that the Modulus M1 is ready to roll out to custom installers as early as next month. Although there were plenty of cool things at CEDIA this year — the new NEEO Pro, for example — the fact that the Modulus M1 is now a real, shippable product is, in my not-very-humble opinion, the most exciting thing to happen in the home theater category in years.
I know that's a bold statement; and, yet, even after two weeks of digesting all the info from CEDIA 2108, I still stand by it. The Modulus M1, if it works as advertised—and Schulz assured me we'd get one of (if not the) first review samples—is what could be considered the holy grail of home theater source controllers. Imagine, if you will, taking the equivalent of a Kaleidescape movie server (a fantastic product in its own right with a first-class User Interface) and integrating it with a streaming video DVR — think about that for a moment…a streaming video DVR — plus a BD/DVD/CD player, a streaming video and music box, a personal media organizer that supports 4K, skips commercials, includes a voice-controlled universal remote control, and comes with 12TB of storage.
The Modulus M1 is agnostic as far as streaming services goes, too. Unlike other streaming boxes, the Modulus M1 takes you directly to the streaming service's website, allowing native access to the service without requiring an interface between the Modulus M1 and the streaming service. In other words, when you click on the icon for, say, Netflix, the Modulus M1 takes you directly to the Netflix website interface. As a result, new streaming services can be added the instant they go live, because the Modulus M1 doesn't need to have access to the service's API to make it work in the Modulus system.
I will admit, despite Schulz's background (he worked for Texas Instruments for 19 years before becoming president and CEO of SI2, "a global electronics consortium"), I was not convinced that he could actually deliver on the many promises he made about the Modulus M1. It's taken seven years and over 26 million lines of code, but it looks like Schulz and the folks at Modulus just might have hit this one out of the park.
The Modulus M1's Achilles' heel, however, is its cost. The "base model" Modulus M1 will likely retail for around $6,500. That puts it out of reach for the majority of people who would love to have one (including me). Hopefully, the price will come down in the future. For the time being, if $6,500 is something you can afford to add to your home theater system, check out the Modulus website. It'll be worth your time…and your money.