Mitsubishi WD-65835 Rear Projection HDTV
Price
: $2,999
Highlights
: Accurate color • A high contrast ratio with convincingly deep blacks • Bright, punchy, dimensional image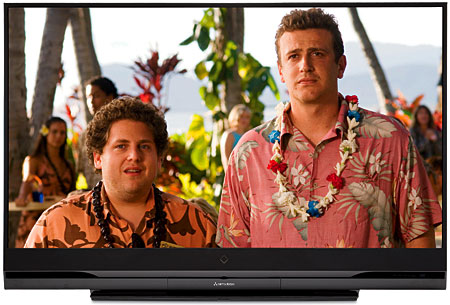 Features
With its 65-inch (diagonal) screen, the Mitsubishi WD-65835 is the second from the largest set in Mitsubishi's full-featured Diamond line. But it's a lot lighter and more maneuverable than you might expect.
The set offers a full array of the usual video and audio connections. Plus, it includes the increasingly common USB port for viewing your JPEG photos. There is no RGB computer input. You can only connect a computer via a digital link to one of the HDMI jacks.
The Mitsubishi offers three picture mode options: Brilliant, Bright, and Natural (the owner's manual lists a fourth—Game—which I couldn't access on our sample). Each of these modes is individually adjustable and adjusts for each input as well. There are only two color temperature options (High and Low), a video noise control, SharpEdge (on or off), and a control called DeepField Imager (on or off). Mitsubishi says this acts as a dynamic contrast control. I set the color temperature to Low, the picture mode to Natural, and left the rest of these controls off.
A PerfectColor feature (also separately adjustable for each input) offers both saturation and tint adjustments for each of the primary and secondary colors. While a color-management system such as this should ideally include a third control (intensity) for each color, the Mitsubishi does not. When set up correctly (which means only with precision test tools), a good color-management system can produce an accurate color gamut.
Additional controls include Film mode (Auto or off) and Smooth120Hz. The latter is intended to produce more fluid motion. It does not use frame interpolation to get to 120 hertz and therefore does not make film look like video—a shortcoming that many 120-Hz displays have. But it didn't do a lot for motion blur, either, which isn't a significant problem on DLP sets. I left it off.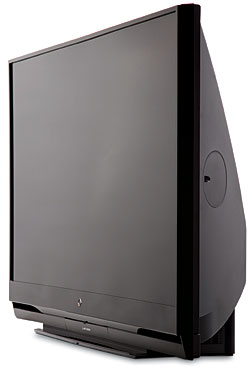 The multi-component remote is backlit and well laid out but does not offer direct input selection. However, the onscreen menus are straightforward. My only complaint is the lack of reverse navigation—that is, you can't jump from the top of a menu to the bottom with a single push of the Up navigation control. You have to slog down a step at a time to get to the end.
You can select either a fast turn-on or Low Power mode for slower boot-up but less energy consumption. The set also includes two lamp modes, Standard and Bright. Standard is bright enough for any practical viewing environment.
Watching
The best sharpness control setting was at its midpoint (31). In most sets, minimum sharpness is best, but not here. Even at this setting, there was a subtle, non-defeatable edge enhancement. Fortunately, this was mainly visible on test patterns and only when viewed from very close to the screen.
With this sorted out, the Mitsubishi's performance immediately impressed me. Detail was excellent for a set with the high-gain screen that's common to RPTVs. In the Superbit transfer of The Fifth Element (DVD), the images were a little uneven from scene to scene, but the best shots looked terrific for standard definition. Although some edge enhancement had clearly been used on this disc, it wasn't annoying. Charlotte Gray, on the other hand, had no consistency or edge-enhancement issues at all. This remarkably filmlike DVD looked great. Apart from slightly intense greens, the set's color was superb.
The Mitsubishi would not respond to information below black, although it did go above white. Despite this limitation, the set's performance on dark program material was a real plus. This was never more evident than in the belowdecks scenes at the beginning of Master and Commander: The Far Side of the World (DVD). As the crewman on watch wanders through the ship on his inspection rounds, the set showed just enough detail visible from his lantern to follow the action. The image was surrounded by a convincing, inky blackness, not the foggy gray you see on many of today's sets.
The crisp contrast continued as I moved on to HD material. Dark City on Blu-ray is a difficult movie to reproduce in the best of circumstances, but the Mitsubishi proved to be up to the challenge. You'll see richer blacks on some video projectors and a few flat-panel displays, but not while simultaneously putting out over 80 foot-lamberts at peak white—as the Mitsubishi does in its Natural mode. The set showed very little black crush and displayed no gray fog in areas that should be black. In other words, there was nothing in the image that took me out of the film.
The Mitsubishi also popped on brighter HD material. Legends of Jazz was excellent in every way. The images were rich, realistically saturated, and nearly three-dimensional. Details were crisp and natural throughout, and the color was first rate. Fleshtones (when not creatively tinted by the stage lighting) were spot on. The contrast remained impressive.
The black-and-white opening title sequence in The Fall (Blu-ray) also looked exceptional. The colorful fantasy elements in the film jumped off the screen and were no doubt helped by the set's brightness and good color reproduction.
I did see a trace of unexpected video noise in a couple of my most frequently watched reference scenes from Transformers. I hadn't noticed this noise on any other display. But other dark scenes on this and other films looked fine.
Despite the Mitsubishi's high brightness, I didn't find watching it to be uncomfortable, even in a darkened room. (Most viewers will likely prefer a backlight in these circumstances.)
Overall, The Mitsubishi's SD video processing (480i to 1080p) was fair at best on my full plate of tests. Its 3:2 pulldown performance was marginal, and it did a poor job on the 2:2 (video) cadence test. But it improved to good on other material (jaggies tests and challenging real-world film tests). Its HD deinterlacing (1080i to 1080p) was good to excellent on all of my tests (including full 3:2 pulldown on film resolution), except for visible flicker and moiré on the Vatican steps scene in chapter 8 of Mission: Impossible III. It also had a poor result, again, on 2:2 (video) pulldown.
Conclusions
The Mitsubishi has its limitations. Its video processing isn't above criticism, and (as you will read in the measurements) its measured test-pattern resolution isn't clean up to the maximum HD bandwidth. But the set looked impressive in most of my real-world viewing. Its color is superb, but its most rewarding feature is its exceptional contrast and (for a bright, rear-projection set) its solid, believable blacks. In this respect, it easily beats all but a few flat-panel displays.
All that and a big, 65-inch screen for under $3,000. What's not to like?